Landing my current job wasn't a smooth experience. In a tech-driven job market, the tight competition and high demand for new and relevant skills have kept me on my toes. When I discovered Cleverism, I was able to find where my skills, passion, and dreams intersect.
What I realized from using Cleverism is that if you specialize or possess talent that is widely needed, you will find that the best opportunities are shaped by how economies are faring. Both the highs and lows can produce new needs in any industry, and those needs create new jobs.
For example, retail stores moving to the digital space would eventually need more e-commerce specialists, integrated marketing experts, or web designers. Trends like this reflect the jobs available on Cleverism. Read on to learn more about the hottest jobs, top employers, and emerging industries today.
Cleverism as a Game-Changer
Jobs You'll Find on Cleverism
The Anatomy of a Job Post on Cleverism
Companies on Cleverism
Tweaking the Resume Templates
Where Your Data Goes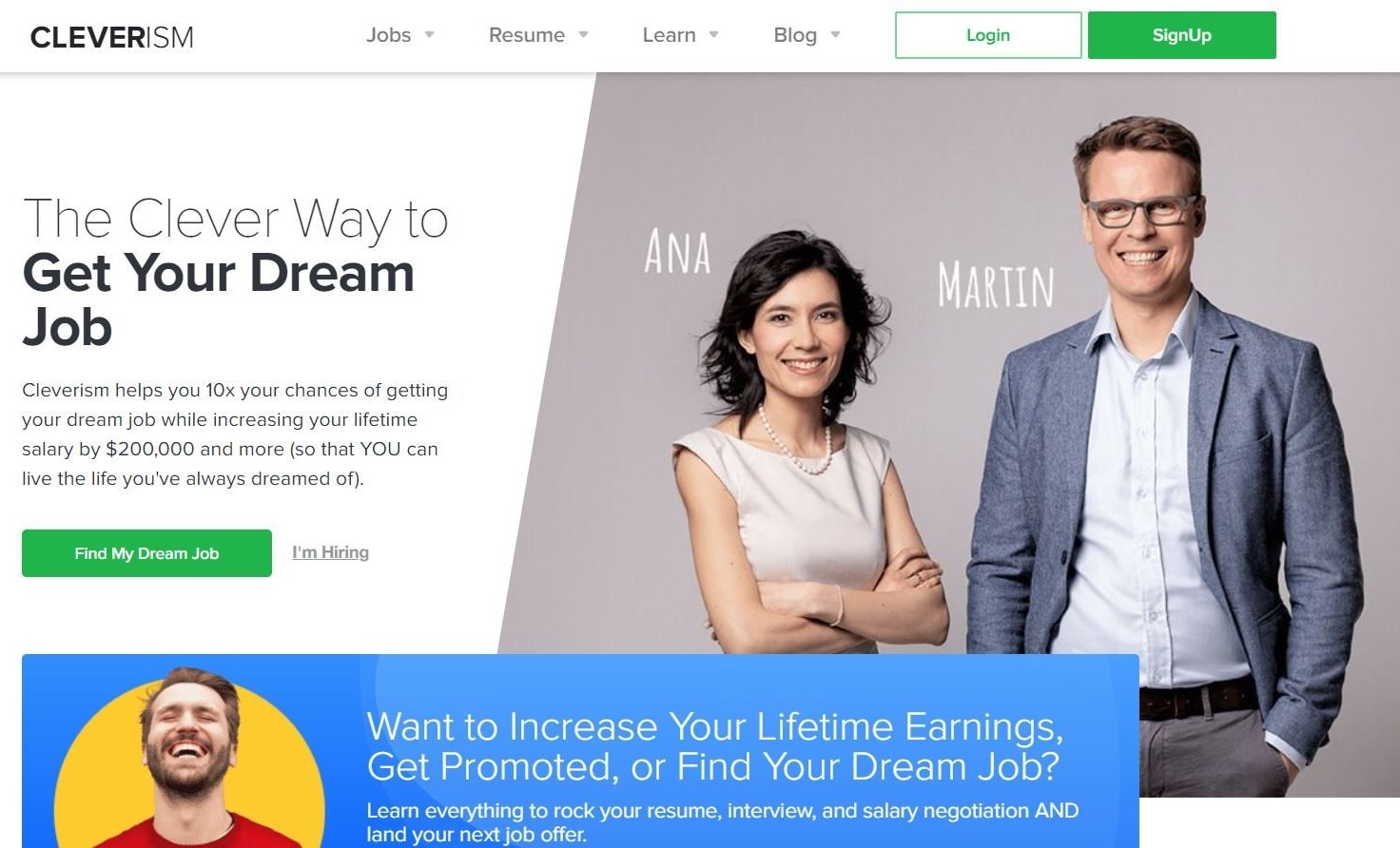 Cleverism as a Game-changer
Cleverism is a job website that takes pride in offering opportunities that are aligned with the principle of helping people get their dream job while enjoying a work-life balance.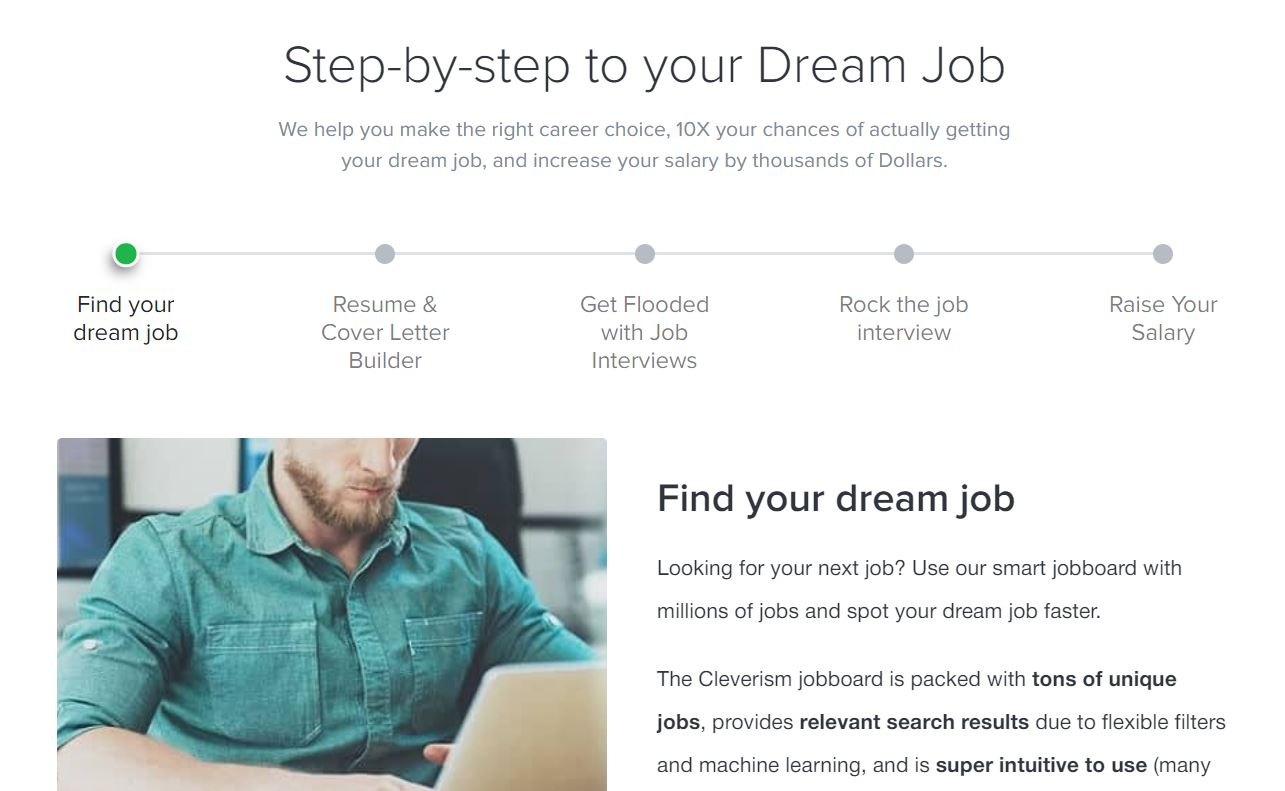 Cleverism, launched in March 2014, encompasses all aspects of the job-hunting journey. Apart from getting a job offer, you will find resources on the site that will help you increase your salary or get promoted.
Cleverism claims that it has helped 25 million job applicants make their career choices and raise their salaries by $10,000, $20,000, and even more.
What I noticed about Cleverism is the website's features also extend to those who are managing a business and seeking personal development opportunities.
Joining Cleverism
To fully enjoy the features of Cleverism, job seekers are encouraged to sign up for the platform. To do this, simply click on the "SignUp" button.
When I signed up, I chose the Talent form. I was asked to provide my first name, last name, email address, and password.
Note that you can also use your LinkedIn account and Google account to sign up on Cleverism.
Jobs You'll Find on Cleverism
Cleverism's job board boasts a user-friendly arrangement and highly interactive features. Add to these its flexible filters and machine learning capability.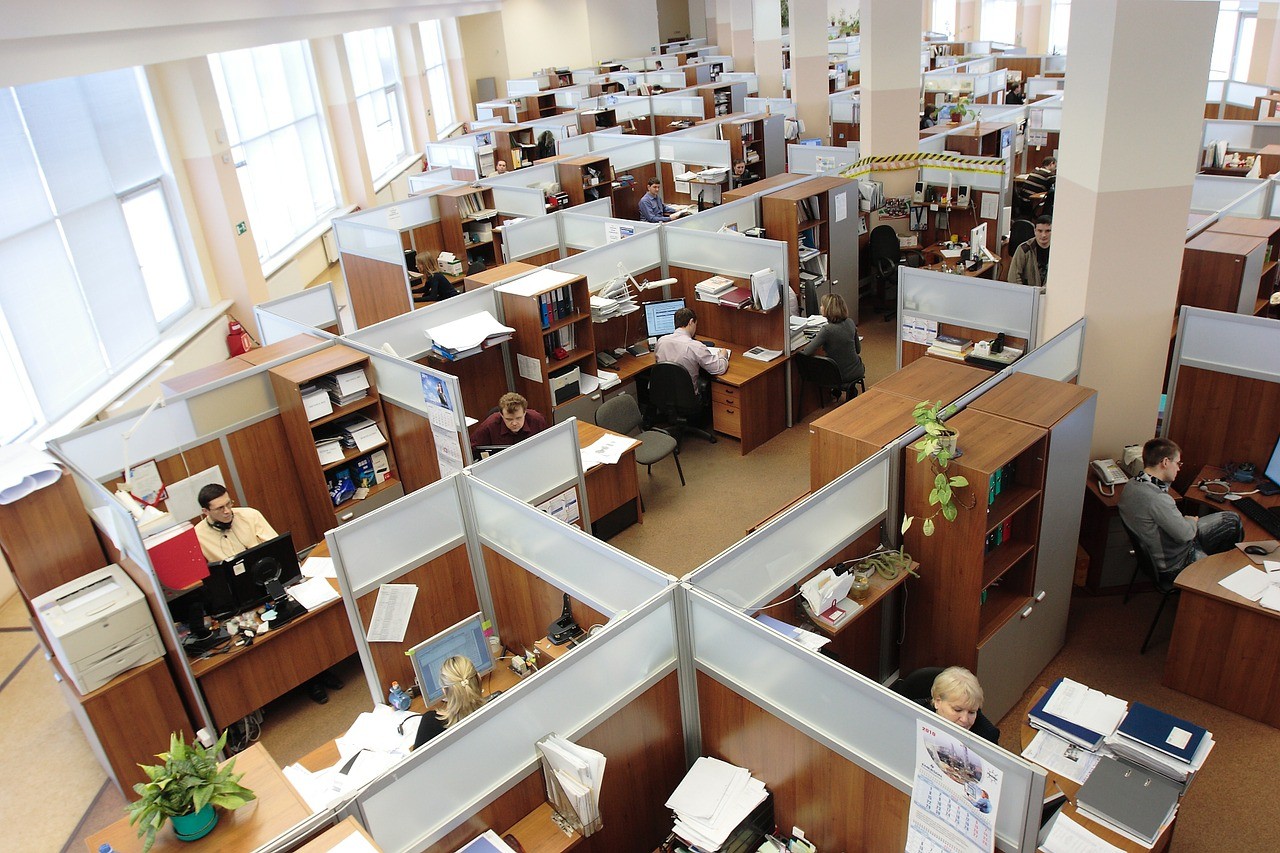 As I navigate the smart job board, I feel like I'm combing through Netflix to find a good movie. What you will see on the left side is the search and filter features that display different categories, and each has its own search bar. You can search for a job using the job title you are looking for.
For instance, if I type in digital marketing, a drop-down list will appear. It will suggest various positions in digital marketing, from manager to intern. I can also type in a skill, like writing or cooking. Any keyword may be typed in as the platform will display the most relevant results for you.
When I was looking for a job, I started by searching by location. I wanted to find a job that would allow me to be close to my family in case of an emergency. So, I provided my country, state, and city.
Knowing Your Employers
The other categories on the left column are Companies, Industries, Seniority, Salary, and Company Size. When you click on the Seniority option, you can filter for types of positions based on experience such as entry-level, director, or executive.
The Salary box shows various salary ranges, such as $0 to 10,000 or up to $200,000 to $400,000.
The Industries box comes with a long list of industries covered by Cleverism. Some of these include Internet, Logistics & Supply Chain, Restaurants, Financial Services, Defense & Space, Computer Software, Investment Management, Hospitality, Health, and Telecommunications.
The Anatomy of a Job Post
The right side of Cleverism's job board displays the specific jobs you can apply for. Each time you tap one, it will direct you to the careers page of another website that shows the job displayed on the board.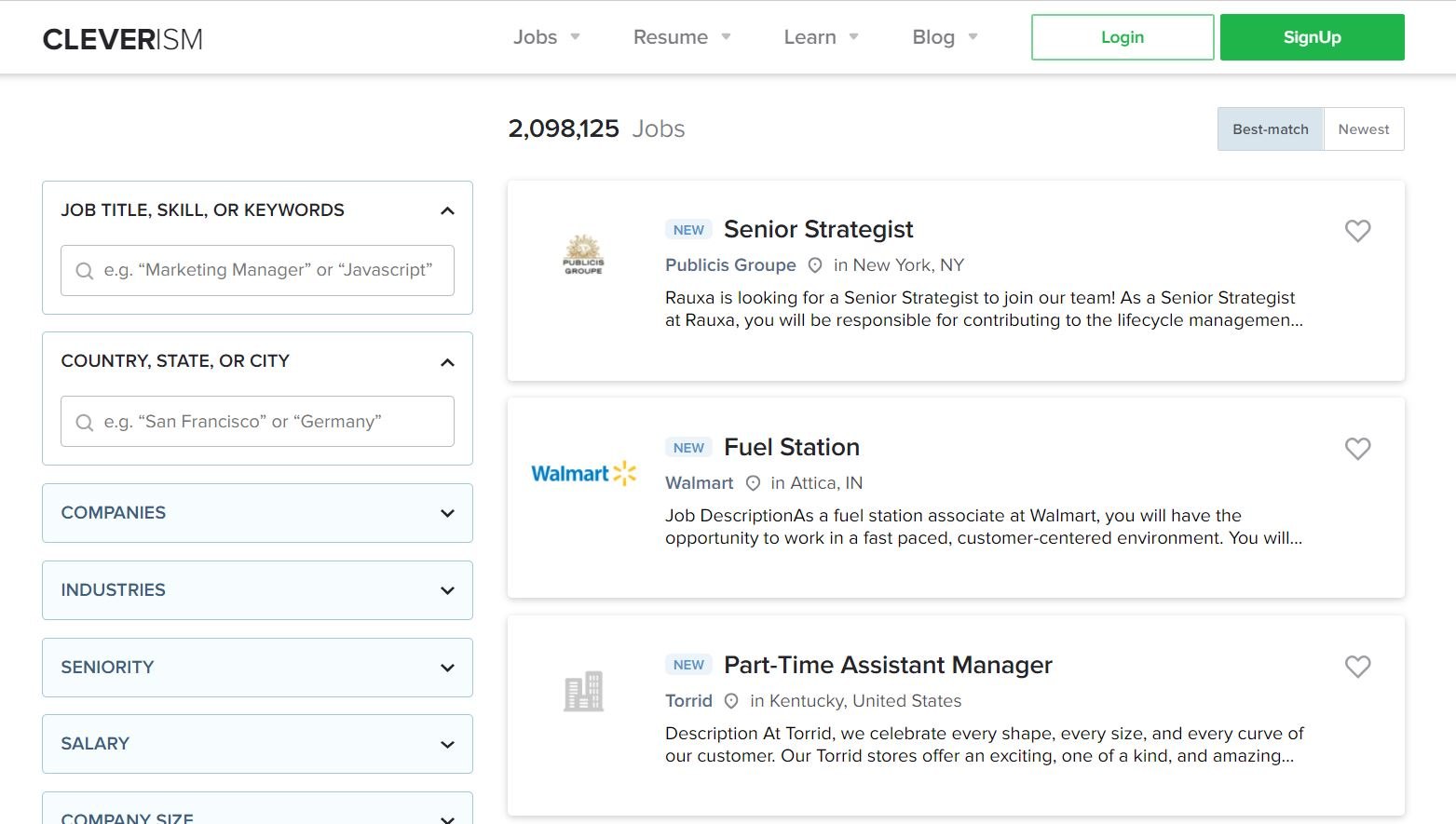 One example is a post looking for an Engineer II – HVAC (FT) Property Ops for Hilton. An official job post typically has a job description, requirements, work location, responsibilities, schedule, shift, and job level.
What I find useful on the job board is the feature that allows job applicants to mark the jobs that I consider. This mark refers to the heart symbol located at the rightmost part of a job post preview.
The jobs that appear on my end are the latest ones. They are usually labeled as "New". If you are on the "Newest" tab, you'll likely see the recent jobs. The Best-match tab shows the most relevant jobs tailored to what you are looking for.
How to Apply for a Job on Cleverism
Given how jobs are displayed on Cleverism, applying for one means you will follow the instructions set by the source of the job.
For example, if you click on the job post titled "Director of Business Development, Data & Strategic Partnerships," it will direct you to the website of the company with that available position.
Typically, job pages on company websites ask for a resume, a cover letter, and sometimes request to see any online presence you have like a LinkedIn profile, website, or online portfolio.
Companies on Cleverism
The companies I see on Cleverism are industry leaders and well known in their respective fields.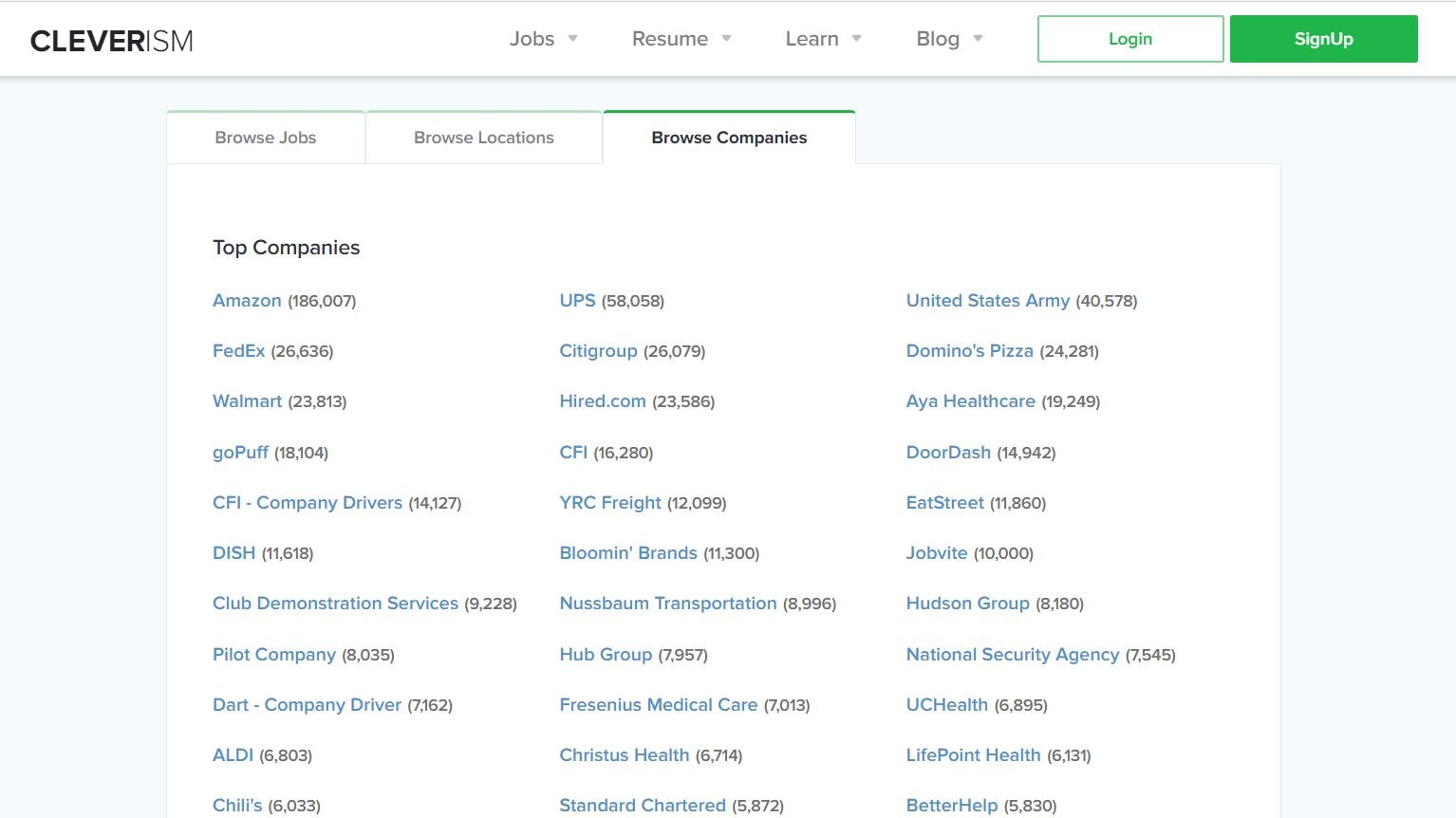 Some of the companies with openings offered on Cleverism are Amazon, Capital One, Schneider Electric, Bosch Group, Oracle, AT&T, BNP Paribas, and Visa.
Job hunters interested in the hospitality industry will be delighted to know that Hilton Hotels and Resorts, KFC, Whole Foods Market, McDonald's, and Domino's Pizza are on the site.
Jobs in the health and medical sectors are in demand today. Check out the jobs available at Mount Sinai Health System, BayCare, Centura Health, Covenant Health, and Aspen Dental.
Around the World
Wherever you are in the world, Cleverism has a job for you. Since you can browse jobs based on your location, you will find the different countries covered by the job site.
Some of those countries are the United States, Germany, France, Australia, India, China, Philippines, Netherlands, Ireland, Japan, Portugal, Vietnam, Russia, and Lebanon.
Tweaking the Resume Templates
My favorite feature of Cleverism is the Resume Templates section. It is basically the tool that can help you get the job.
I used it during my job hunt to make sure that my credentials match the description of the job I was applying for. If you want to try the feature as well, the first step is to choose a template.
Once you've selected a template, a form will appear on your screen. It will ask for your basic details, such as name, contact information, address, and links to social media accounts.
The other fields you have to fill out are Experience, Education, Skills, and Summary – which should showcase the highlights of your career so far.
Sharing Your Resume
When you're done with your resume, you have the option to preview and further customize it. Once it is customized, you can share your resume online or send it to the company you are interested in.
When I created my resume, I wasn't sure if its contents were what the company I'm interested in is looking for. What I did was explore the resume templates available on Cleverism.
There are sample resumes for data scientists, babysitters, sales associates, project managers, and financial analysts. Cleverism also features cover letter templates that can be paired with resumes.
Where Your Data Goes
I admit that the first time I used Cleverism, my concern was that the information I was entering into the platform might be recorded and distributed elsewhere.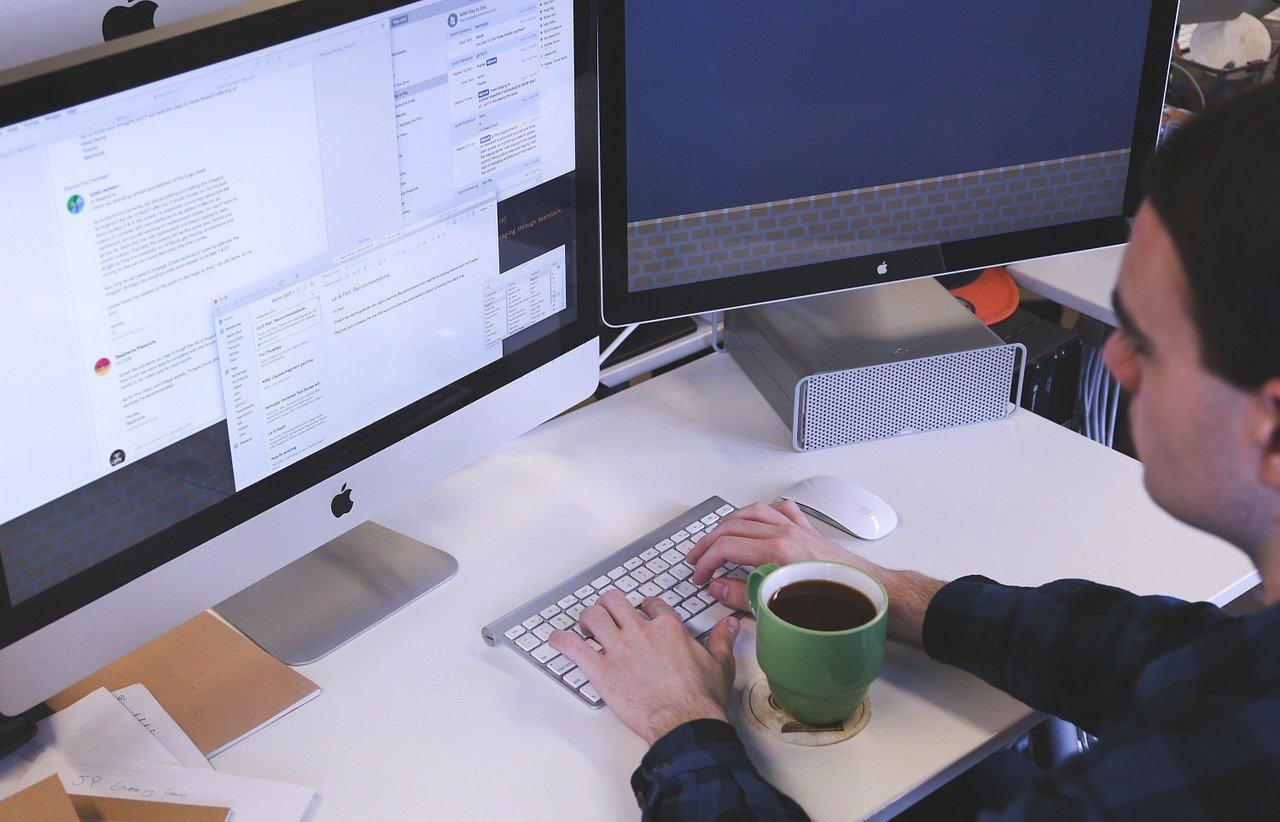 Cleverism's privacy policy assures me that the data they collect is used for legitimate purposes only. Cleverism collects my email opt-ins, billing information, payment source, and details involved in account registration.
Cleverism clarifies that such information will be used to process purchases, answer questions, and send users career tools and content on how to improve one's job search.
You're asked to confirm these permissions when you sign up for the website.
Who Can Access Your Data
Cleverism states that the data they collect from users is shared with third parties for legitimate actions.
Among the third parties are financial transaction processors and a customer service communication platform.
Other entities with access to the job applicant's data are a contest and survey platform, an email communication manager, marketing funnel providers, and website management services.
Conclusion
Cleverism is a complete package as a job board. It offers the hottest jobs today from the most competitive industries and top-notch companies.
What I like most about Cleverism is it doesn't simply send me jobs but also shares resources to get the jobs.