Over the past few years, freelancing has been steadily rising in popularity as more people look to gain more flexibility and control over their careers. Currently, freelancers make up approximately 35% of the global workforce, with around 1.1 billion people doing freelancing worldwide.
Aside from flexibility, the global health crisis has also contributed to the surge in freelancer numbers after people lost their jobs or began working from home. With several of my friends and family members looking for freelancing jobs, I decided to look for a job site that caters to this sector.
This is when I came across the FreeUp job marketplace for freelancers. In this article, I will talk about the Freeup website, its features, and how to use it both as a job seeker and employer. If you want to know more about this platform, continue reading the article below.
About Freelancing and Freelancers
Benefits of Working as a Freelancer
About the FreeUp Job Marketplace for Freelancers
Examining the Features of the FreeUp Job Marketplace
Becoming a Freelancer with the FreeUp Job Marketplace
Freelancer Skill Levels and Pay Rates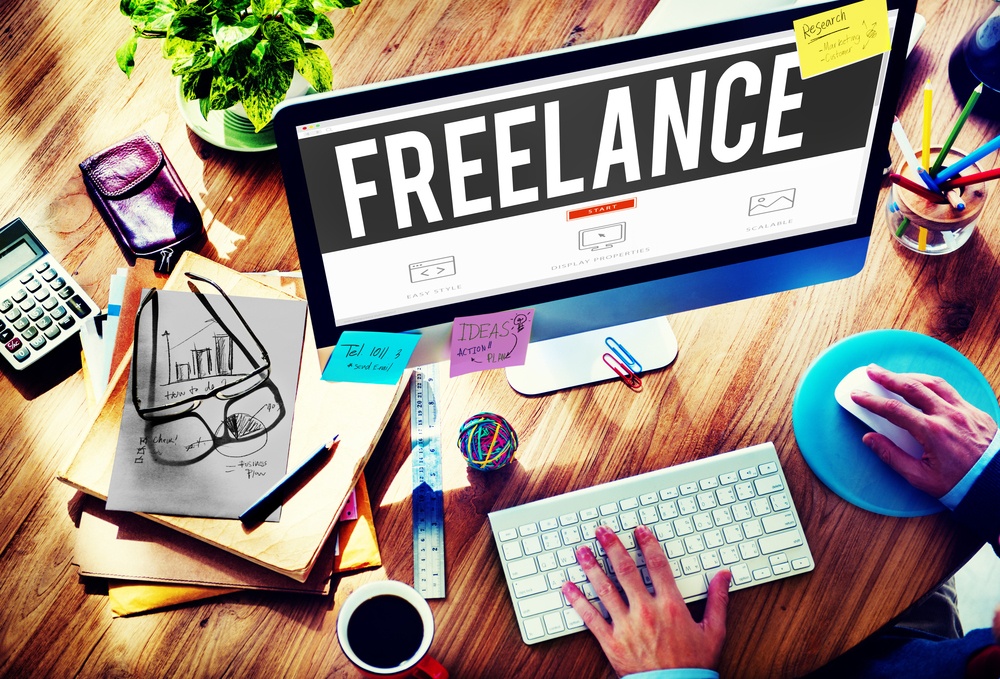 About Freelancing and Freelancers
In a nutshell, freelancing is working with a company or client as an independent service provider rather than as an employee. Often called independent contractors, freelancers are basically self-employed.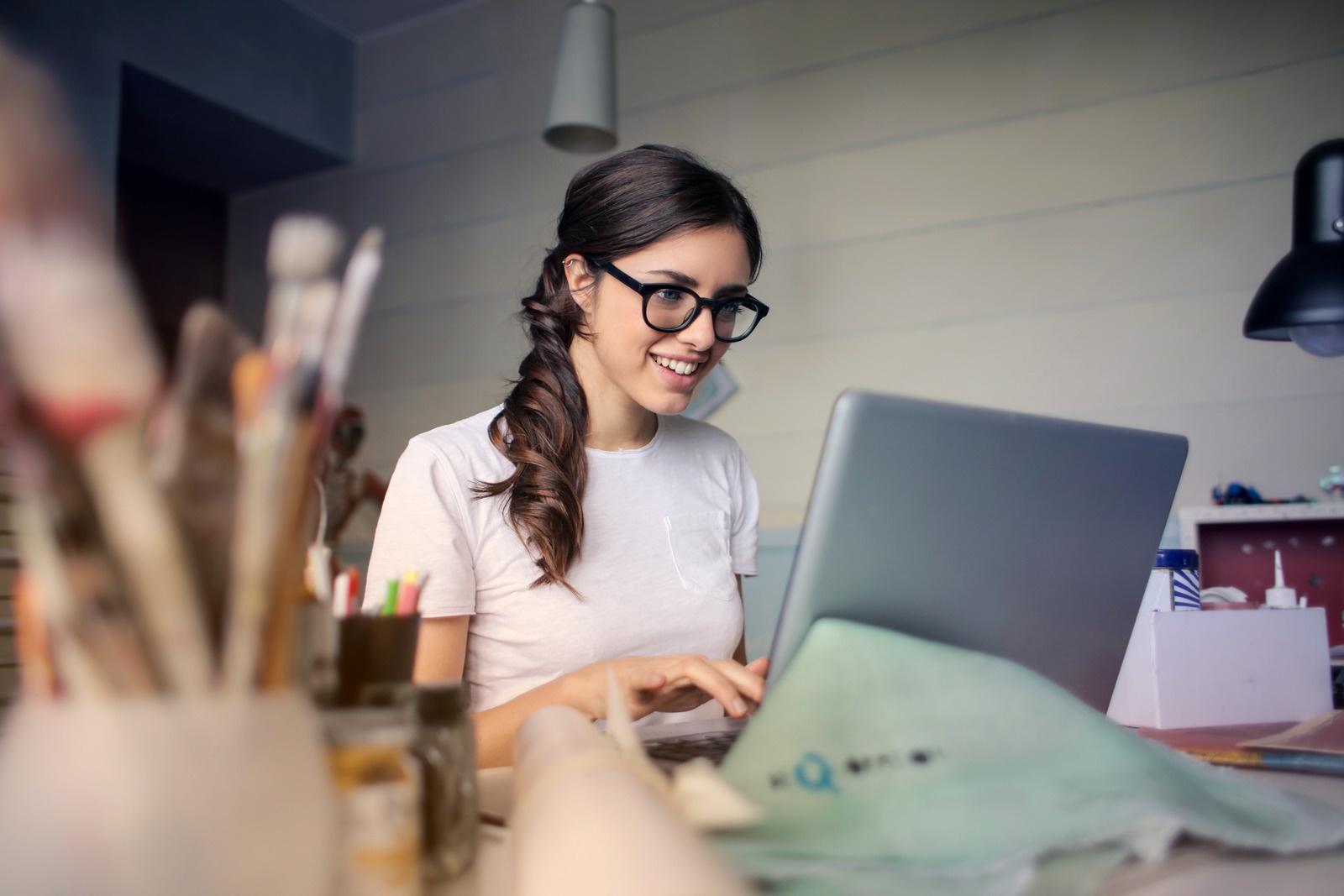 Companies hire freelancers on a short-term or part-time basis, usually for a particular project.
Unlike full-time employees, freelancers do not receive the same benefits and their level of commitment to the company is also different.
Aside from the independent contractors, freelancers are also sometimes referred to as contract workers, contract consultants, and contract-to-hire. Take note that contract-to-hire freelancers could become full-time employees.
How Freelancing Works
As I mentioned earlier, freelancers generally work part-time or short-term with a company as a service provider and in return, they receive payment for the services they provided.
Freelancers are sometimes paid per session or project completion, wherein the payment is pre-determined by both parties. However, some clients pay them based on the number of hours they worked.
In some cases, freelancers are paid a retainer fee for a fixed number of hours of service per week or month. This is paid regardless of whether the full time is maximized or not.
Benefits of Working as a Freelancer
Although freelancers do not receive the usual work benefits full-time employees do, there are other kinds of benefits that they enjoy in their freelancing career. One major benefit they have is flexibility.
With freelancing, you are able to choose your own work hours, the kind of work that you do, and the type of clients you deal with. Oftentimes, you are able to work remotely from your home.
Freelancing is also perceived more as a form of business rather than employment because freelancers do not have fixed salaries and are able to earn as much as they want from their clients.
Other Advantages of Freelancing
If you're someone who's interested in a variety of things and are keen to try out new activities, freelancing gives you the freedom to explore different types of work and industries. Some even work in multiple industries at the same time.
Freelancers are more like entrepreneurs rather than employees so they are actually their own boss. If you become a freelancer, you don't have to worry about hierarchy at work since you only report to your client directly.
Lastly, freelancing can be a stepping stone to building your own company in the long term. It can also be something you do as you figure out the career path you want to take.
About the FreeUp Job Marketplace for Freelancers
Now that I've discussed what freelancing is and its advantages, it's time to talk about the FreeUp Marketplace for freelancers. FreeUp is a job board specifically tailored for freelancing.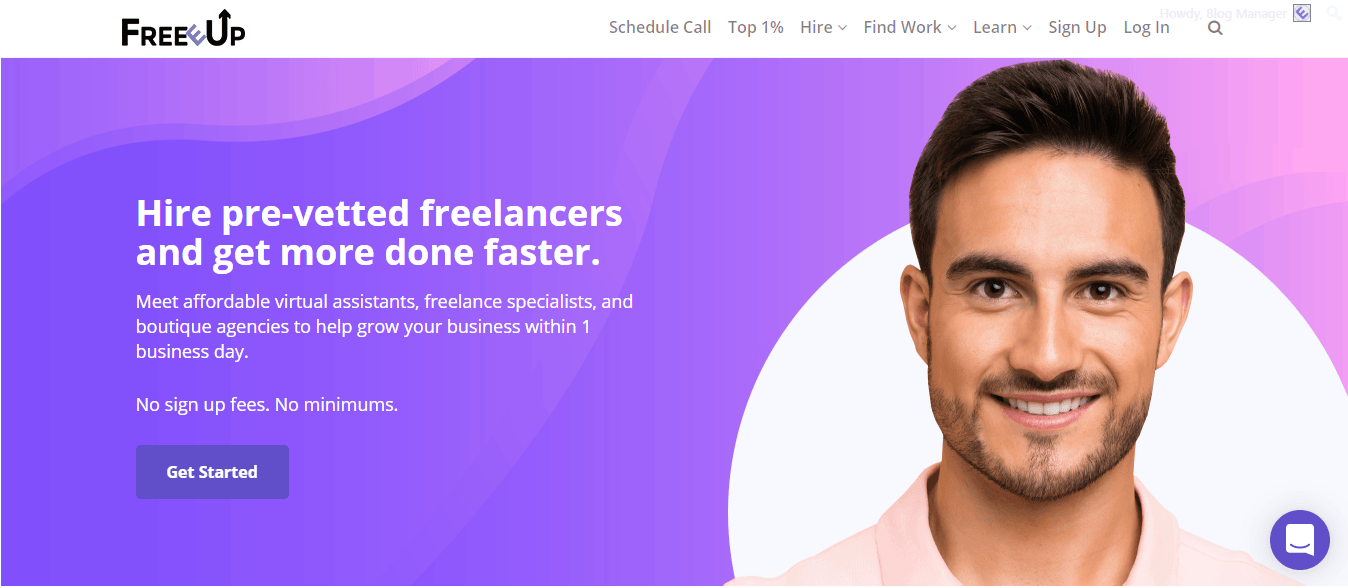 However, unlike the usual job boards that are open to all job seekers, FreeUp only accepts the top 1% of the freelancers that go through its recruitment and interview process. It makes sure that all freelancers on the site are thoroughly vetted.
Using the FreeUp job marketplace, clients looking to hire freelancers are able to connect to a vetted freelancer usually within 24 hours of submitting a request.
A Brief History of FreeUp
Founders Nathan Hirsch and Connor Gillivan came up with the idea of FreeUp after they found it difficult to hire team members when they expanded their e-commerce business.
They introduced FreeUp in 2015 as a job marketplace that provides businesses access to pre-vetted freelancers and matches clients with freelancers fast. In 2016, they concentrated on Amazon clients and freelancers.
The company then expanded to other e-commerce platforms and eventually added digital marketers and web developers in 2017. Growth marketing company The HOTH acquired FreeUp in 2019.
Examining the Features of the FreeUp Job Marketplace
For job seekers, becoming a member of the FreeUp community will give you access to numerous client projects, which you can browse through on the Open Projects Board. Here you can find the projects that suit your skills and pay rate.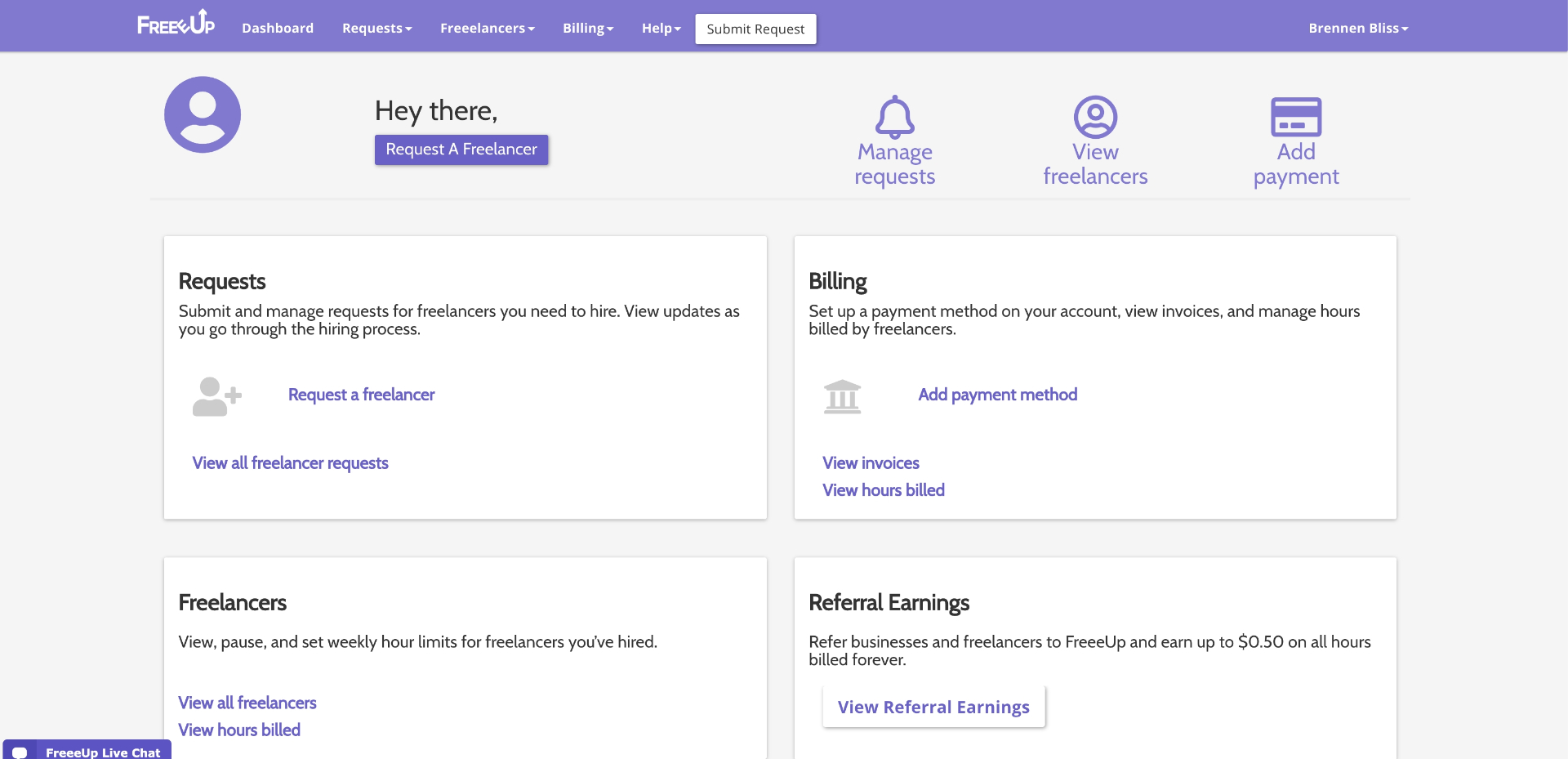 When signing up to the platform, you will be guided by a FreeUp assistant in setting up an account and familiarizing yourself with the job marketplace.
Once you've created a FreeUp account, you will also be able to link your bank details to it and receive payments from your clients directly to your bank account.
Features Enjoyed by Clients
If you're a client looking to use FreeUp to find freelancers for your business, the platform matches you with the perfect candidate by simply asking a few questions about the skills you need for the project.
You are also able to set up short 15- to 20-minute interviews with candidates to ensure that they are really the right fit for you.
Once you've hired people from the platform, you can easily set hour limits, provide estimated deadlines, and communicate with them through FreeUp. The client portal has an automated billing system that reviews the hours worked weekly.
Becoming a Freelancer with the FreeUp Job Marketplace
Joining the FreeUp community as a freelancer is quite simple. You begin by filling out the FreeUp freelancer application form. It will ask for your personal details, the services you provide, and your ideal hourly rate.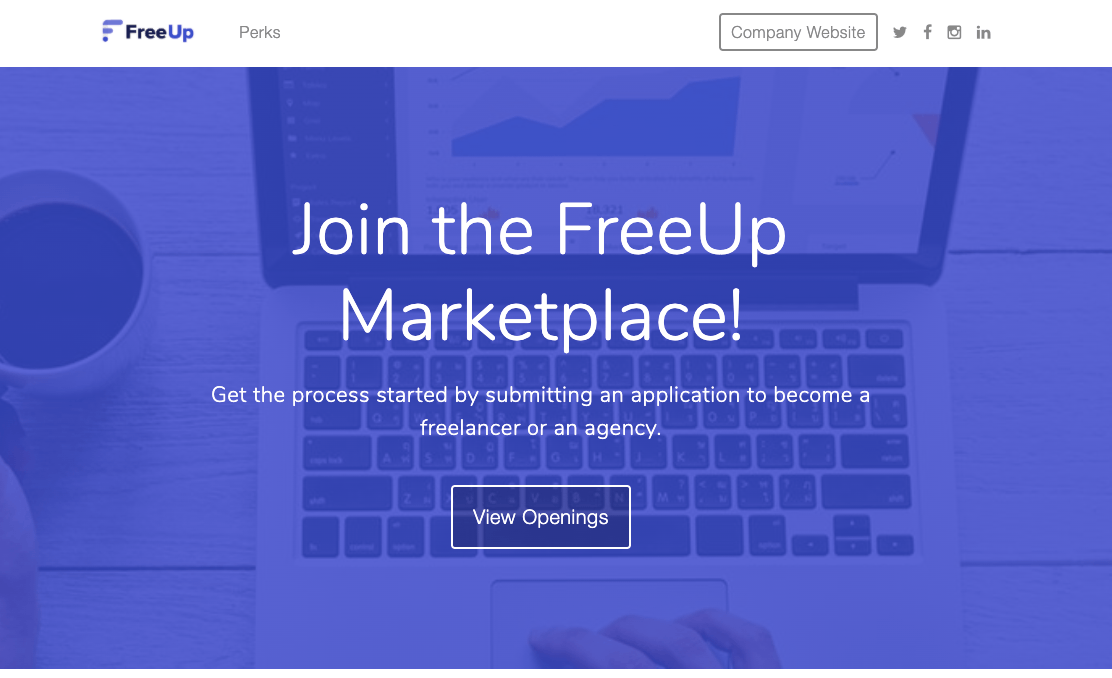 Within one to two days of your application, you will receive a response from FreeUp's Freelancer Success team. If selected as part of the top 1%, you will be invited to an interview with a FreeUp representative.
After a successful interview, the final stage of the application process will be a test on your knowledge of FreeUp's Freelancer Best Practices and Terms of Use. Passing the test would mean you're officially part of the FreeUp community.
Selecting the Top of the Top
As mentioned earlier, FreeUp only takes the top 1% of freelancer applications. Aside from filling out the application form, freelancers also take an Internet speed test and typing test.
Those selected for the one-on-one interview with a FreeUp representative are asked questions based on real-life situations in order to vet them on their skills, communication ability, and attitude.
Finally, the Freelancer Best Practices and Terms of Use test requires each freelancer to prove that they understand the key practices required to work professionally with clients through the platform.
Freelancer Skill Levels and Pay Rates
The levels of expertise by freelancers on the FreeUp job marketplace are divided into three, namely Entry Level, Mid-Level, and Expert Level. As they go higher in level, freelancers also get higher pay rates.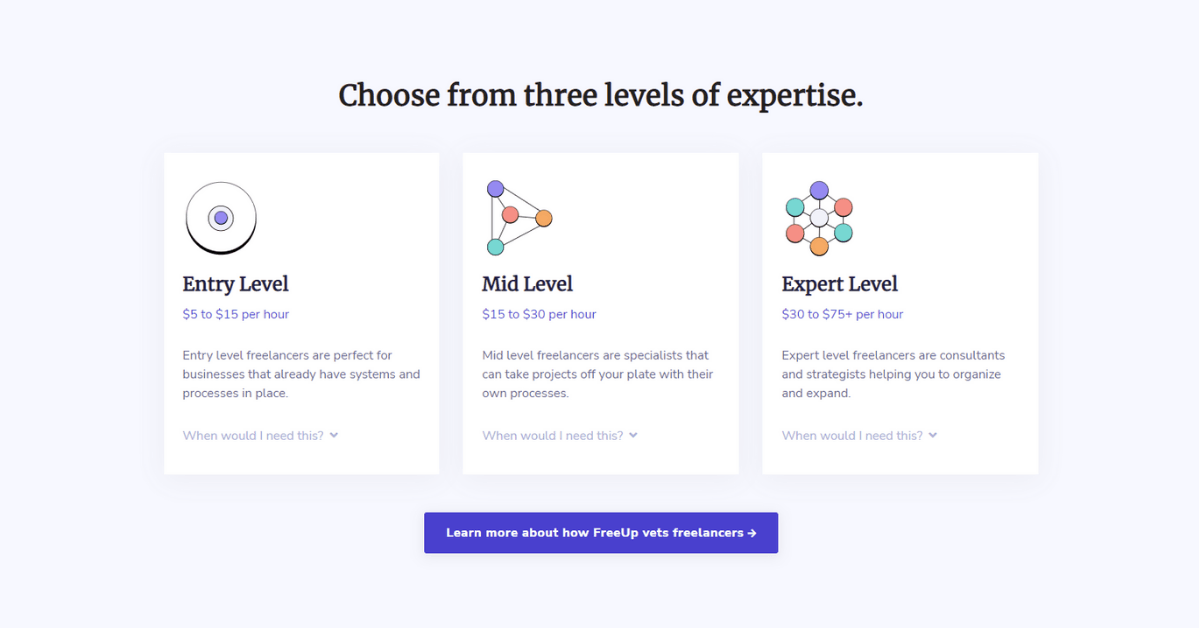 Entry-level freelancers are fast learners but need to be trained first in the client's systems and processes.
Hiring entry-level freelancers is recommended for basic tasks like data entry and lead generation.
While the pay rate will still depend on the specific tasks that will be outsourced, entry-level freelancers on FreeUp receive between $5 to $15 per hour on average.
Mid-Level and Expert Level Freelancers
Meanwhile, freelancers categorized as mid-level on FreeUp are those with specialization or experience in certain fields. Training is not necessary at this level but guidance may still be needed.
Mid-level freelancers are paid between $15 to $30 per hour for tasks such as content writing and editing, project management, marketing and branding, and search engine optimization.
Lastly, expert-level freelancers, who receive a payment of between $30 to $75 per hour or more, are able to manage projects independently. Tasks given at this level include consulting, management, and programming and development.
Conclusion
Overall, I found the FreeUp job marketplace an efficient way to connect clients and freelancers compared with other more popular job boards because it specializes in freelancing. I liked that it catered not only to experienced freelancers but also to entry-level ones, giving them a chance to build their portfolios.
I'd also recommend the platform to businesses looking to hire freelancers because of its comprehensive and meticulous selection process. Accepting only the top applicants gives clients the security that FreeUp freelancers provide the best services available in the market.