If you are looking for a job opportunity at a company that supports and helps their employees develop, working at Taco Bell may be something you should consider. The company has laid out a path for its team members to help them build a long-term career. Its "Start with us, stay with us" slogan says it all.
Whether you're considering a full-time or a part-time position, Taco Bell has a lot to offer with its thousands of branches across the world. If you're an experienced employee looking for a dynamic workplace, Taco Bell's offices have a lot to offer.
The company provides numerous services to its office employees to cater to their different lifestyles, such as daycare, laundry service, and car wash. If these things piqued your interest, keep reading to learn more about Taco Bell as a company and the job opportunities that await you at the restaurant firm.
About Taco Bell
Working At Taco Bell
Salaries And Other Benefits Provided By Taco Bell
How To Apply Online For A Job At Taco Bell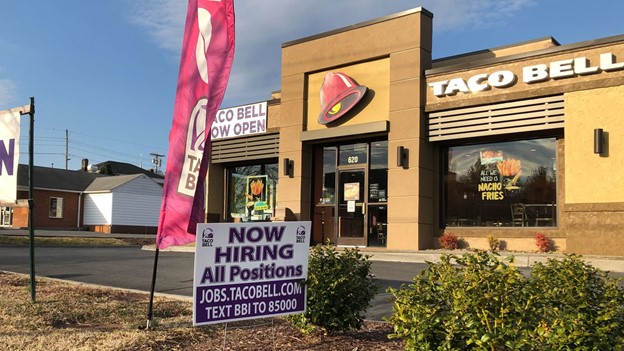 About Taco Bell
Taco Bell is a US-based chain of fast-food restaurants that serve a selection of Mexican-inspired foods. Its menu includes tacos, nachos, quesadillas, burritos, and other novelty and specialty food items. The company prides itself in offering "crave-able" yet affordable food with bold flavors.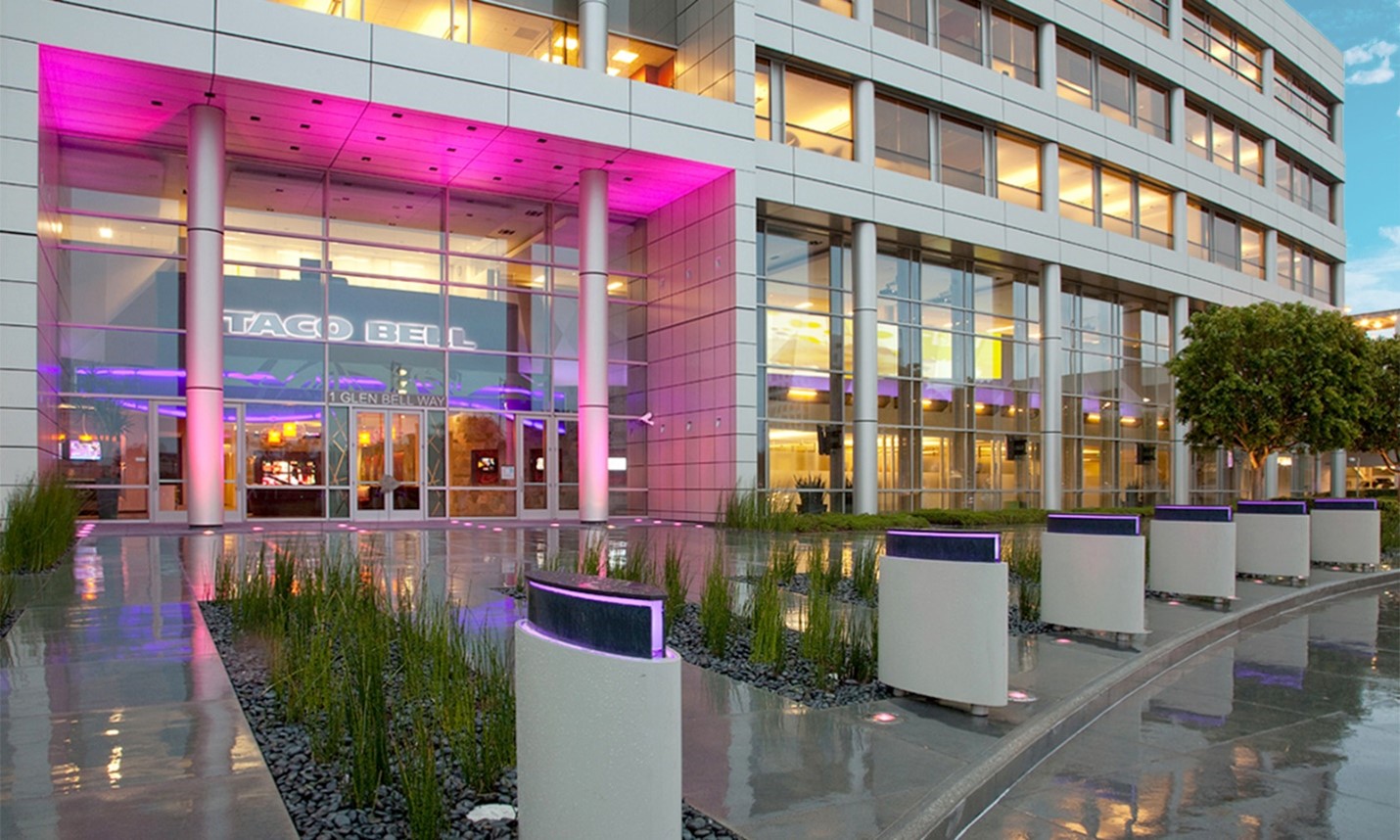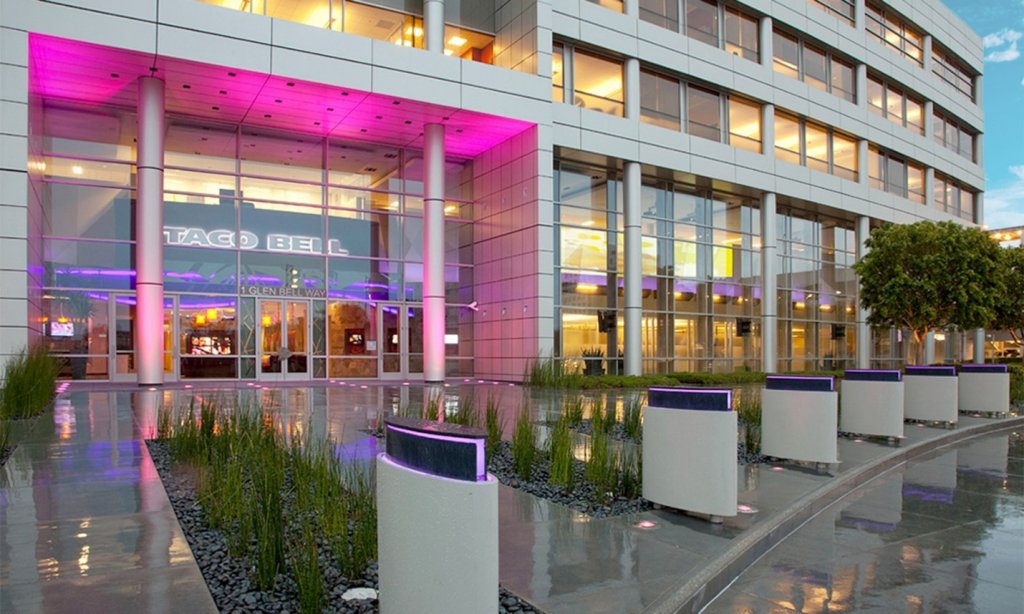 In the US, the quick serve restaurant (QSR) brand and its over 350 franchise organizations run more than 7,000 restaurants that serve over 40 million customers every week. Aside from the US, Taco Bell also has almost 500 restaurants operating in nearly 30 countries worldwide.
With its slogan Live Más, meaning "to live more," Taco Bell aims to impact the lives of its employees and serve the community through its nonprofit organization, the Taco Bell Foundation, and to provide educational opportunities via its Live Más Scholarship. Additionally, its Feed the Beat program grants access to new music, sports, and gaming.
Brief History Of Taco Bell
The Taco Bell company was founded in 1962 by Glen Bell in Downey, California. Before Taco Bell, Glen owned and managed Bell's Hamburgers, a hamburger stand located on the border of San Bernardino and Colton City. He first ventured into the taco business with his first taco stand, Taco Tia, in 1954.
Taco Bell's first franchisee opened a restaurant in Orange County, California, in 1964, and in 1967, the company opened its 100th restaurant at 400 South Brookhurst in Anaheim. Originally, the Taco Bell restaurants only had walk-up windows and had no indoor seating and drive-thru service.
With 325 restaurants in operation, the company went public in 1970. Glen eventually sold Taco Bell to Pepsico in 1978 and became a shareholder of the multinational food, snack, and beverage corporation. In 1997, Pepsico decided to spin off Taco Bell and its other restaurant chains in Tricon Global Restaurants, which was later renamed, Yum! Brands in May 2002.
Working At Taco Bell
Taco Bell is an excellent place to start your career as it is committed to hiring almost 1.5 million young people ages 16-24 over the next ten years. In 2015, the firm joined a coalition called the 100,000 Opportunities Initiative alongside Starbucks, Walmart, and Potbelly Sandwich Shop, which aimed to engage at least 100,000 youth and help them get jobs.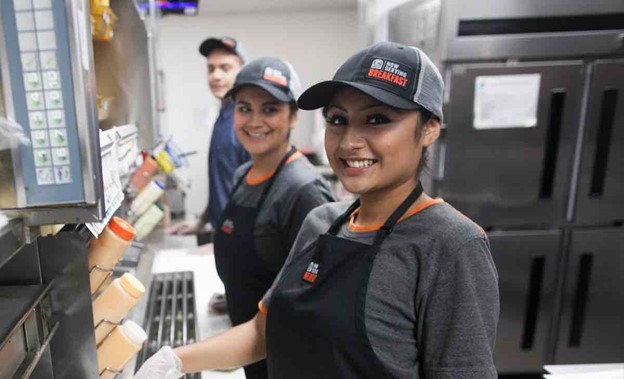 The company currently has a lot of positions to fill, particularly in its restaurant operations, so even inexperienced workers have the opportunity to be hired at one of the branches. New hires may expect to do work involving customer service and keeping the restaurants clean.
Holidays, as well as night and weekend shifts, are typical assignments for most new hires. On the other hand, if you are fortunate enough to land a corporate job at Taco Bell's offices, you will be able to enjoy perks such as employee awards and employee discounts. Another bonus for staff members is that you will be the first to try new menu items.
Common Restaurant Positions At Taco Bell
At Taco Bell restaurants, there are several job positions that you may land, depending on your qualifications and experience. Team members are those responsible for working the registers, preparing the food for the customers, and maintaining the dining and kitchen areas.
Cooks are employees specializing in food preparation, including handling the meat used for the menu, chopping vegetables, and performing other kitchen tasks. Associate cooks are primarily assigned to packaging food items and keeping the kitchen clean at all times.
Meanwhile, shift leads are tasked with supervising team members while doing the same tasks as them. For example, shift leads may receive instructions from managers regarding the handling of customer complaints. Managers and assistant managers handle supply orders, sales recording, and employee supervision.
Salaries And Other Benefits Provided By Taco Bell
Team members' pay rate typically starts at minimum wage, but this slowly rises over time. Due to the added responsibilities that they handle, shift leads receive around a dollar or two higher than what team members receive.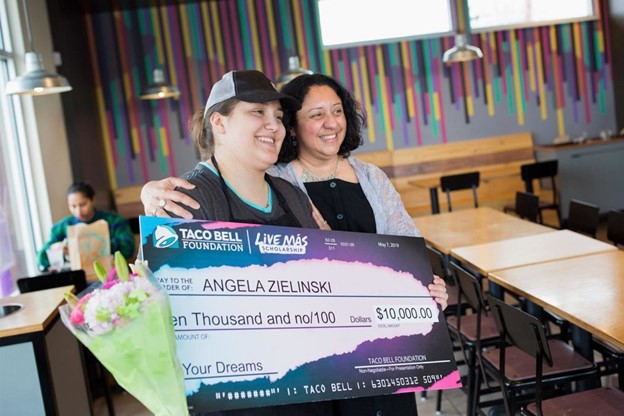 Meanwhile, cooks get hourly wages of between $8 and $13 per hour. On the other hand, assistant managers often receive a salary of about $30,000 a year, while general managers could earn around $45,000 annually.
As mentioned earlier, Taco Bells wants to help their employees to pay for their education through the Live Más Scholarships. The company has already awarded $7 million of the $17 million it plans to give out this year, and $2 million of the scholarships were received by 150 team members.
You can also take part in the GED certification program or get a degree through a network of universities with Guild Education.
Other Benefits Enjoyed By Taco Bell Employees
Aside from the salaries and scholarship opportunities, Taco Bell workers may also receive free cell phones, life insurance, and health care coverage. In addition, they may also get medical, dental, and vision plans that start on day 1.
Upon gaining seniority, employees may also receive paid time off and access to 401(k) retirement plans with a 6% matching contribution from Yum! Brands with immediate vesting. Time offs may include four weeks of vacation annually, five sick or personal days a year, and two paid volunteer days off per year, as well as nine paid holidays plus one floating holiday.
Women employees receive 18 weeks of maternity leave and six weeks of bonding time with their babies. The company also assists workers who are planning to adopt a child. Flexible spending accounts are also allotted for health care and dependent care. Bonuses are awarded but will depend on your level in the organization.
How To Apply Online For A Job At Taco Bell
To work at a Taco Bell restaurant, you should be of legal age, depending on the state or country of your residency. In most states, the minimum working age is 16 years old. To browse through the job openings and submit a job application online, you may visit Taco Bell's career site.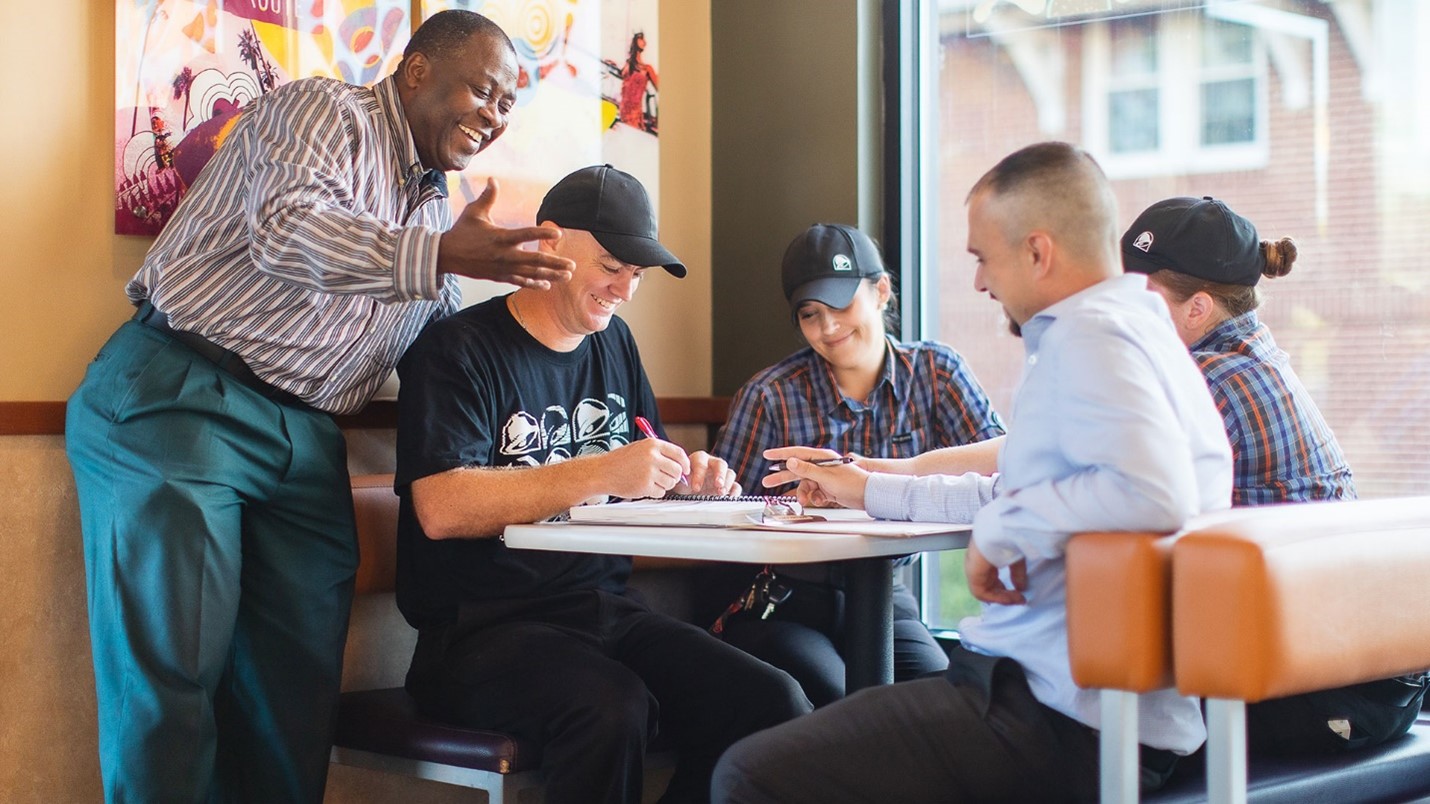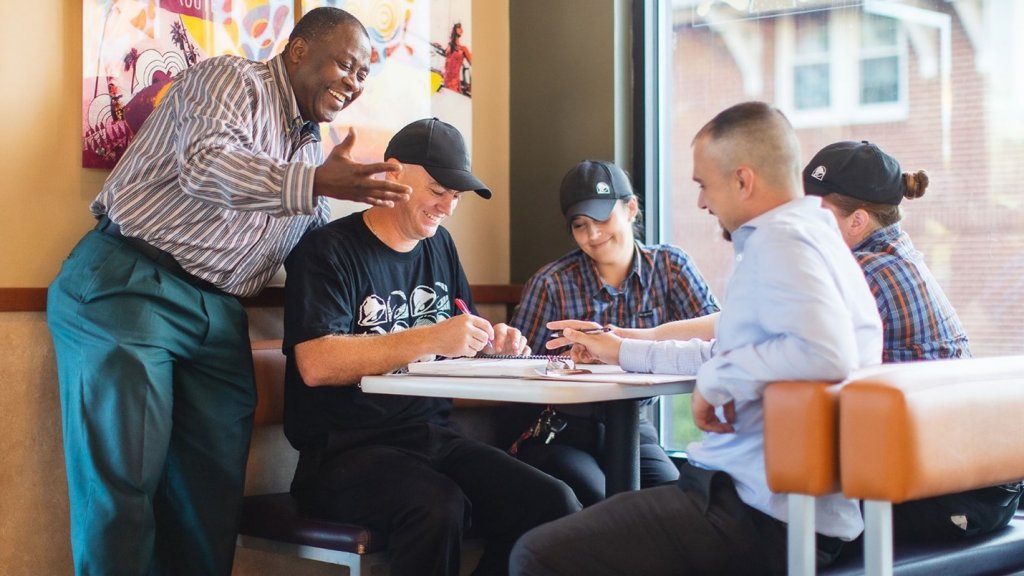 Make sure that you enter your zip code or city and state when searching for job openings on the site to match you with the correct locations. Once you've selected a position to apply for, click on the position, and it will take you to a page showing the required qualifications as well as a blank job application form that you will need to fill in.
You will be required to provide personal information, including your name, address, phone number, email, and social security number. You will also be asked how you heard about the job opening. There will also be pre-employment questions that you will need to answer, such as your previous experience working at another QSR.
Don't let the application requirements scare you; remember that there are positions for entry-level applicants as well, and with Taco Bell, you have the opportunity to work yourself up.
Applying For A Job On-Site
If your preferred restaurant doesn't have an online application process, you apply in person at that particular location. They usually have printed versions of the job application form. Remember to be polite when asking an employee for an application form.
You have the option of either filling out the paper form on the spot or taking it home to submit it later. The restaurant's manager will be the one reviewing your application and scheduling an interview.
While most applicants are called back within a month of applying, some job hunters may wait a few weeks before getting an interview. Therefore, you may opt to follow up via email, phone, or showing up in person. If no hiring manager is present during your visit, you may leave your name and a contact number.
Conclusion
Whether you're starting a career or an experienced worker, applying for a job at Taco Bell could lead to a rewarding experience for you. Based on the benefits that the company offers employees and the community, working for Taco Bell could be a massive opportunity for you.
As with any other job application, you will need to give it your best effort, and opportunities will surely come knocking on your door. If you successfully land a job at Taco Bell, remember to do your best, and you'll surely take your career to greater heights with this great company.