T-Mobile is one of the world's favorite mobile carriers, and we've heard from everyone about how well it works. This is because the company offers nothing but exceptional services with brilliant wireless experiences.
T-Mobile has also been included in several activities related to Corporate Social Responsibility, giving back to the people in more than one way. Not only that, but T-Mobile is all about its customers and very committed to its employees too.
The company is just like a family for every person who works at T-Mobile, and they're always looking for innovative people to hire. If you're thinking about applying to T-Mobile for work, let us guide you through the necessary details.
What Is T-Mobile?
How To Apply At T-Mobile
Benefits Of Working At T-Mobile
Medical Benefits
Vision Benefits
Telemedicine
Paid Parental Leave

Image Source: CNET
What Is T-Mobile?
Founded in December 1999, T-Mobile is a brand name used by its parent company, Deutsche Telecom AG, for mobile communications and services. T-Mobile is currently active in the Czech Republic, the Netherlands, Poland, and the United States.
This company is known as the United States' supercharged un-carrier, offering a high-speed 4G internet and 5G connectivity to every person. The brand has an excellent reputation for customer service, providing the best experience for users with its unmatched value.
T-Mobile is a large telecommunications company, hiring about 79 281 U.S-based employees. If you plan on working at T-Mobile, get ready to use your creativity for good because the company wants you to bring efficiency and effectiveness to the company. T-Mobile is not only a great place to work, but it will also offer you many ways to grow your career!
What Careers Are Offered At T-Mobile?
If you've got the skills and talent required to work at T-Mobile, there are many ways for you to get yourself a spot at this company. You could opt for the retailing careers, in which you'd be in direct contact with the customers to offer them the best service available. If you're into sales, T-Mobile has a place for you too!
Suppose it is your passion to utilize bold solutions and technology to increase the productivity of the business. In that case, Customer Care careers are for you, and thinking on your feet would come in handy too! Solving your customers' problems and guiding them is your basic goal here.
Technology-related careers are also offered at T-Mobile, with innovation being the key goal. More into corporate careers? T-Mobile can provide you with careers in HR, Finance, and Marketing. 
How To Apply At T-Mobile
Even if you're just a student looking for internships and some training, you can find your place at T-Mobile with a hands-on approach. The company will provide you with the experience that you're looking for – only an application away!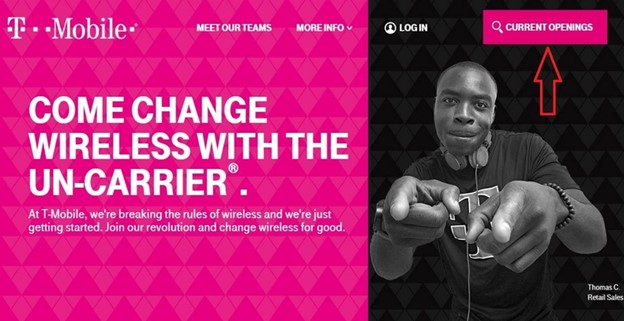 Image Source: Application Careers
If you want to apply at T-Mobile, the first thing you need to do is browse through the current openings in the company. Here, you can see if there's a job of your liking and if you find one, apply online through the link given under the job description!
Applying on your laptop or mobile phone would only take around 10 minutes. If you have to complete an assessment during the application process, it could take an hour. Once you've applied, you're supposed to get a response for the interview within a week; after three months without notice, you can assume that you are unsuccessful. 
If the company requires another interview, they'll schedule it with you. The department responsible will consider your skills and experience, and based on that, they will judge whether you're fit enough for the role. Once they see all the green lights, they'll send you an offer and wait for your confirmation.
Benefits Of Working At T-Mobile
If you're planning to work at T-Mobile, get ready for mind-blowing discounts, benefits, and special perks for you and your family. You will not only get medical, dental, and vision coverage, but you will also receive additional benefits related to your future and personal life.
You can get paid parental leave, money for childcare, and even adoption/surrogacy assistance! Not only that, but if you're taking charge of your financial independence, you could sign in on T-Mobile's Stock and 401(k) plans. T-Mobile would even provide you with Tuition Assistance and more discounts daily related to mobile service through their discount + perks program.
You would become eligible for these benefits after your first work month has passed. For instance, if you began working on February 5, the benefits would apply to you after April 1. There may also be longer or shorter waiting periods for each benefit offered.
Medical Benefits
T-Mobile provides its employees with one of the best medical plans available and even lets them choose the plan that fits them best. Your plan type could vary from Health Reimbursement Account (HRA), Exclusive Provider Organization (HRO), or the Health Savings Account (HSA).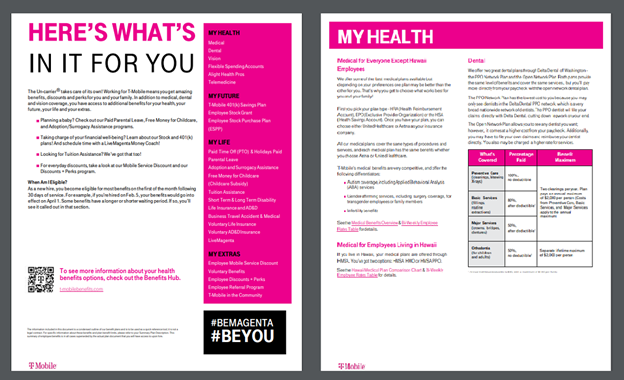 Image Source: Tmobile
After choosing your plan, you can pick between Aetna or UnitedHealthcare for your insurance company. The benefits offered by T-Mobile are extremely competitive in terms of the market. 
Additionally, they offer many other benefits related to infertility, autism coverage, including the Applied Behavioral Analysis and gender-affirming services with surgery included for transgender people. You can check out their Medical Benefits Overview and calculate the benefits yourself.
However, if you're from Hawaii, then your medical benefits will be offered through HMSA with two options that you can choose: HMSA HMO or HMSA PPO. You can check the separate chart for the Hawaii Medical Plan for details related to this.
Dental Benefits
T-Mobile offers you two all-rounder dental plans as employee benefits through the Delta Dental of Washington: the PPO Network Plan and the Open Network Plan.
While both of the plans have the same type of services and benefits offered, you would be able to pay through your paycheck with the Open Network Plan.
If you choose the PPO Network Plan, it would be the cheapest option between the two. However, picking the Open Network Plan means that you have the advantage to go to any dentist you want, but obviously at a higher price with the package.
Vision Benefits
T-Mobile has a Vision Service Plan available for you to seek benefits out of your vision needs. You can cover your eye exams and the costs related to buying new spectacles or contact lenses through this plan.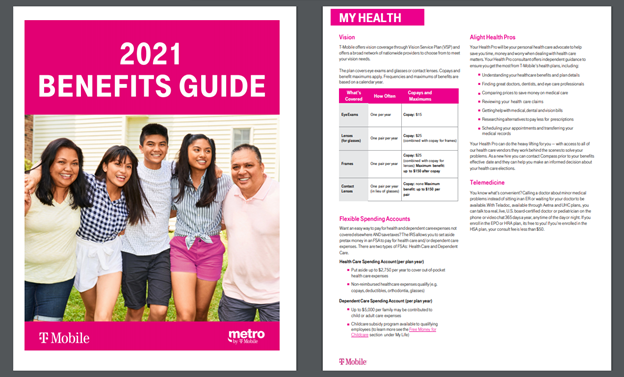 Image Source: Tmobile
However, based on the calendar year, there are limitations to the maximum benefits that you can receive out of this plan.
Alight Health Pros
Additionally, T-Mobile offers a Health Pro program that is built to help you save money and time. Your personal Health Pro will help you in your healthcare matters and provide you with guidance so that you can make the most out of T-Mobile's healthcare plans.
The Health Pro will help you find great doctors, guide you in detail about your plan, help you compare prices to save money, and even scheduling appointments and transferring medical records for you.
Basically, all the hard work for finding the best healthcare solution will be taken up by the Health Pro.
Telemedicine
Through the healthcare plans given by T-Mobile, it will also become easy and accessible to contact a good doctor about minor medical problems rather than scheduling an appointment.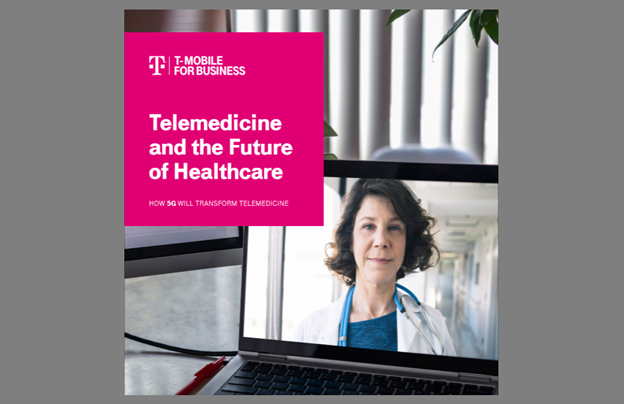 Image Source: Tmobile
You can talk to a U.S board-certified doctor on the phone or through video call any day, any time. If you've selected the EPO or HRA plan, then this service will be completely free for you! In the HSA plan, your service charges would be less than $50.
Paid Time Off (PTO) And Holidays
T-Mobile understands that you'd require a few days off to re-charge and connect with your loved ones, and with their specialized PTO program, it has become easier than ever.
The company allows you the flexibility and convenience to choose your paid time off days, with the hours being rewarded bi-weekly.
Every year, you will receive eleven days as holidays from the company. You will receive full payment for these holidays if you're a full-time employee. A part-time employee will be paid for six hours on each holiday.
Paid Parental Leave
The company has you covered if you're expecting a child or even if you're planning to have one.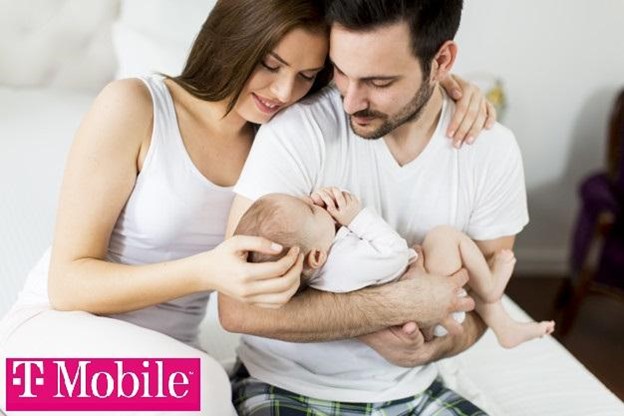 Image Source: Freepik
You will be eligible for the paid parental leave after the first month of joining or if you've been working for T-Mobile for 180 active employment days.
More About Leave
For birth mothers, T-Mobile offers 100% paid leave with up to seven weeks being covered. For the non-birth parents, the paid parental leave will consist of three weeks of 100% paid leave.
If you're considering adopting or surrogate, T-Mobile can even grant you up to $14,000 per child for their expenses.
Conclusion
In short, if you want to work at T-Mobile, it may be the best decision that you might make in terms of your career. According to the reviews, the company takes very good care of its employees and values talent over anything else!