Food businesses are among the most profitable enterprises in the world and employ millions of workers every year. There are several great companies you could work for within the industry, and one of them is Smashburger.
You can work full-time or part-time at the restaurants and earn hourly rates or go into restaurant management if you meet the qualifications. For experienced employees in the food industry, corporate positions are also being filled by Smashburger.
Regardless if you're starting a career or already a seasoned worker, Smashburger offers excellent job opportunities, benefits, as well as a dynamic place to work in. Continue reading below to know more about jobs at Smashburger.
About Smashburger
Available Jobs At Smashburger
Management And Corporate Positions
Why Work At Smashburger?
How To Apply For A Job At Smashburger
Equal Employment Opportunity
About Smashburger
Smashburger is categorized as a fast-casual restaurant specializing in hamburgers. Fast-casual restaurants do not provide full table service but claim to serve higher quality food than fast food.
The restaurant chain is known for its smashed burgers that are cooked using a flat top grill on high heat setting. According to Smashburger, its menu is made from 100% certified Angus beef burgers.
Its signature selections include the Classic Smash, Double Bacon Smash, Smoked Bacon Brisket Burger. The restaurant also sells grilled and crispy chicken sandwiches, fresh, crisp salads, and hand-spun shakes made with Häagen-Dazs ice cream.
A Brief History Of Smashburger
Smashburger was founded by fast food industry veterans Rick Schaden and Tom Ryan in 2007, with its first restaurant located in Denver. Ryan helped develop Pizza Hut's stuffed crust pizza and served as chief concept officer at McDonald's while Schaden formerly owned Quiznos.
The first expansions were done in Houston and Minneapolis, where Ryan and other founding executives were knowledgeable about the local real estate market. By the end of 2011, the restaurant chain had 143 locations and around $54 million in annual revenue.
Smashburger initially relied on social media for advertising and brand building before television and radio ads in 2013. Philippine-based fast-food firm Jollibee Foods Corp. acquired a 40% stake in Smashburger in 2015 for $100 million before owning 100% of the burger chain in 2018.
Available Jobs At Smashburger
Job opportunities at Smashburger are available at all levels, from team members to restaurant managers and from restaurant work to corporate positions.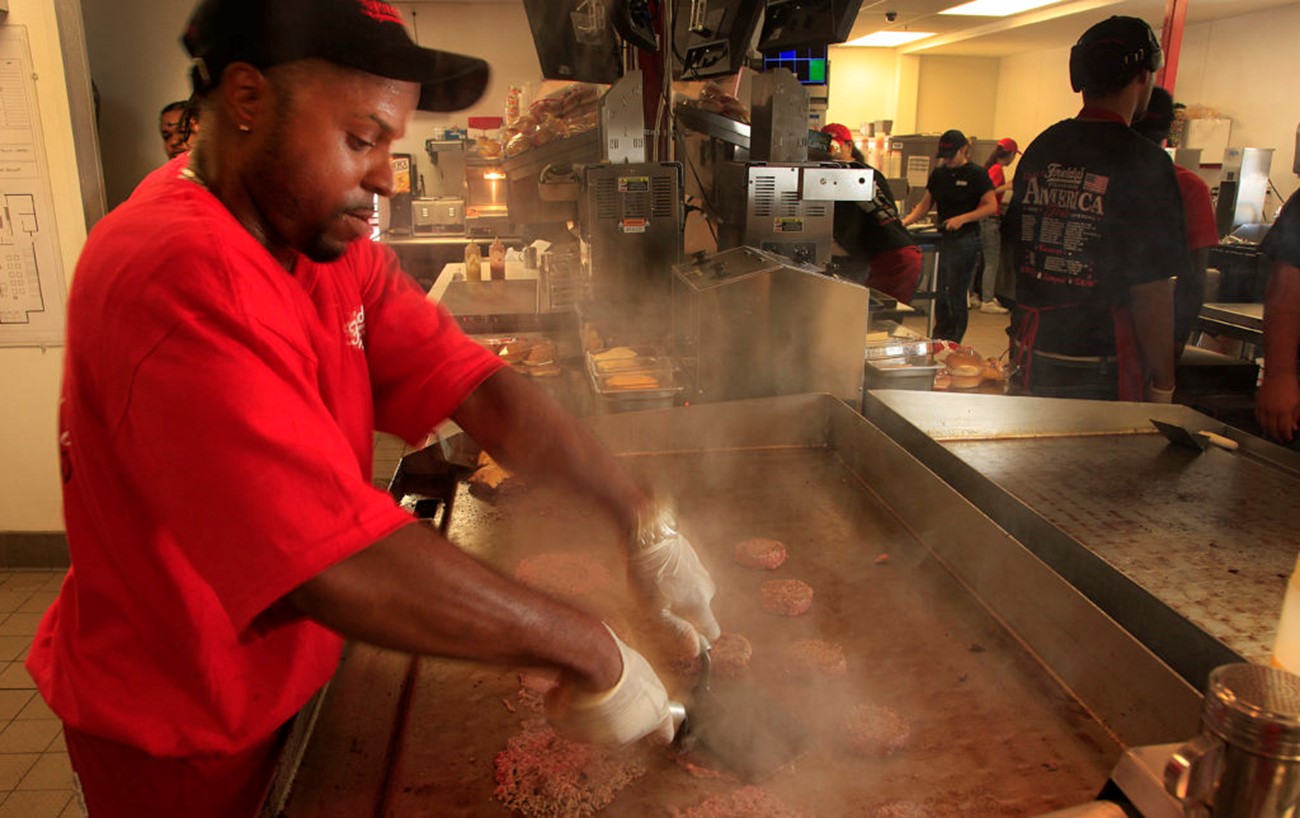 Image Source: Lawrence Journal-World
On the company's careers page, you will find various full-time or part-time positions that you might want to consider working. Team member positions at the restaurants, which are paid by the hour, include cooks, cashiers, and shift leaders.
Cooks are basically in charge of preparing the food, making sure that it is cooked to perfection. At the same time, cashiers operate the registers and take orders from customers. Cashiers need to ensure that they take the correct order and payment from clients.
Shift leaders are team members tasked with making sure that schedules are filled, and the rest of the team members are responsible for maintaining the restaurants. By making sure that everyone does their jobs, the restaurant can function correctly.
Hourly Wages For Restaurant Workers
While rates may vary depending on location, Smashburger restaurant employees are typically paid above the minimum wage. For example, cooks earn about $12.73 per hour, while line/prep cooks get $10.44 per hour.
Shift leaders/managers are paid around $11.49 per hour, while cashiers and customer service associates earn about $10.40 per hour.
These hourly rates are perceived as highly competitive compared with what other fast-food restaurants pay their employees. The company also offers other benefits, which will be discussed later.
Management And Corporate Positions
Aside from restaurant front-end and back-end positions, Smashburger also hires managers for its locations, including restaurant managers and general managers.
Restaurant management positions are full-time employees who receive salaries instead of hourly wages. At least two years of experience as a manager in the restaurant and hospitality industry is required for these positions.
If you prefer working in a corporate setting and have extensive experience and qualifications, Smashburger also hires people for its corporate support center. Examples of corporate positions are digital marketing manager, HR business partner, and director of e-commerce.
Management And Corporate Salaries
Restaurant managers earn an annual salary of about $31,983, while assistant general managers can get paid around $37,417 per year. General managers get $45,017 a year, while district managers can earn approximately $74,889.
On the other hand, corporate employees' salaries could differ on a broader scale depending on their roles and responsibilities.
A payroll specialist gets a salary of about $50,598 per year, while an HR business partner can earn between $75,000 to $80,000 annually. Brand managers get paid about $72,563 per year.
Why Work At Smashburger?
According to the company, it is dedicated to developing the careers of its team members and providing competitive benefits to its workers.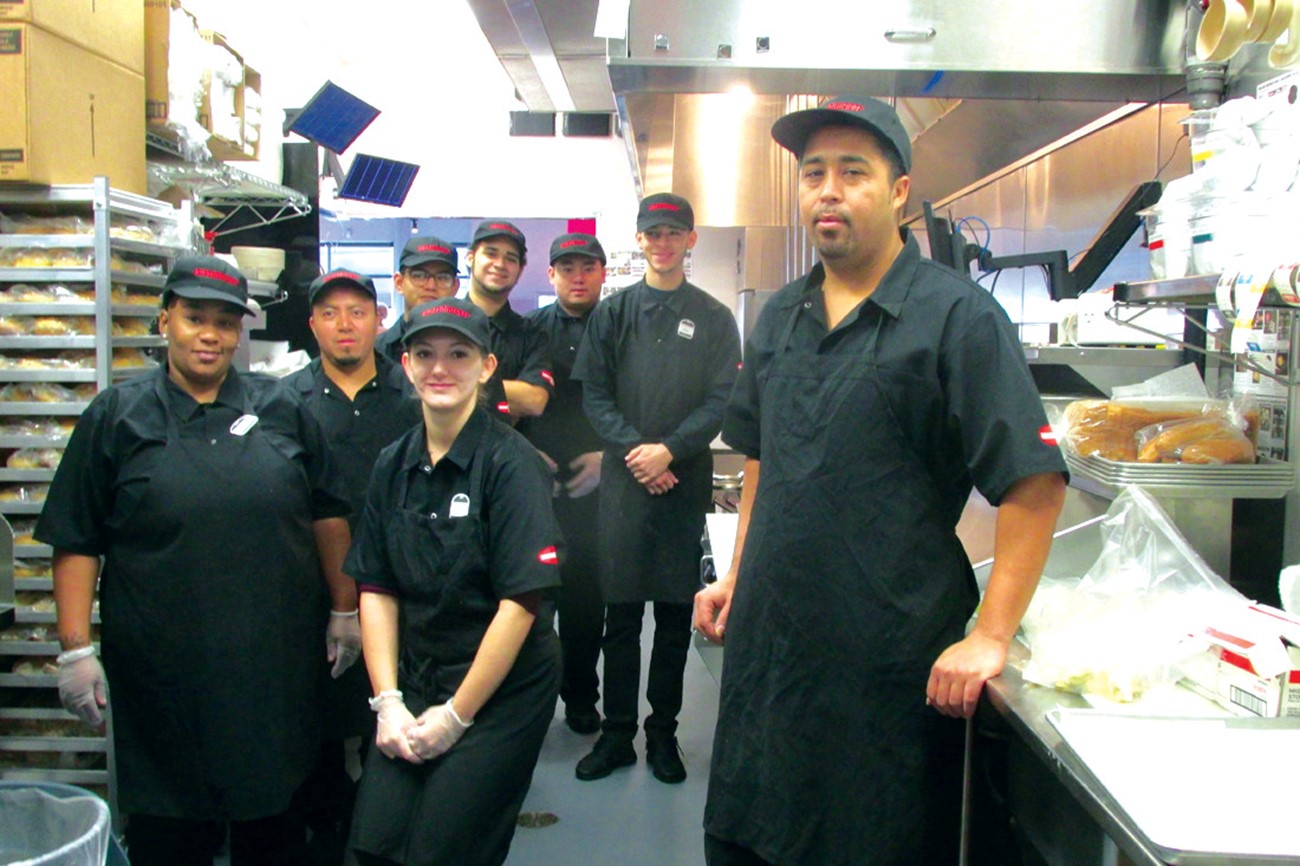 Image Source: Johnston SunRise
To help employees advance their careers, Smashburger has designed a training program to help promote workers. Even team members have a chance to become part of the management team through this program.
In addition to career growth, the company provides competitive compensation and benefits for all its hourly employees and salaried workers.
Benefits Provided By Smashburger
Since the company considers its people to be critical ingredients to success, Smashburger offers them a wide array of competitive employee benefits. Aside from above-average compensation, employees get a 401(k) retirement plan and Pre-Tax Savings Account Options.
The company also provides health and wellness benefits, including medical, dental, and vision insurance options. Smashburger also caters to other needs through work/life services, such as assistance with child care, finding movers, and kennels and pet care.
As an employee, you will also get vacation time for you to relax and unwind. They also provide help for vacation planning, so that you can make the best out of the time off.
How To Apply For A Job At Smashburger
If you're convinced that Smashburger is a great company to work for, then it's time to submit an application online. You could do this by going to the company's careers page on the official website.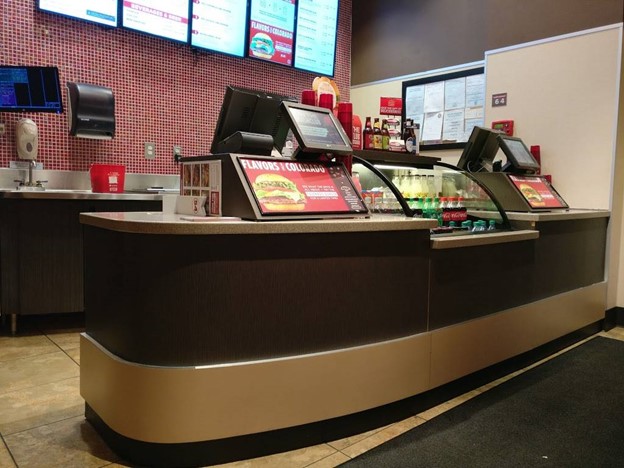 Image Source: USA Restaurants
Select whether you want to apply for Restaurant Hourly jobs, Restaurant Management positions, or Corporate Support Center employment. Once you've done this, you will be taken to a site where all available positions are listed.
There is a search bar that you can use to find specific Smashburger jobs and locations. You can also opt to click the check box allowing the site to use your location to do the job search or use the Filter feature to narrow down the results.
Submitting A Job Application
Once you find the position you want to apply for and the job location you desire, click on the job title, and it will take you to a separate page for that entry.
There you will find the job description, responsibilities associated with the position, and the qualifications needed for the job. You will also see the complete address of the Smashburger location that advertised for the position.
If you've decided to apply for it, click on the Apply button, and you will be asked to sign up using your Google, LinkedIn, or Facebook accounts. Once you've signed up, please provide all the necessary details needed for the application and submit it.
Equal Employment Opportunity
Smashburger claims that as a company, it abides by the principles of equal employment opportunity in all facets of the employment process.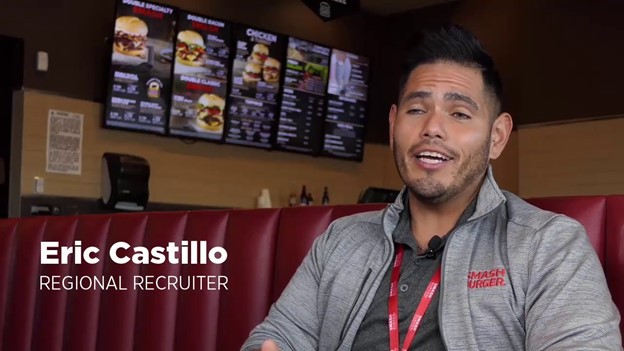 Image Source: Smashburger
Discrimination against any applicants or employees based on any status, including race, gender, and religion, is strictly prohibited by the firm.
Smashburger is also compliant with amendments to the ADA Amendments Act (ADAA) by providing reasonable accommodations to any individual with disabilities that require them. If you're an applicant with disabilities, you may inform Smashburger's personnel representative of any assistance you may need in the application process.
Since Smashburger is a restaurant chain, it would make sense that the company also provides free meals and discounts to its employees. 
Free Meals And Employee Discounts
Hourly workers are entitled to a 50% discount on days that they work and 25% off on their days off when they buy from Smashburger for themselves and their family and friends. Meanwhile, management employees receive a free meal during their workdays.
General managers have it better by getting an $80 per month allowance to treat their friends and family members. With the current global health crisis still impacting people's daily lives, working in the food industry certainly offers many opportunities career-wise.
So whether you are starting a young career or are looking for a growth path with a reputable company, Smashburger could certainly be the place you are looking for.
The Bottom Line
Aside from career growth and competitive compensation, the company also ensures that its employees will be ready for retirement and are provided protection for any medical, dental, and vision problems.
What makes Smashburger an even greater company to work for is its dedication to providing equal employment opportunities to all and its willingness to provide necessary accommodations to people with disabilities.