Cooking is more than following some recipe and dishing something on a plate. It is a form of art that involves several processes that bring several flavors and texture to perfection for people to eat, and it has been cherished for hundreds of years.
Gastronomy has numerous career paths, and Compass Group is a company that offers lots of career paths in various food industries.
Find out more about what it is like to work with Compass Group and how you can apply for a job at this company. 
What Is Compass Group?
How Large Is The Compass Group?
Benefits Of Working With The Group
Current Openings
Diverse Working Choice
A Few Job Roles And Their Hourly Rates
What Is It Like Working At Compass Group?
What Is Compass Group?
Compass Group is a leading and growing food and support services company founded in 1941. Its overall headquarters is in Chertsey, England, but it has expanded to various countries. The company has offices in the United States of America and Canada as well.
Compass Group is like a conglomerate of companies that have, over the years, mastered the art of quality food services. They are the largest contracted food service company in the world, having over 500,000 employees.
Their services are not limited to culinary services alone, as they offer services in the hospitality and support services sector. They are listed on the London Stock Exchange and are also a Fortune Global 500 company.
About Compass Group
Compass Group operates in different countries, employs thousands of workers, and serves more than 5.5 billion meals a year. It generated annual revenue of £20.2 billion in the year 2020.
The company provides services to people from award-winning restaurants to schools, corporate cafes, museums, and many more places. On the other end of the wheel, it offers opportunities for individuals in various marketplaces and across different states and different countries.
They operate food services, gardening, and outdoor services for schools and educational facilities, cleaning, housekeeping, maintenance, among other services.
How Large Is The Compass Group?
Compass Group PLC is based in 45 countries and operates in 50 countries. As of 2020, they have 548,143 employees, making them the leader in food and support management and the sixth-largest employer in that sector.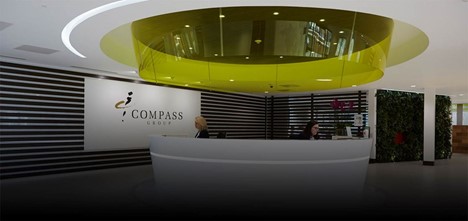 Image Source: Compass Group
They operate under five different sectors and access over 50 international, national, and regional brands.
Compass Group companies include Eurest, Grill, and Co., Levy Restaurants, Lackmann Culinary Services, All Leisure Hospitality, Morrison Management Specialists, ICM, Omega Security Services, All Leisure Hospitality, White Oaks, Plural, among numerous others.
They also manage many brands under the company like Modo, Balance Kitchen, Chef Jet, Grill Nation, Papa John's Pizza, Chick-Fil-A, and Starbucks.
Awards To Its Belt
While being a long-running company is not an automatic guarantee to success, Compass Group is a very successful company. Another thing to note is that it is still thriving as its growth trajectory doesn't seem to stop.
Aside from the company being a Fortune Global 500 company and listed on the London Stock Exchange, they also have the world's most innovative companies, have the best employers for diversity, and are among the most admired companies in the world.
That is not all the company has collected various awards over the years.
Benefits Of Working With The Group
Compass Group LTD offers excellent benefits to its workers. Some of them are basic benefits, while others are just pretty impressive. Some of these benefits also vary based on the role of the employee and the location.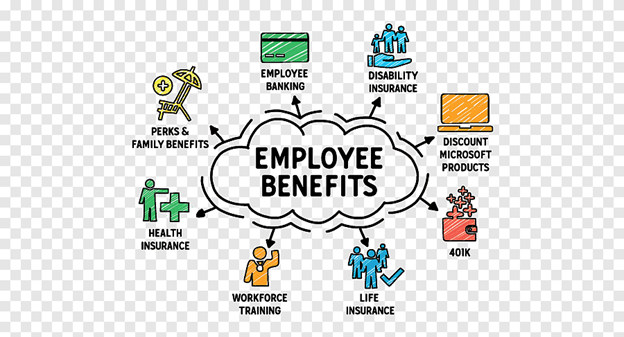 Image Source: Pngegg
Some of the benefits include Health Insurance, Life Insurance, Spouse/Children Life Insurance, Vision Insurance, Dental Insurance, Commuter assistance and benefits, Flexible spending account, Short- and Long-term Disability Insurance, Accidental Death & Dismemberment Insurance, and a Retirement Savings Plan matching 401k.
Other benefits include a Wellness program, Employee assistance program, Referral program, Paid time off, Tuition reimbursement, Voluntary benefits, Supplemental Life Insurance, Associate Discount, and Shopping Programs.
Career Opportunities
The company offers different career choices because of the different services it renders. From its food services to its housekeeping services, waste management services, building operations services, maintenance services, gardening, and outdoor services, there is an opportunity to work for everyone.
With its widespread use in various countries and its operations of different well-established and award-winning companies, coupled with different companies owned by Compass Group, some task needs to be carried out by someone in a particular country.
You can check out the official career opportunities page for more details.
Current Openings
According to their site, there are also thousands of openings currently available to fill. And the good news is that you can apply for these roles immediately through this link provided.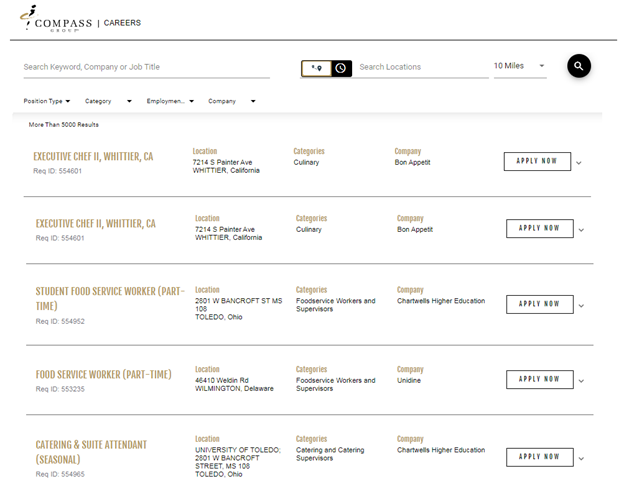 Image Source: Compass Group Careers
Openings span from services in schools, hospitality services companies, food services companies, among others. They also varied by country, region, and state.
Among the roles available in different random categories are cooks, warehouse supervisor, cashier, IT support, office admin, server assistant, and vault room teller.
Diverse Career Choice
There is a wide array of career choices to make when working with Compass Group. Even in a single category, there are many jobs to take and apply for due to the vast career opportunity.
Let us take an example of the Cook category, for instance. You can work as a cook in different companies, institutions, and agencies. And as meals have different types and variants, you can be the chef, sous chef, or salad maker.
Under the support services category, similar diversity also applies. You can be an office admin, IT support, or a vault room teller, based on your level of experience and skills, as well as the job role available.
Diverse Working Choice
Compass Group offers various career choices to multiple people.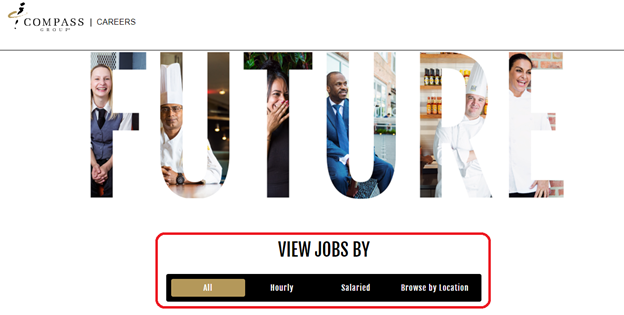 Image Source: Company Group Careers
This gives you a range of choices when you decide to work with Compass Group. You can filter available jobs by category and location to find the job that suits you the most.
You can choose where to work, what you want to do, which is fantastic for all prospective employees and another reason why Compass Group gets good reviews from employees.
Salary Structure
For a company this large holding different other companies with thousands of different job roles spread across different countries, you would expect that the salary range would be big.
That is true, and the salary structure varies by job role, sometimes location, and hourly rate.
You can browse sites such as Indeed to get an idea of what your position's salary range could look like. Indeed collected is data from over 3,000 employees, users, past and present job advertisements.
A Few Job Roles And Their Hourly Rates
Not all job roles can be listed here, but it should give you an overall idea of what to expect. Cooks are paid $12.77 per hour, Dishwashers are paid $11.62 per hour, Janitors get paid $11.62 per hour, Manager receives $42,617 per year, and Food Service worker get $11.46 per hour.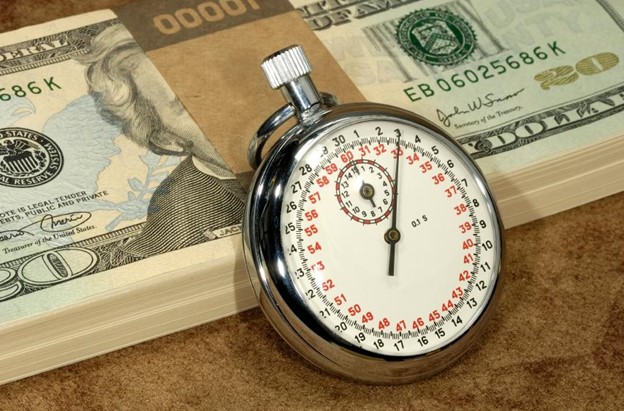 Image Source: Cheatsheet
Other jobs available are Housekeepers who get paid $11.97 per hour, Custodian is paid $9.82 per hour, Operations manager receive 34,641 per year, and Supervisor receives $27,667 per year.
Please note that these values are estimates and may vary by location and are open to change.
Applying For Jobs At Compass Group
To apply for a job at Compass Group is like applying for jobs anywhere else. You have to be prepared, have done a fair share of research, and have a remarkable CV.
Having a remarkable CV means that you have the skills, qualifications, and the ability to perform the requirement for the job. This part comes in handy during the interview as the employer may need you to prove your skills.
If you have what it takes and are willing to start working with them, all you need to do is apply online or at one of the companies close to you with vacancies. After applying for a role, shortlisted candidates would be called for an interview. The interview process can take a day or two, depending on various factors.
What Is It Like Working At Compass Group?
Like every other company and for large companies such as Compass Group, working there have various pros and cons. Even Human Resources cannot help provide 100% satisfaction of all workers across all states and countries of large companies.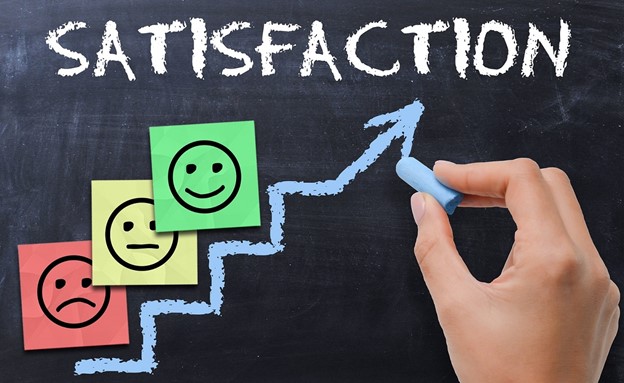 Image Source: Shutterstock
So, there are pros and cons to working with Compass Group. Before applying for a position at Compass Group, you can look at employee reviews posted on sites such as Glassdoor and Indeed.
By looking at these reviews, you could get a real feel of the company, how it treats its employees and what you can expect when you start to work there.
Pros And Cons
Among the pros attributed to working at Compass Group are its benefits. It offers a wide range of benefits as stated above which helps the workers a great deal.
Other pros include being a safe place to work, friendly workers, a place to gain knowledge and learn, good long-term career opportunities, flexibility, and fun, great working atmosphere, among several other resonating pros.
Cons include long working hours, bad communication between higher-ups, low pay, short breaks, and low raises.
Conclusion
This blog post detailed lots of things that you need to know about the Compass Group. It touched on how big the company is, what the company is all about, career opportunities, reviews from past and present workers, and so much more.