Bob's Discount Furniture is one of the most reputable and affordable furniture chains across the United States. 
One thing that the customers really appreciate about Bob's Discount Furniture is the low cost of their products, which makes buying furniture an easy and simple task for everyone.
If you're thinking about working at Bob's Discount Furniture, it's always helpful to know everything about the company. Read on to learn everything you need to know about Bob's Discount Furniture.
About Bob's Discount Furniture

About Bob's Talent Network

Distribution Centre

Customer Care

Life as an Employee of Bob's

Benefits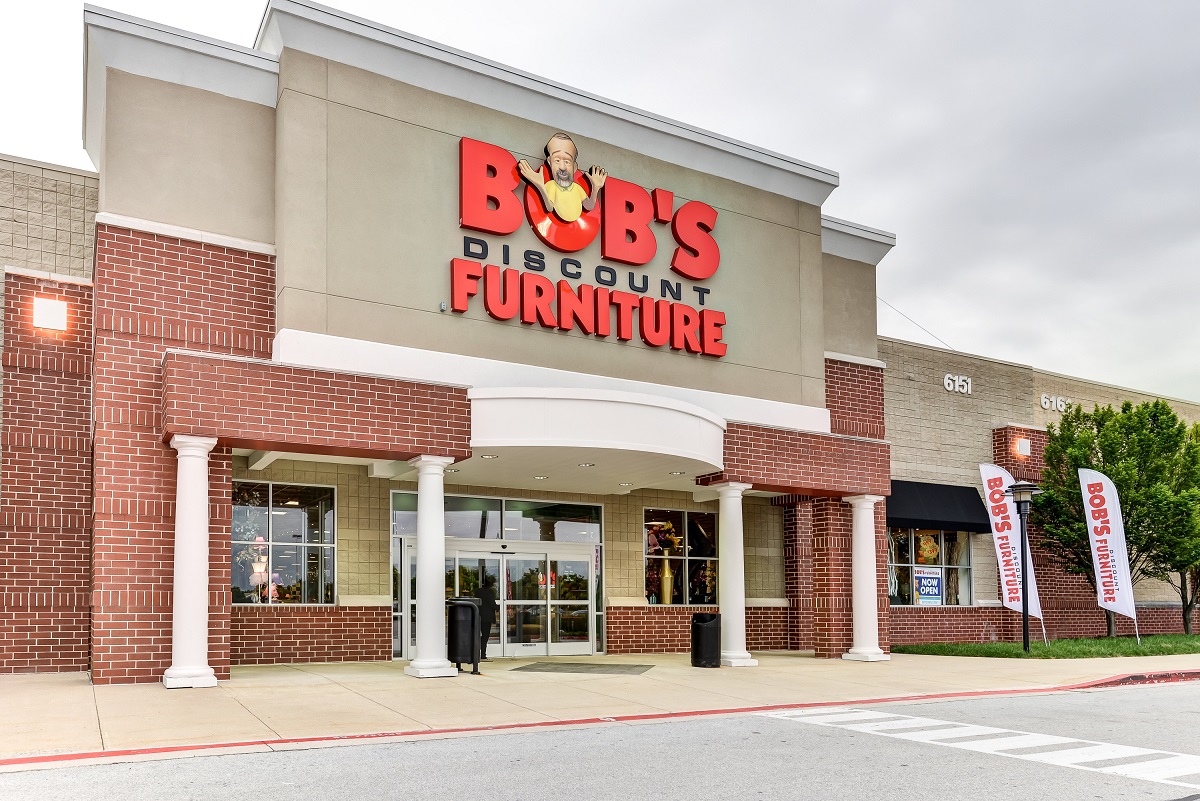 About Bob's Discount Furniture
The first Bob's Discount Furniture store was opened by Bob Kaufman in 1991, in Newington, Connecticut. Its ethos, or 'Bob's Way,' is to ensure that they provide nothing but unsurpassed value through their furniture with truthfulness and integrity.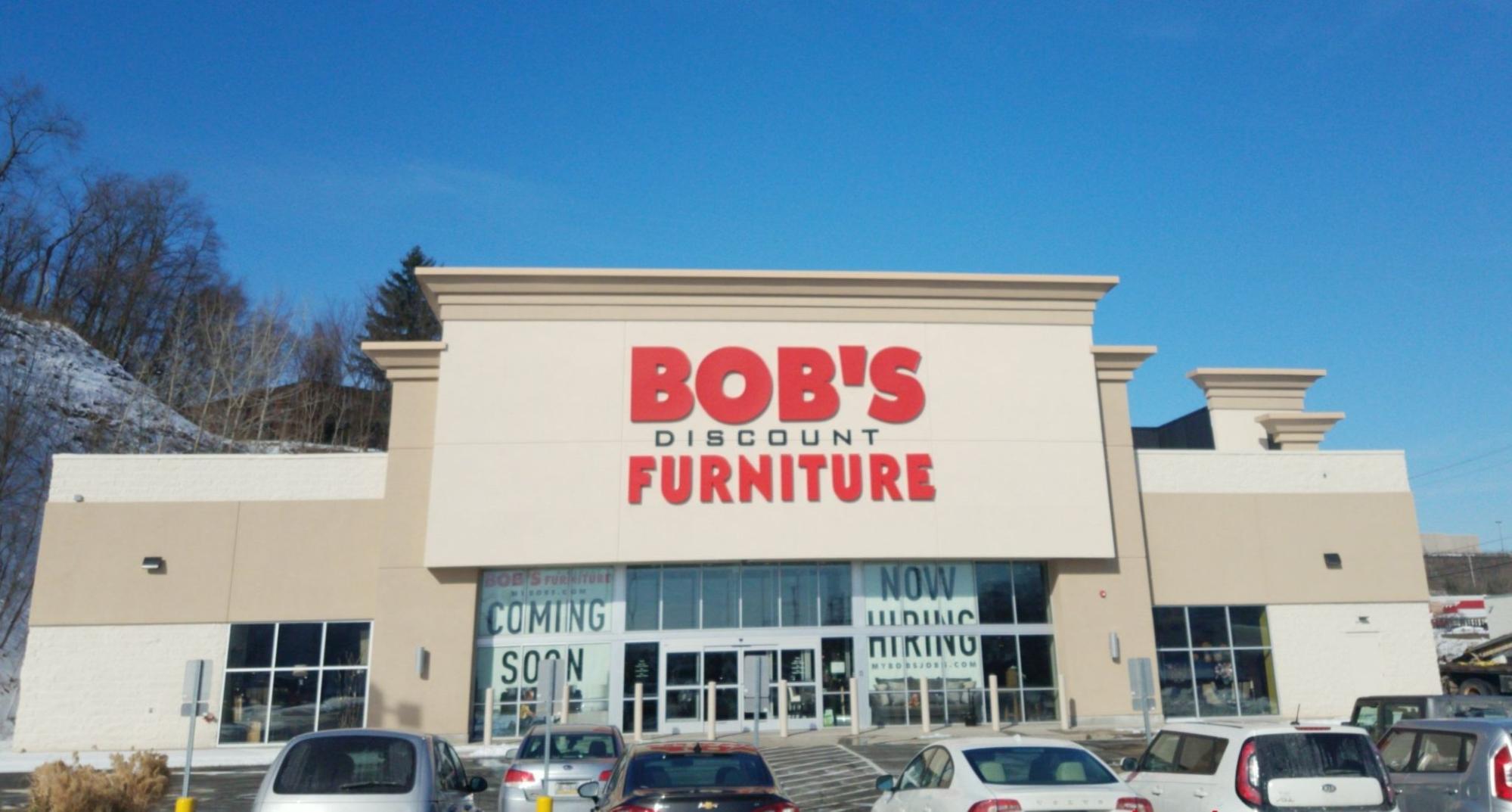 Today, Bob's Discount Furniture has about 150 store locations across 20 states with the service offerings like pickup and delivery, in-person consultancy, and being able to purchase from any location across the country. 
Bob's Discount Furniture aims to provide good quality furniture at a price that can be afforded by anyone, while offering trendy pieces and maintaining exceptional customer service. 
Bob's Discount Furniture prices are market-competitive, which can be very attractive for anyone looking for a bargain.
Careers Offered at Bob's
From the Bob's Discount Furniture website, go straight to the tab dedicated to careers and people who want to work at Bob's. Over there, you will be able to search the job openings available across the company. 
The portal for applying at Bob's Discount Furniture is very easy and simple to access. Jobs are uploaded every day, so it's easy to stay on top of any new openings. 
While searching for jobs, you can even shortlist opportunities based on your interests. For example, you can tick any box under the 'Job Category' option like store staff, information technology, finance, supply chain, and so on. You can choose the state you're seeking a job in and if you want a regular/contractor job or a full-time/part-time job.
About Bob's Talent Network
If you want to improve your chances of landing a position at Bob's Discount Furniture, you could always sign up for their Talent Network. By signing up for the Talent Network, you can make your application stronger and speed up the process as well.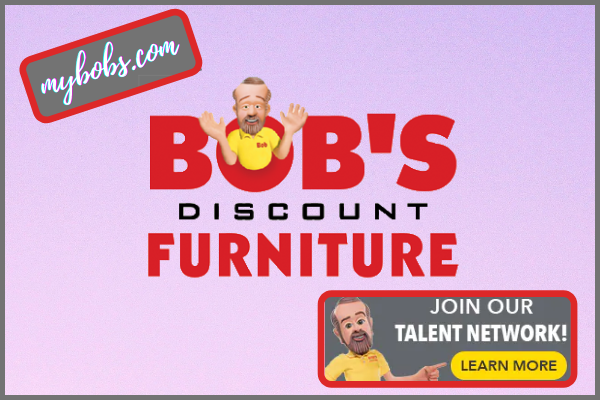 This would come in handy as Bob's Discount Furniture will always stay connected with you and inform you when there is a new job opening. If anything piques your interest out of these opportunities, you can be one of the first few people to apply!
Not only this but staying connected through the Talent Network will ensure that you receive relevant jobs to your interests. 
You will receive updates and relevant communications from Bob's Discount Furniture, and you can also share these jobs with your friends and family if you know someone who'd be fit for the role.
Featured Careers at Bob's
If you're not sure about which career would be best for you, it's always a good idea to check the featured careers at Bob's Discount Furniture.
These featured careers are very important to the success of this company.
You can find the featured careers at Bob's Discount Furniture by exploring them at mybobs.com/careers. There, you will find an entirely separate section dedicated to featured careers at Bob's.
Distribution Centre
The distribution center at Bob's Discount Furniture is responsible for ensuring that furniture is delivered to their customers efficiently and on time. There are five distribution centers, located in Taftville, CT, Aberdeen, MD, Shorewood, IL, Carteret, NJ, and San Bernardino, CA.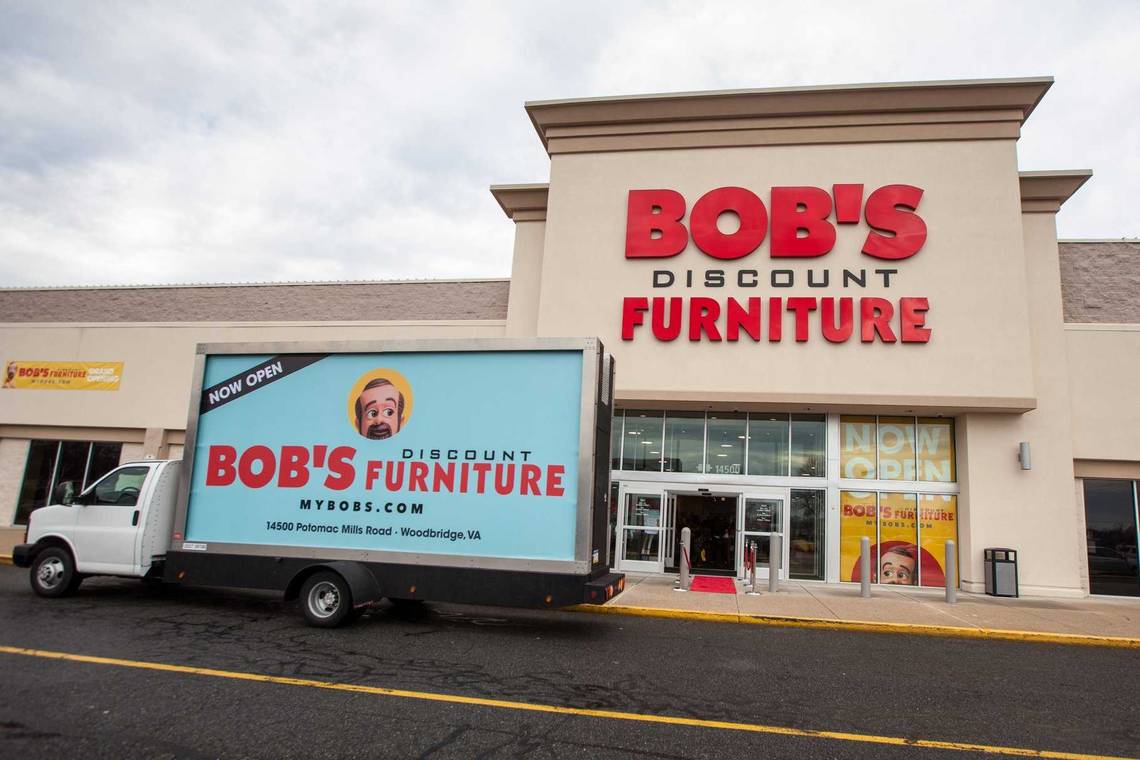 If you're an energetic and enthusiastic professional CDL driver, then Bob's Discount Furniture is looking for individuals like you. The delivery process must always run smoothly, and your job would be to ensure that there is no disruption in the process. 
The wages for drivers are market-competitive at Bob's, and you can earn $65,000 to $75,000 a year, along with exceptional benefits. 
Don't worry if you have less experience, because there's also a daily rate opportunity for newbies. Benefits will also include sign-on bonuses, safety bonuses, and no injury bonuses.
Home Office
Bob's Home Office is located in Manchester, CT, and is the hub of many career opportunities for talented and skilled individuals.
The departments at the Home Office include Advertising and Production, Merchandising, Information Technology, Customer Care, E-Commerce, Loss Prevention, Store Operations, and Real Estate, amongst many other departments.
Customer Care
This department is one of the most important ones at Bob's, requiring a person who can support customers through in-bound and out-bound calls, quick e-mail responses, web-based services, and live chat through the website.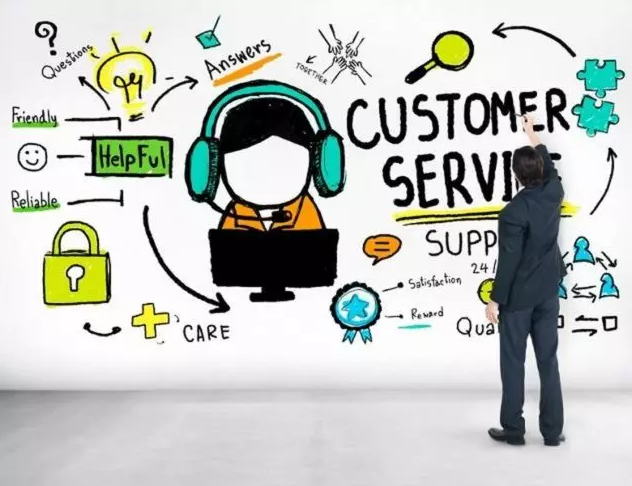 While working with a fun and professional group of individuals, you are bound to make the most out of this opportunity.
While working for the Customer Care department, you will also receive training beforehand, which is about four weeks long.
Through this training, you will be given all the knowledge and resources required to be successful in the role.
Retail Store
Working at the retail store for Bob's Discount Furniture includes jobs directly linked with building customer relationships. For this reason, the company looks for energetic and polite individuals as their Sales Associates to communicate properly with the customers and guide them throughout the purchase.
You can also find jobs related to Product Support Associates if you are interested in guiding customers towards finding the best product for their homes.
Other than that, there are many leadership opportunities at Bob's Discount Furniture like Retail Sales Support Manager, Showroom Manager, Sales Manager, and Regional Managers too.
Life as an Employee at Bob's
Bob's Discount Furniture is always working to ensure that the employees get the opportunity to develop careers that will be rewarding for them.

The company values every single employee and associate, providing opportunities for growth throughout their employment at Bob's along with training, competitive compensation, and benefits.
The core values at Bob's, as mentioned above, are based on honesty, integrity, transparency, community, safety, diversity, and fun.
These values will play a very important part for every employee that gets hired by the company as they receive a professional yet comfortable environment at the workplace.
Diversity Is Celebrated
At Bob's, it doesn't matter where you come from or what you look like. In fact, the company takes pride in its diversified team of individuals, ensuring that every single employee is recognized and appreciated without considering their gender, race, or religion.
The company recruits its talent from a diversified background of individuals and employees, only on the basis of their skills and talents and their ability to contribute to the team in a constructive, positive way.
The company proudly says that they benefit greatly from the workplace diversity they've cultivated found in their showrooms, distribution centers, and home office departments as well. The company takes necessary measures to ensure that there is no discrimination within its team.
Benefits
Bob's Discount Furniture offers a range of benefits to its employees, starting from the national health, dental, and vision coverage.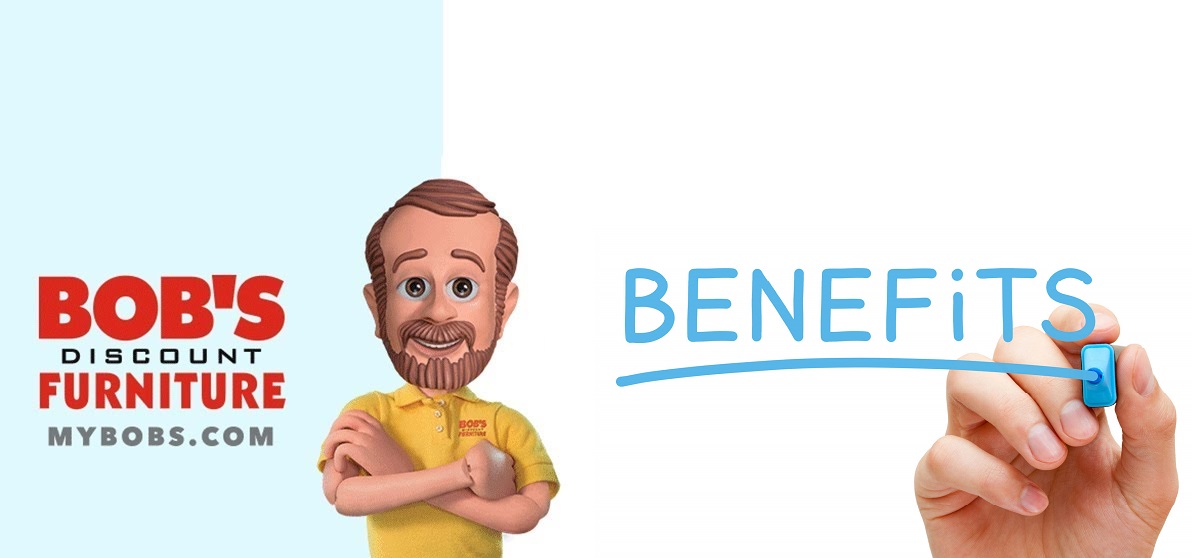 The company also offers employer-paid life insurance and provides you with the option to add voluntary life insurance to it as well. Profit-sharing is done through the 401(k) plan, meaning that you will be rewarded for good work!
Other than that, the company offers paid personal/sick days, paid vacation days, employee assistance programs, and a very generous employee discount too. If you want your pay in advance, utilize the Bob's Bail Out facility. Stuck with an unexpected expense? Bob's Helping Hand Program will help you cover it.
These benefits are just amongst the many offered by Bob's Discount Furniture to its employees. The company takes very good care of the employees, ensuring proper working standards and an environment that is safe for everyone.
Testimonials
According to many employees working at Bob's Discount Furniture, the chances of experiencing promotion and growth in your career are very high if you work for this company.
According to Glassdoor, Bob's Discount Furniture has a rating of 3.9 out of 5, which seems quite reasonable considering how large the enterprise is. 
Seventy-five percent of current or past employees would recommend working for Bob's, with strong ratings for the benefits package, diversity in the workplace, and cultures and values.
Conclusion
In short, working at Bob's Discount Furniture offers many opportunities to work across various departments and in various roles. Bob's provides an inclusive, positive environment for its employees, encouraging growth and promotion within the company and ensuring a range of diversity on their teams. 
Whether you're working in a retail location, on the front lines of customer relationship management, working in distribution making sure products are shipped properly, or you're contributing to a team in the corporate office, Bob's has many positions on their job site, so head over and see where you would be a good fit!