As more people access fast and stable internet connections, the trend towards working remotely has picked up over the last few years. The global health crisis has further fueled the call for remote working options, with some people no longer wanting to return to office life.
While it was certainly difficult to find companies that offer remote jobs in the past, more employers are now becoming open to the idea and have begun adapting to the needs of the job market. Job boards also helped jobseekers to learn more about these types of work.
In this article, I will talk about the Remote.co job board which specializes in remote work and freelance jobs. I will discuss what the site has to offer, its features, and how to use it. If you want to find out more about the website, continue reading the article below.
About Remote Work and How it Differs from Regular Work
Benefits of Remote Work for Employees
Take a Look at the Remote.co Job Site
What Remote.co Can Offer to Jobseekers and Employers
How to Look for Jobs on the Remote.co Site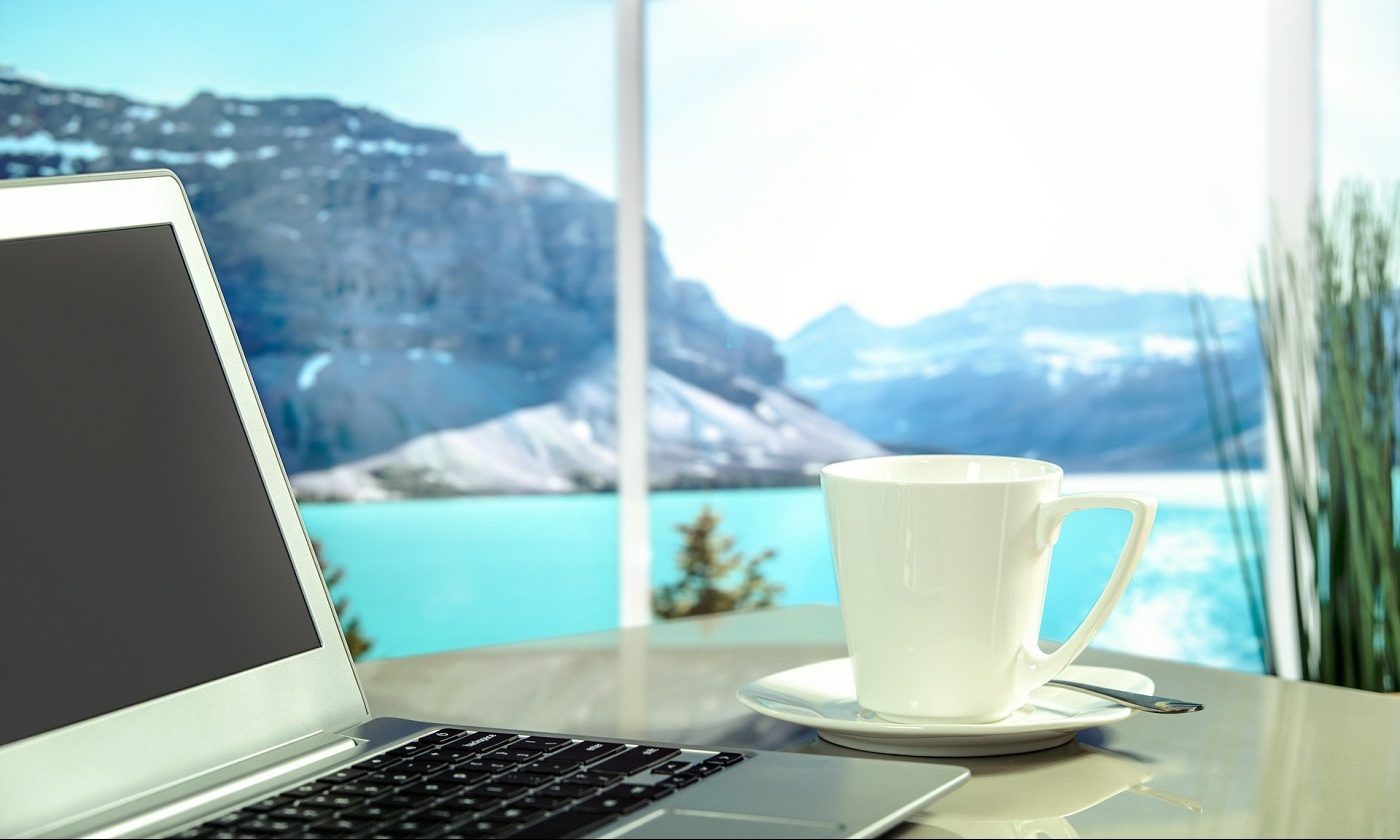 About Remote Work and How it Differs From Regular Work
Remote work has been around for a number of years now but with the onset of the global health crisis, more companies have implemented remote work setups in order to continue doing business despite lockdowns and movement restrictions.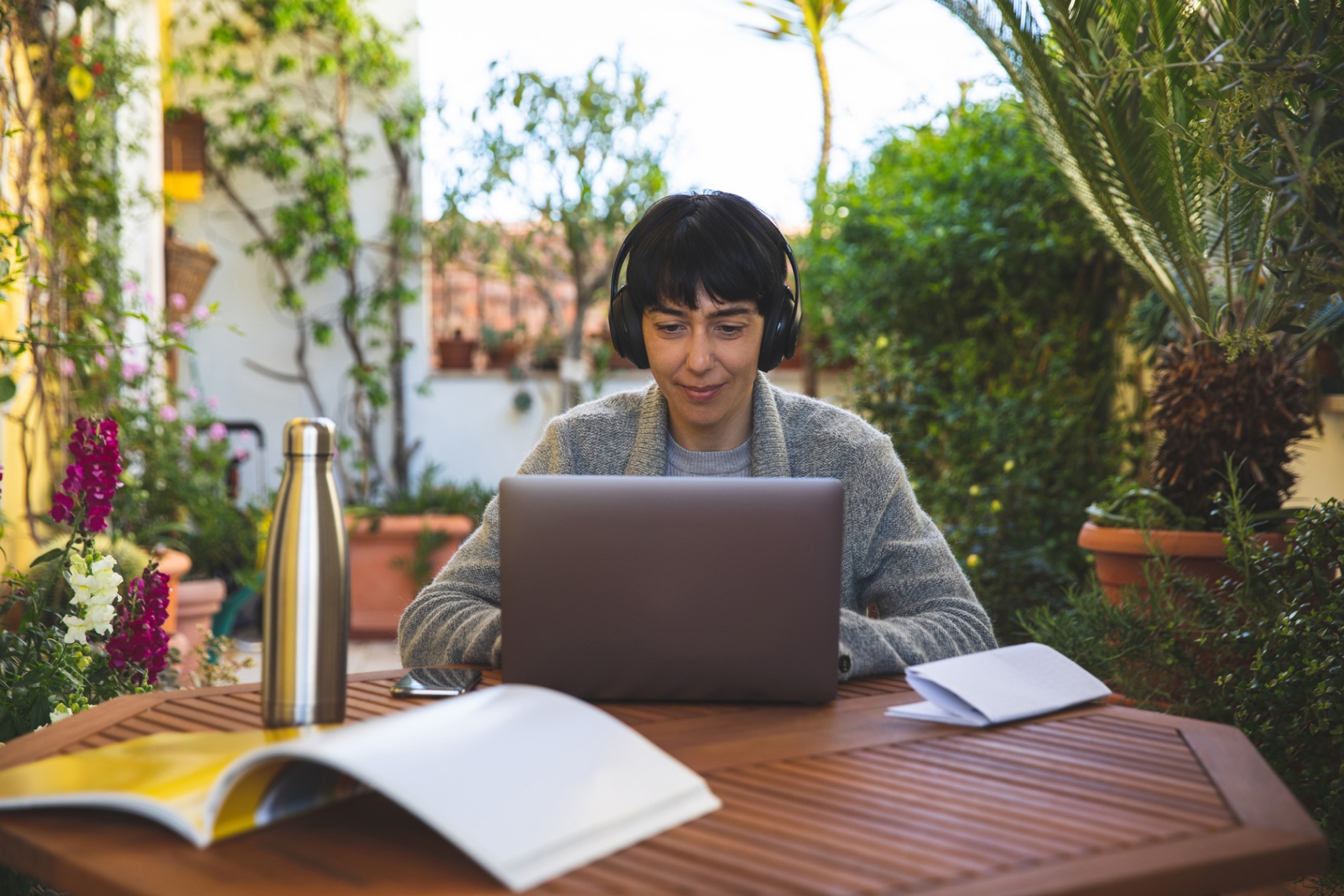 Remote work is a type of work setup that enables employees to accomplish their duties outside of a traditional office setting. It is based on the idea that work can be done anywhere and does not need a specific place to be successfully executed.
Remote workers are free to do their jobs and accomplish their tasks wherever they please instead of commuting daily to work and working from a designated desk.
They are given the flexibility to arrange their work schedule in order to maintain a better work-life balance. Remote workers have a variety of ways to do their job and that flexibility is what makes remote work attractive to people who want to have more balance in their lives.
Ways to Work Remotely
Typically, remote employees work from their homes or locations nearby such as cafes. Others use coworking spaces, an office-style hub for freelancers, remote workers, and even small entrepreneurs to subscribe to a small office space with internet access among other amenities.
Some employees are allowed to work remotely most days but are asked to report to the office for in-person meetings once a week.
Some employees make their work part of their lifestyle, and because they are free to set their own schedule, they opt to leave the traditional sense of work and travel around the world while taking their job with them.
Benefits of Remote Work for Employees
For both employers and employees, having an option for remote work brings about several advantages to both sides, from higher work satisfaction to better employee productivity.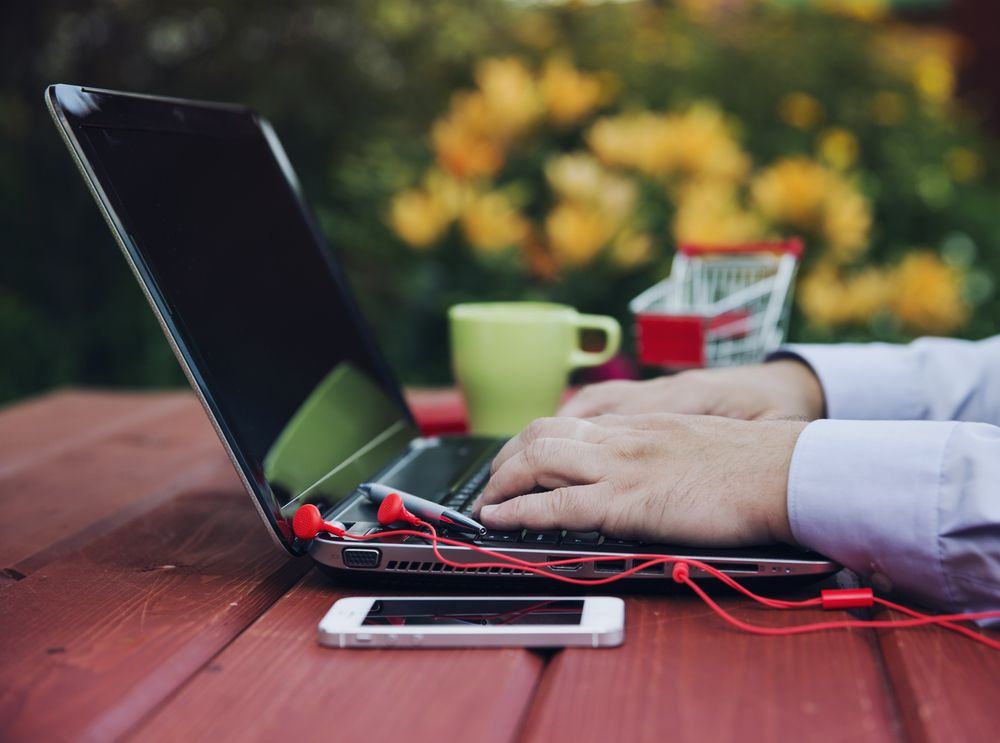 The primary benefit of remote work to employees is having a flexible lifestyle. Employees that opt for remote work are those who want to focus on things outside of the office setting, such as being a parent or pursuing further education in their field.
Being able to adjust one's schedule and not having to spend time on commute make this possible.
Another benefit is improved health and wellness, with the Royal Society for Public Health reporting that remote employees are less stressed and have higher morale. Some remote workers find renewed passion for their work as their surroundings provide more inspiration.
Advantages of Remote Work for Employers
As I mentioned earlier, one of the effects of doing remote work is higher employee productivity. According to reports, remote employees are more likely to go above and beyond with their work than those working in the office.
Another obvious advantage to employers offering remote work is cost savings since costs such as office rent and furniture are lowered. This is the case even for companies that do not fully implement remote work setups.
Lastly, remote work results to better employee engagement and retention. A Softchoice survey showed that 75% of employees are willing to leave their company if they are offered remote work elsewhere. A TINYpulse study revealed that remote employees are happier and feel more valued.
Take a Look at the Remote.co Job Site
Now that I've discussed what remote jobs are and what benefits they provide to both employers and employees, it's time to talk about the Remote.co website. This job site offers information on remote job opportunities from different industries.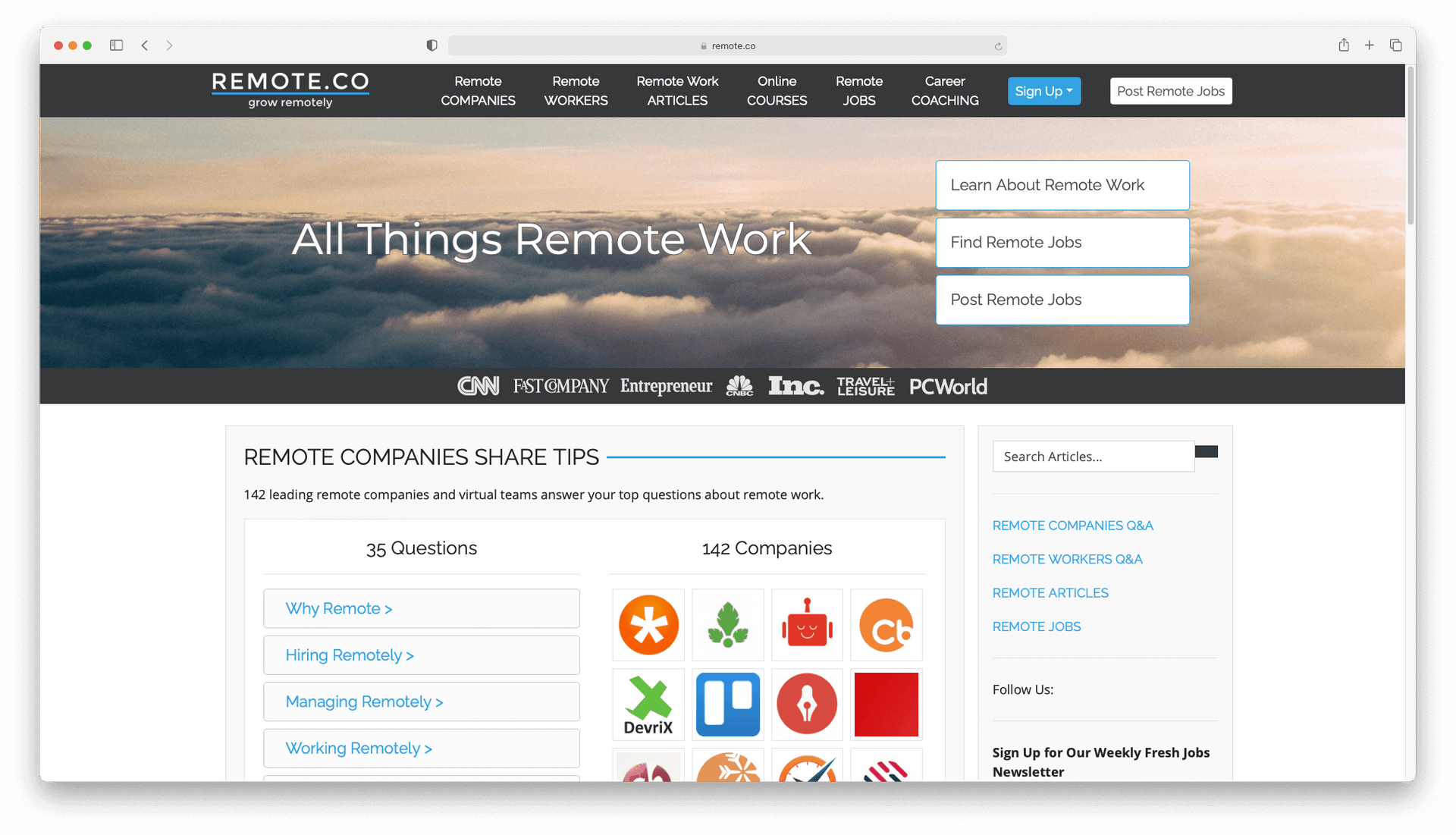 The remote jobs you can find in the site are classified into different categories, including writing, virtual assistant, transcription, sales, development, design, marketing, and customer service.
The three most popular categories searched for on Remote.co are development, customer support, and writing. Popular jobs in these categories include software engineer, customer success associate, content strategist, content writer, and opscenter enterprise developer.
Other remote works include account support representative, proposal writer, Node.js developer, and Full Stack JavaScript developer.
About the Company
The Remote.co job site was founded by Sara Sutton, an advocate of flexible job options and remote work.
She has been managing virtual teams since 2007 and is also founder and chief executive officer (CEO) of Flexjobs and 1 Million for Work Flexibility.
In 2015, Stephen Marcu, who currently serves as senior director at Remote.co, joined Sutton and Flexjobs to help build and launch the Remote.co website. Prior to working with the company, Marcu co-founded Three Shots, LLC and Greenstack, Inc.
What Remote.co Can Offer to Jobseekers and Employers
If you are a jobseeker looking for remote work opportunities, I'd recommend giving Remote.co a try as part of your search efforts.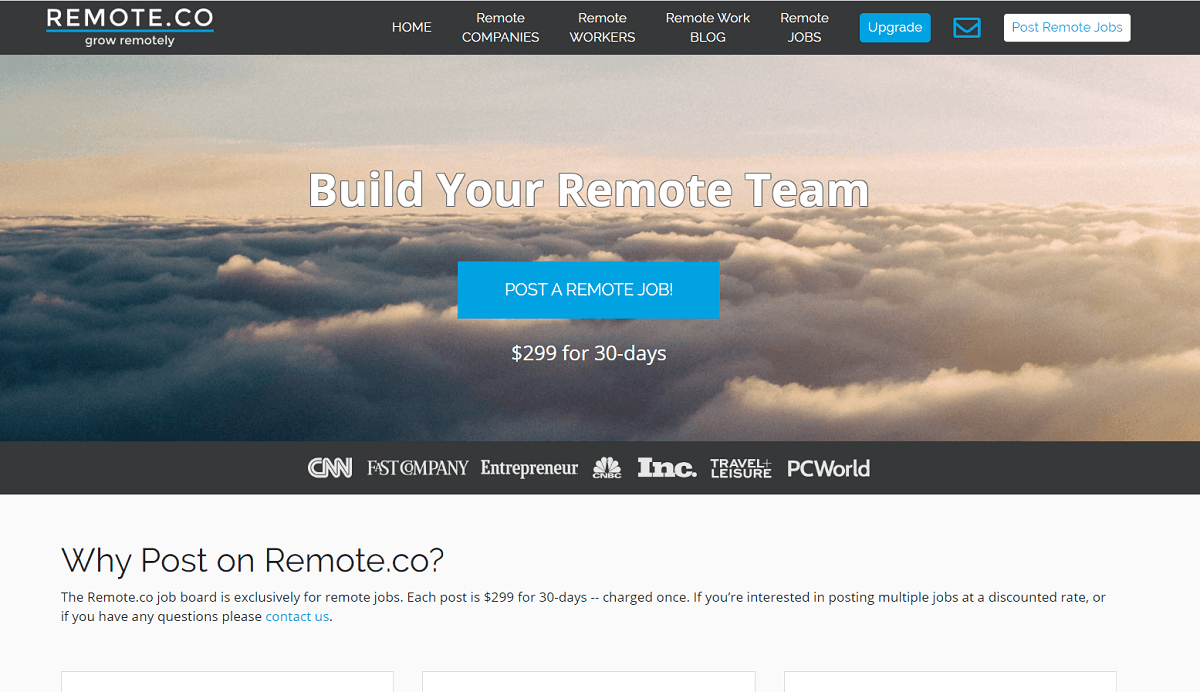 Using the site to look for remote jobs is free of charge. The site has an expansive list of remote jobs from different companies and industries.
Remote.co posts more than 130 new remote and flexible jobs on a weekly basis. The number of listings were decent in all the categories available on the site. When you go to the website, the first jobs that will appear at the top of the results will be the most recent job listings.
On the job search page, tags are available near the top, which lists all the categories mentioned above plus a few other categories, including full-time, part-time, freelance, entry level, high-paying, and international jobs. You can click on these to filter the results.
Why Employers Should Post on Remote.co
Remote.co charges companies $299 to make a job post that will run for 30 days on the site. The rate is for a single post but if employers want to post multiple job listings, the site offers a discounted rate which will be discussed with them directly,
Since the site only covers remote jobs, employers are assured that their job listing is targeted. Remote.co earns 1.5 million page views a month and is well known among remote job seekers. The 30-day rate covers all geographies and administrators review the design of posts to ensure they stand out.
The company also provides help in creating the job listings. Employers only need to provide the key information and Remote.co will do the rest for them. The design team also welcomes requests for edits.
How to Look for Jobs on the Remote.co Site
To start searching for remote jobs, the first thing to do is to visit the Remote.co website. On the home page, you will find a variety of information. Three prominent sections will greet you – Remote Companies Share Tips, Recent Remote Jobs, and Remote Work Articles.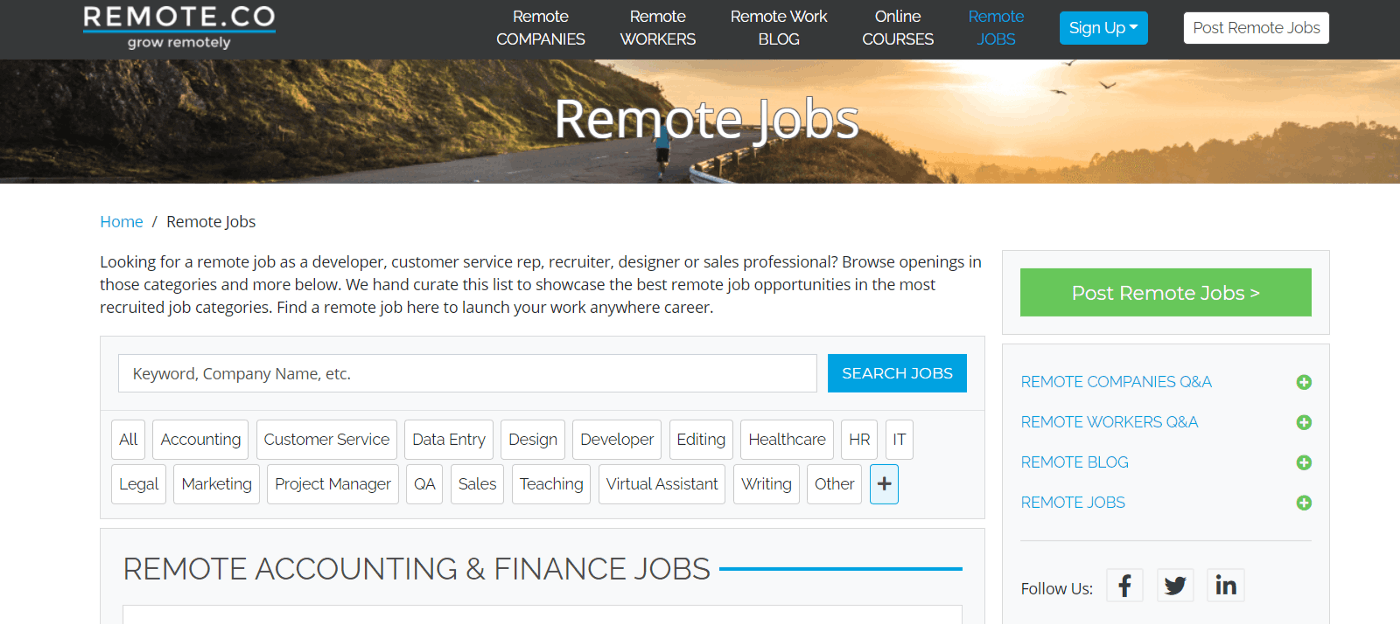 If you want to jump into your job search, you can opt to browse through the Recent Remote Jobs as they are the most recently added ones.
For a more comprehensive search, click on the Remote Jobs tab on the top menu of the page. It will take you to the search page where you can filter results via categories.
On the Remote Jobs page, you may type in a keyword, company name, or any other search term that you want to use on the Search Jobs bar. You can filter the results by clicking on the tags located below it. Scroll down to see the job categories and choose the one you want to explore.
Other Features of the Remote.co Site
You can also sift through the list of companies with listings on the website by clicking on the Remote Companies tab on the top menu. You can filter them based on whether they are remote companies, virtual teams, international, as well as based on which has the most recent listings.
The other remaining tab on the menu is Remote Work Resources, which provides articles about remote work, online courses, career coaching, and a Q&A resource from remote workers about topics like going remote, working remote, and digital nomads.
Conclusion
Overall, my experience using the Remote.co website as a job seeker was a pleasant one. It may have a few areas for improvement, such as the need for more advanced filters. However it is a great job site for people looking for remote work.
If you are someone looking for a remote job or simply considering transitioning into one, I recommend that you use the website and its free resources. Meanwhile, if you're an employer, I feel like the cost of posting a job ad is worth it because of its popularity alone among remote job seekers.