Working in the banking industry is something not everyone is up for. It takes certain skills, dedication, and commitment for someone to decide to establish a career in banking.
With the technological advancements in the banking business, banking careers have evolved over the years. As such, opportunities have expanded beyond traditional client-facing positions to things like financial analysis and computer network management.
In this article, I will discuss employment opportunities at the European bank Nordea. I will also talk about the bank, its roots, the company culture, and the benefits of working with a financial institution like Nordea.
Who Is Nordea?
Company Culture at Nordea
Nordea's Job Search Page
Information You Will Find on Job Posts
Applying for a Job at Nordea
Creating a Nordea Account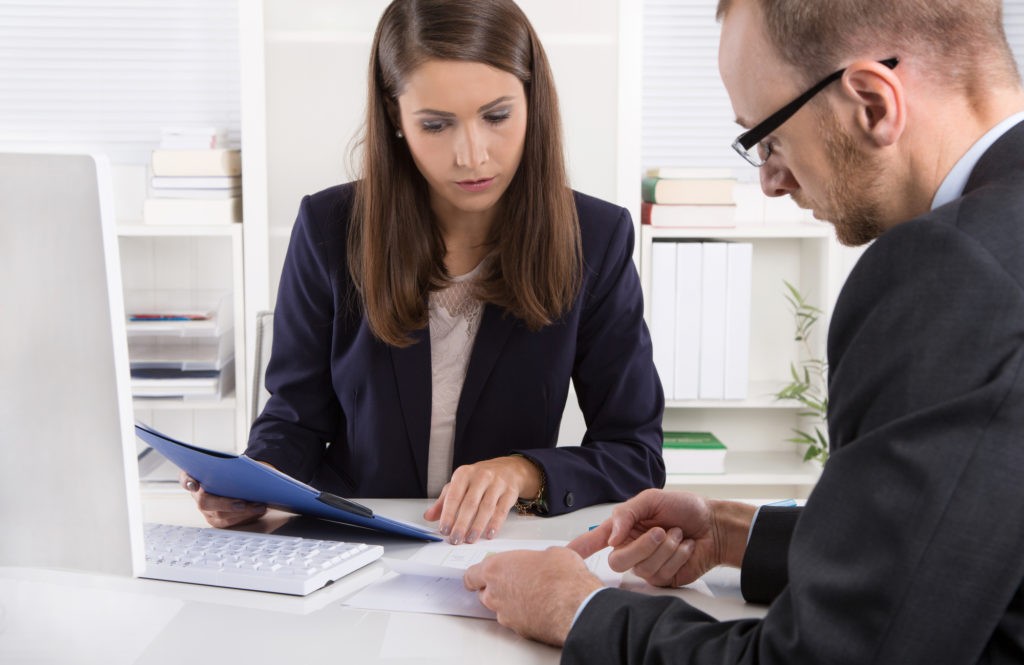 Who Is Nordea?
Nordea is considered the leading Nordic universal bank in the world and is one of the top financial services firms in Europe in terms of market capitalization. It posted a total operating income of €8.5 billion in 2020.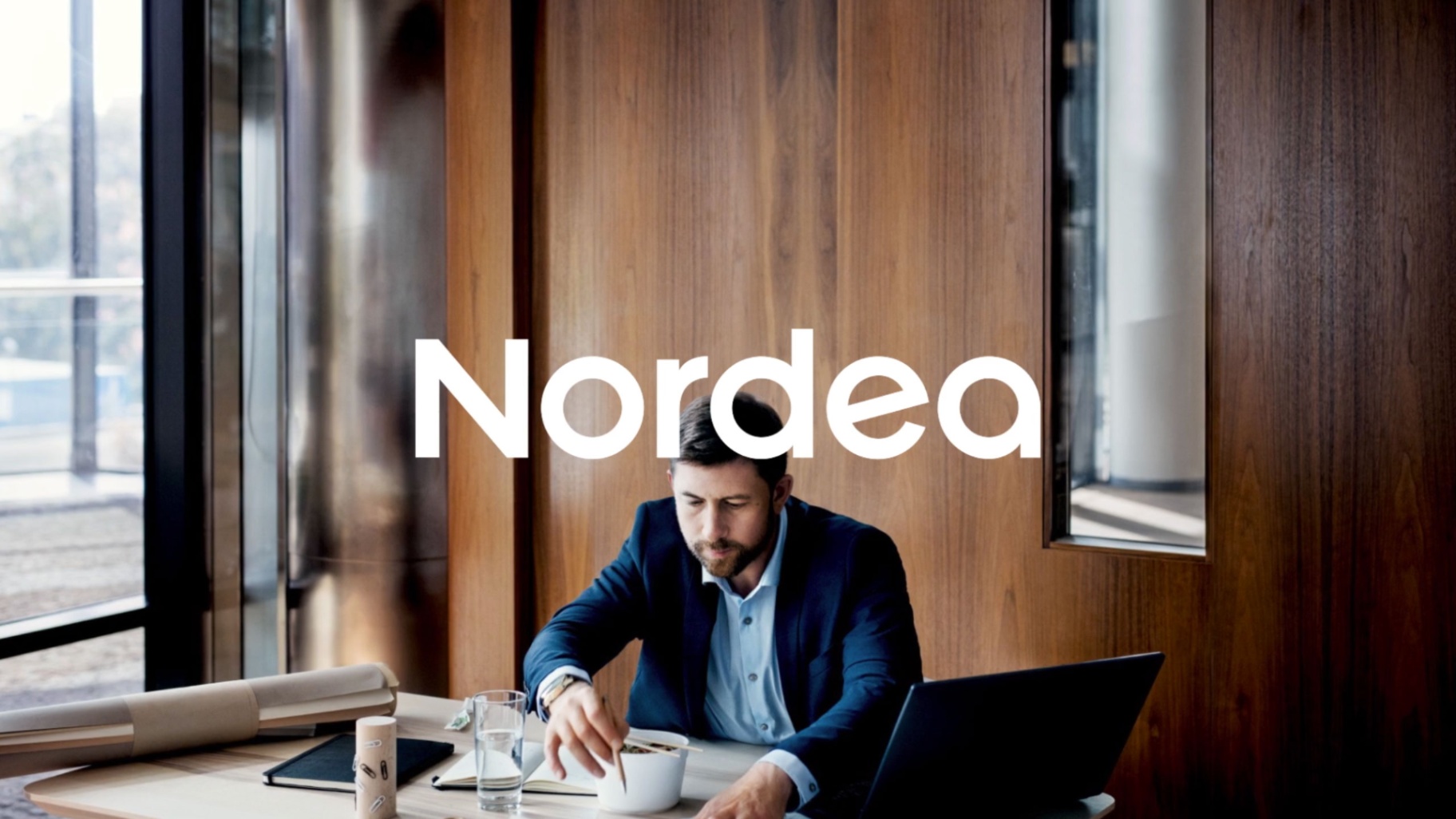 Operating mostly in northern Europe, Nordea provides its services to 9.3 million private individuals and 530,000 active corporate customers. It's one of a few banks in Europe that has received an AA rating.
I learned that the Helsinki-based financial services group is divided into four business areas, namely personal banking, business banking, large corporates and institutions, and asset and wealth management.
More About the Bank
Nordea is a bank formed as a result of a series of mergers and acquisitions from 1997 to 2001 by Finnish bank Merica Bank, Swedish bank Nordbanken, Danish bank Unidanmark, and Norwegian bank Christiania Bank og Kreditkasse.
This is why Nordea's credit portfolio is distributed among the four Nordic countries. The company is also listed on the Helsinki, Copenhagen, and Stockholm Nasdaq Nordic exchanges, while Nordea ADR is listed in the US.
The bank later expanded its operations to Poland, the Baltics, and Russia. In September 2017, Nordea decided to move its headquarters back from Stockholm, Sweden to Helsinki, Finland.
Company Culture at Nordea
I believe that a person's desire to build a career with a company is greatly influenced by the organization's culture. According to Nordea, banking is about enabling customers to reach their dreams and everyday goals.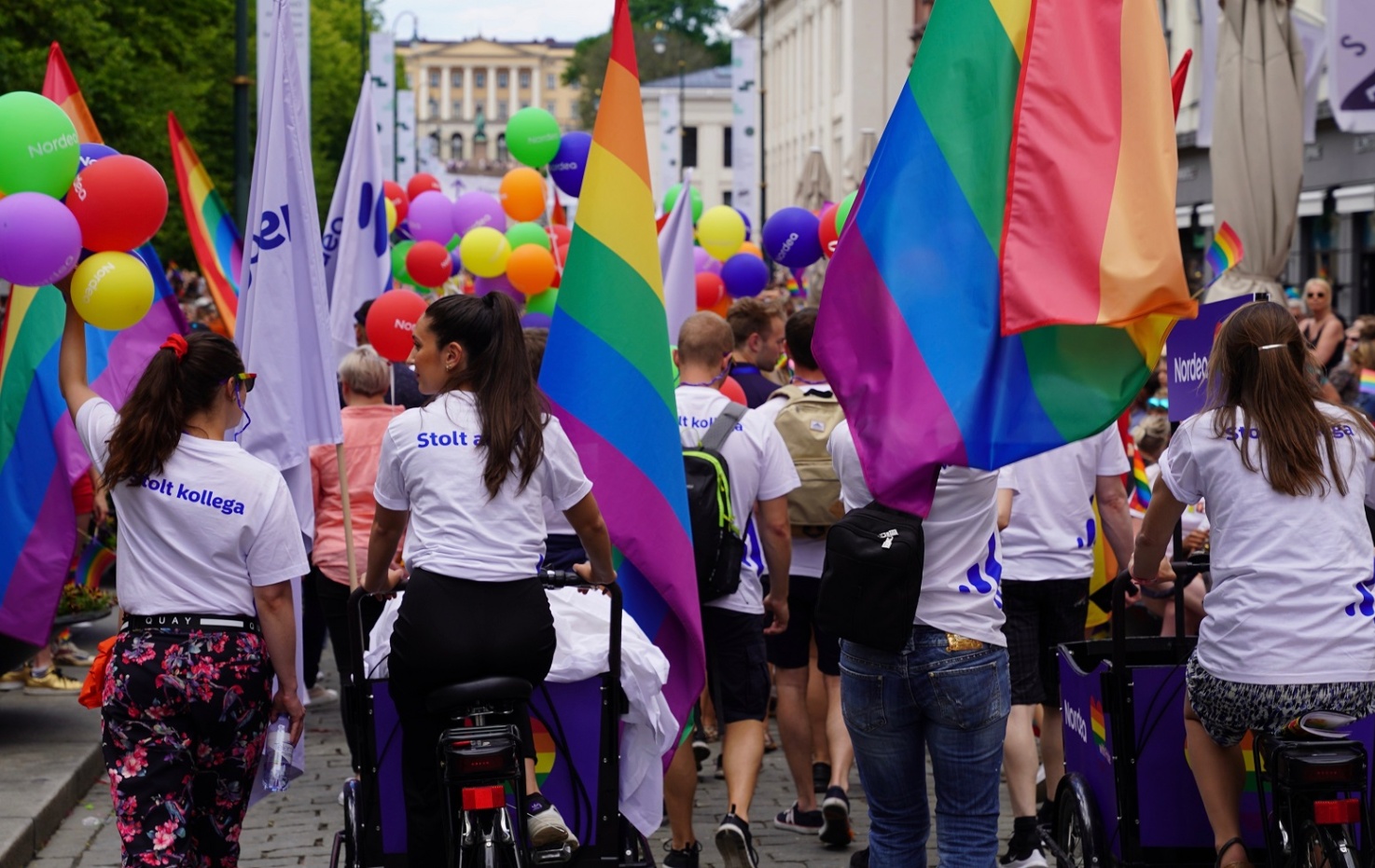 For the company, the employees represent its culture and Nordea encourages its people to contribute to its success by making an impact and expressing their passion. Teams collaborate in business units and even across borders.
I found out that Nordea also believes in feedback to help individuals learn and grow. The bank wants its employees to bring a growth mindset and have an open mind when giving or asking for feedback.
Diversity at the Bank
I strongly believe in diversity in the workplace so it's refreshing to find employers like Nordea, which thrive on having a diverse workforce. The bank expresses its commitment to providing equal opportunities and encouraging inclusivity.
Nordea explains that having diverse qualities allow the organization to become stronger and provide better services to its customers and communities. The employees' different traits and backgrounds lead to wider perspectives.
I like how the bank proactively promotes diversity and inclusivity through various initiatives and activities. These include annual Pride celebrations, disability awareness campaigns, and human rights workshops.
Nordea's Job Search Page
Now that I've finished discussing the company and its culture, some of you may have decided that Nordea is a great company to work for. Luckily, the company website also features a job search page where you can browse through the opportunities.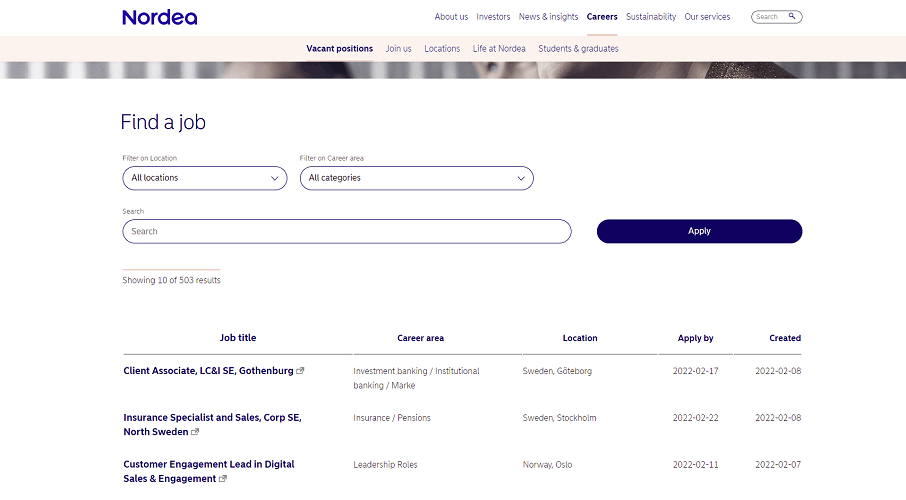 On this page, you will find a search bar on top where you can click on the work location of your choice and the career area you desire. You may also input keywords to make your search more specific.
Below the search bar is where the search results list will appear. Click on the Show more button to view more vacancies.
Details on the Search Results List
Although limited, there are a few details about the available work opportunities I found on the search results list. The first one is the job title, which also serves as the link to the full job post.
Entries on the list also show the career area where the job is categorized in. These areas include Leadership Roles, Technology, Communication, PR, Marketing, and Project Management or Consultancy.
I can also see the work location, the date the job post was created, and the deadline for submission of applications. At the lower-left corner of the page, there's an option to share the results via Facebook, Twitter, and LinkedIn.
Information You Will Find on Job Posts
Similar to entries in the search results, the full job posts are headlined by the job title, which gives applicants an idea of what the work is about. Underneath this is the city and country where the vacancy is located.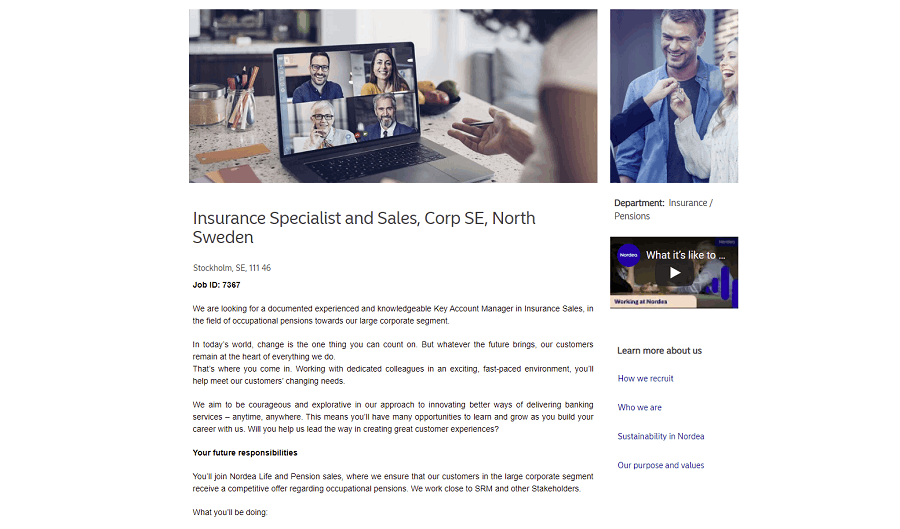 No job post is complete without a brief description of the work, along with the duties and responsibilities that it entails. Some even include a short discussion about the activities involved in performing the job.
Some of the activities mentioned in the posts include cooperation with different teams and leaders, customer engagement activities, and local market engagement.
Other Available Details
Just like any job vacancy, the posts on Nordea's job site also included details on the qualifications and skills required to qualify for the available positions. These include educational attainment and fluency in certain languages.
I also saw posts that specify certain work experiences that are needed for the jobs, such as content creation, digital business growth, and customer engagement. Certain soft and hard skills are also sometimes listed.
There's an available button for creating job alerts for similar positions and an Apply now button on the top right and bottom right portions of the post. If you want to do another search, there's already an available search bar on top of the page.
Applying for a Job at Nordea
Once you've decided to apply for a particular position you're interested in, simply click on the Apply now button on the job post itself. You'll be given the option to apply directly through the Nordea website or via your LinkedIn account.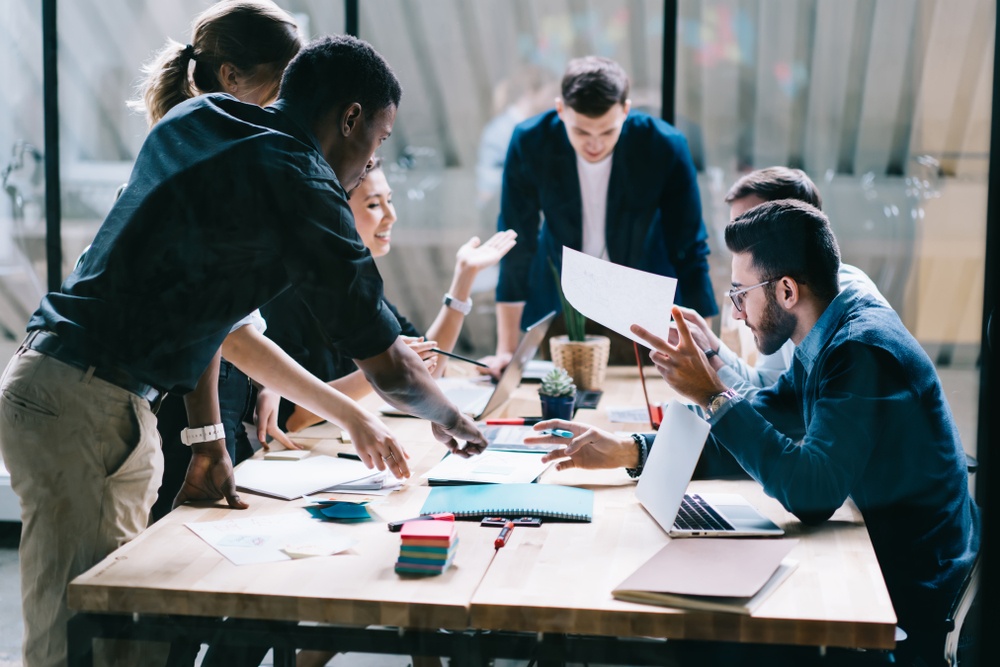 If you opt for the LinkedIn option, keep in mind that your full profile will be shared with Nordea. Click the Apply with LinkedIn button and confirm that you'd like to apply for the job and the site will send your information to the bank.
Meanwhile, I discovered that if you want to apply directly through the website, you need to be logged into a Nordea Career Opportunities account. If you don't already have an account, you need to create one.
Contact Details for More Information
I'd like to point out that at the bottom of each job post, there are usually contact details that you may use to reach the company if you have any questions about the position.
If you want more information, you may either email or call a certain person identified on the post. Usually, these people are the heads of the department or unit the vacancy falls under.
Creating a Nordea Account
To create an account, you will be asked to complete an online registration form on Nordea's careers page. I found out that existing Nordea employees may also apply for the vacancies but they will do it via People Portal Careers.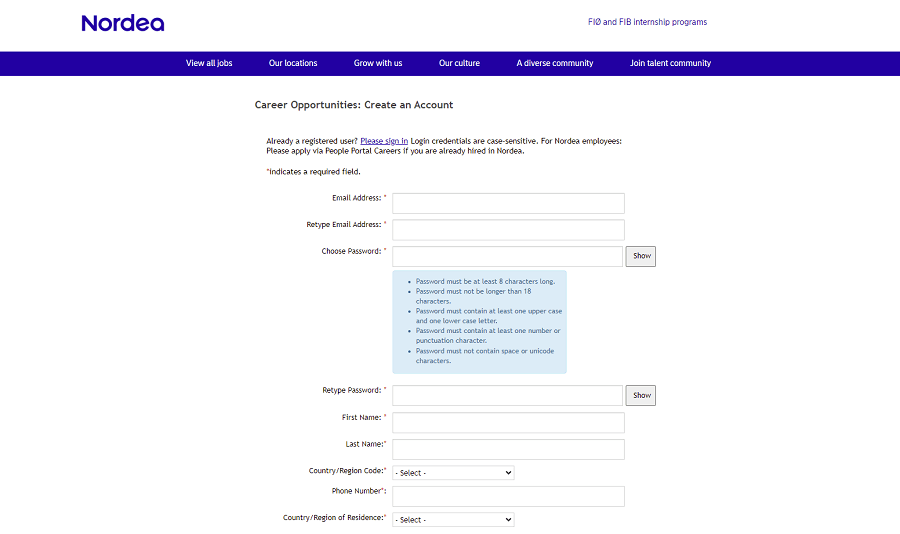 The first information you will need to supply includes your email address as this will be used in your login credentials. You need to input your email twice for verification purposes.
The next step is to create a password you will use to log in to the site. The password needs to be at least eight characters but at most 18 and must contain at least one upper and one lower case letter, as well as a number or punctuation.
Other Required Account Information
No online account will be complete without your personal information. That's why Nordea requires you to provide your first and last names, phone numbers, country or region of residence, and country or region code.
One section of the account creation form that captured my attention the most is the "Make My Profile Visible to" selection. Here, you may consent to have your data used for one particular application process.
You also have the option of allowing Nordea to use your information and contact you for possible vacancies in the future. There's also an option to receive Nordea job alerts.
The Bottom Line
If you're looking for a career in a European bank, I highly recommend that you consider Nordea. The bank is one of the biggest and most trusted banks in the region. If you're just beginning a banking career, it would be a good place to start.
To be honest, what greatly influenced me to recommend Nordea is its work culture and emphasis on diversity and inclusivity. There are a lot of banks that support these issues but many are not as active as Nordea.