If you're currently looking for a job, chances are you've gone from job board to job board to see if there are vacancies that would fit you. What's frustrating about that is that you sometimes see the same job posts over and over instead of different ones.
I have a niece who is currently doing this, so I decided to help out by searching for a way to make it easier for her to browse through job postings. This is when I found the Jooble website and how convenient it was as a way to search for jobs that are available on various job boards online.
This article will discuss what Jooble is, its features, and my experience using the platform. If you want to know more about Jooble, keep on reading the article below.
What Are Job Sites And How Do They Work?
Take A Closer Look At Jooble
How Does The Jooble Platform Work?
Managing Your Jooble Account
Searching For A Job On Jooble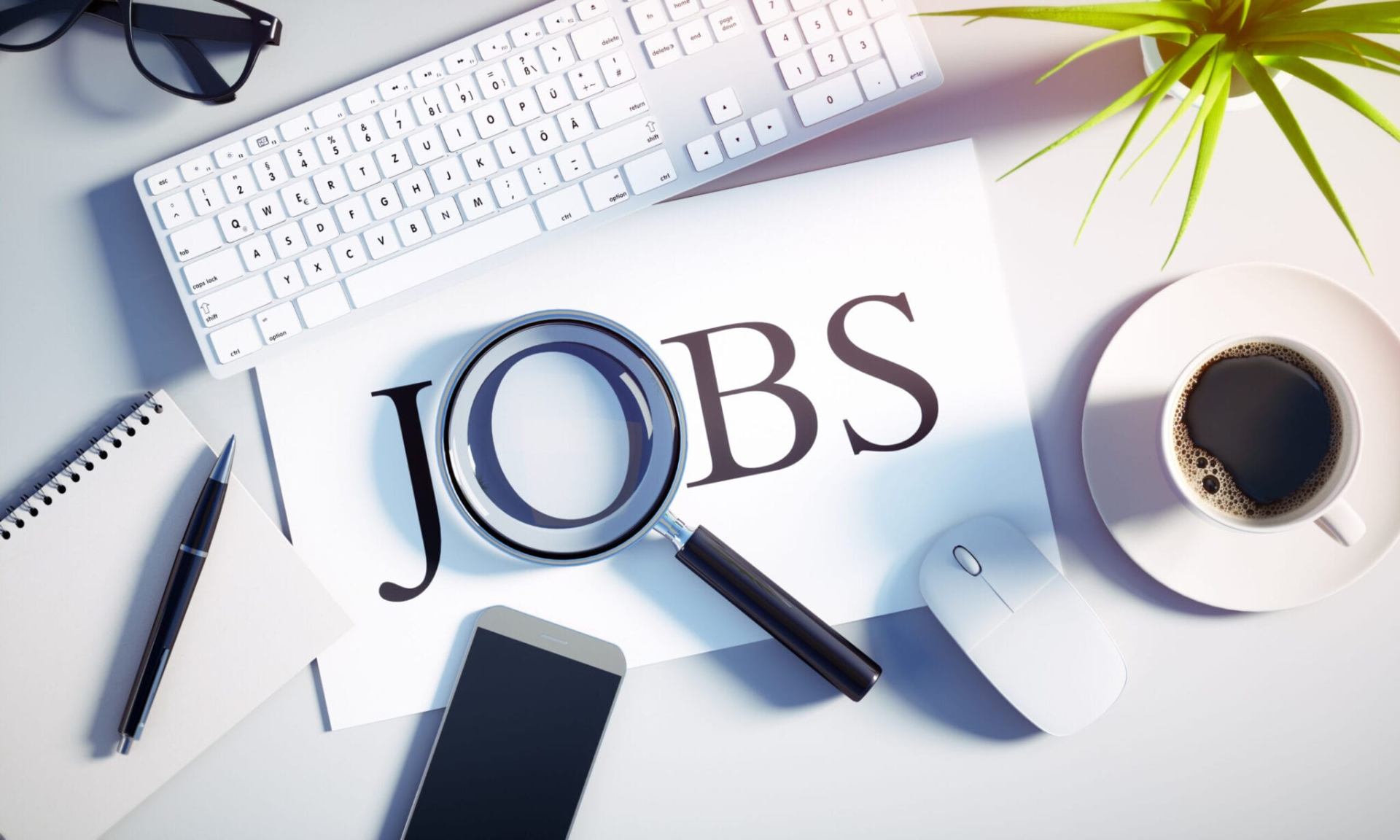 What Are Job Sites And How Do They Work?
Simply put, job sites are websites that serve as a platform for employment and careers. They are created to serve as a way for employers to post positions that need to be filled in and for job seekers to find these vacancies and apply for them.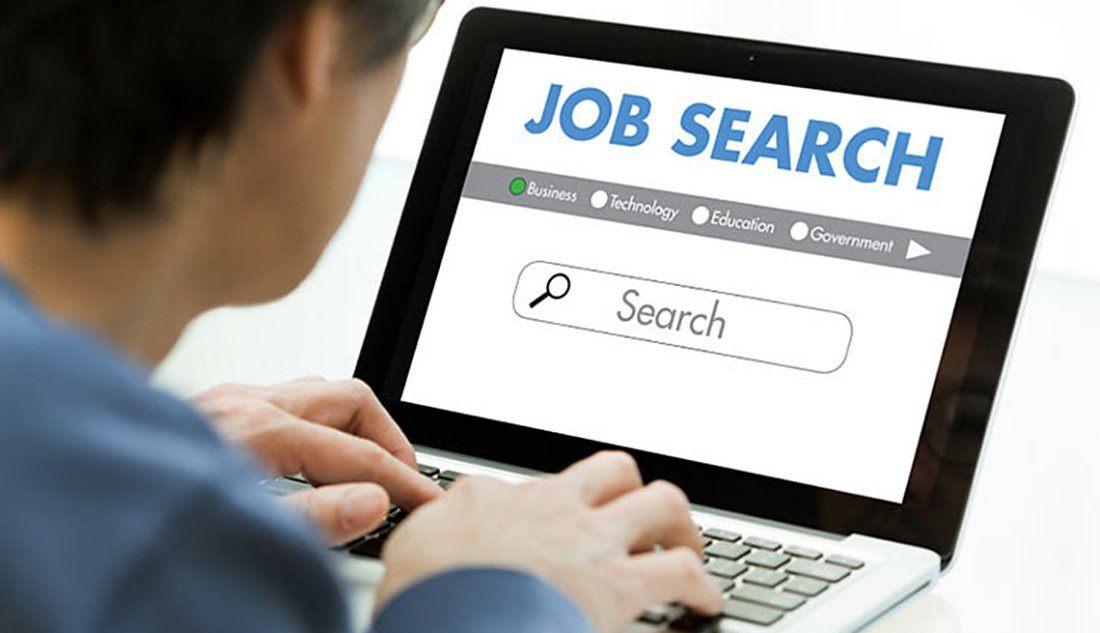 By posting the vacancies on these sites, employers can provide details on what the positions require and the kind of experience they are looking for in a potential applicant. This not only prevents unqualified applications but also keeps job seekers from wasting time on posts they're unqualified for.
Additionally, job sites make the application process easier for job seekers as they can create a profile, upload a resume to their profile, fill out application forms, and press the submit button.
Some sites even allow former and present employers to rate their companies so applicants will know what to expect of the company.
Different Types Of Job Sites
While going through the available job sites online, I realized that there are several types of job sites, which are classified based on what you can do on these platforms. Job boards as the most common type of job site. Job boards serve as a way for employers and job seekers to connect and fill in vacancies.
Some job boards may look like search engines, and they're called job search engines. Meanwhile, other websites, called metasearch and vertical search engines, present themselves as a one-stop-shop where job seekers can browse through postings from different job boards.
There's also a special type of job site that does not focus on job postings but rather serves as a review website where past and present employees can evaluate their working experience with companies. These are called employee review websites.
Take A Closer Look At Jooble
Jooble is one of those job sites referred to as vertical search engines because it collects job postings from various sources, including job boards, corporate ads, newspapers, and recruiter pages. After aggregating these job ads, it then displays them on its site.
A Jooble user begins looking for a vacancy by using the search bar and typing in the position and location they want to limit the search. It has several filters that can be used to sort search results, including employer name, city distance, salary, and date of posting.
Jobs are also categorized whether they are full-time, part-time, internships, or freelance jobs. Clicking on a vacancy post will redirect the user to the relevant page where they can apply.
The platform is available in 71 countries across the globe and is accessible in 24 different languages.
How Jooble Began As A Company
Jooble, which is headquartered in Kyiv, Ukraine, was founded by investors and IT experts Roman Prokofiev and Eugene Sobakarev on March 27, 2006. What they wanted to do when they established Jooble was to create a platform where job seekers can easily access all job ads.
Horizon Capital invested in the company in 2014, and by 2015, it became the 32nd most visited job search website globally. In a 2018 survey by MC.Today, Jooble was named Ukraine's 3rd most attractive tech company to work for.
In 2019, Jooble became the second most visited job search site behind Indeed, averaging 90 million visits monthly and a total of about 950 million visits during that year. The founders have maintained their chief executive roles at the company.
How Does The Jooble Platform Work?
After doing some reading online, I found that Jooble uses tens of thousands of sites on the internet to collect information on job vacancies. This means that the job ads that you will find on the different popular job boards are most likely already listed on Jooble.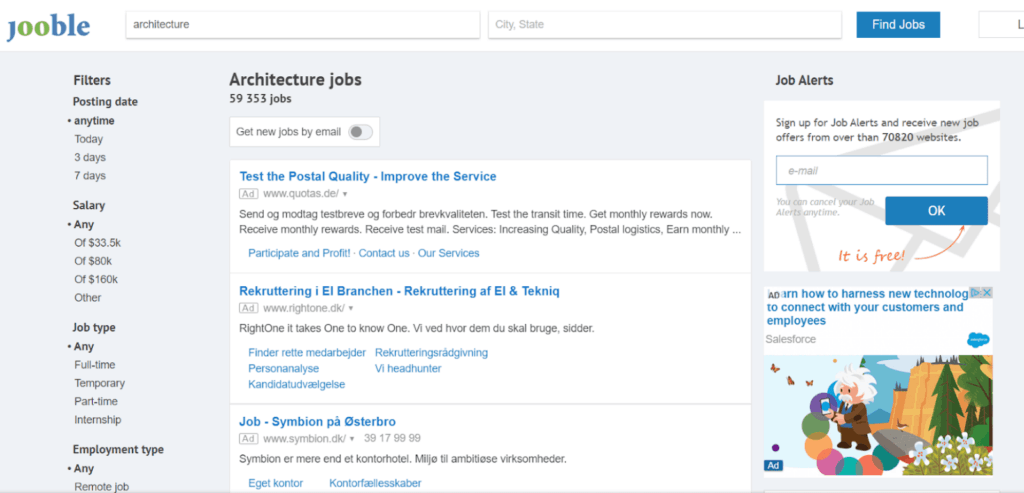 However, as simply an aggregator of data, the platform cannot help you with your job hunt beyond listing down the vacancies and providing links to where you can submit your application. Jooble would not be able to respond to questions or concerns regarding any specific listing on its website.
Also, the site currently caters to job seekers and some advertisers and does not offer employers a way to post job ads directly to the platform. Meanwhile, companies who want to advertise their business may approach Jooble about their paid sponsorships.
Email Subscription For New Job Alerts
To keep job seekers updated on the latest job offerings related to their searched positions on the platform, Jooble allows users to create a subscription. To create one, they only need to click on the dialog box in the upper right corner of the results page.
This can also be accessed using the My Subscriptions section in the user menu. Editing a subscription can also be done here. The Mailing Settings is where you can change how frequently you want to receive emails regarding these job updates.
To cancel a subscription, click on the Unsubscribe link at the bottom of a subscription email and follow the instructions until you're fully unsubscribed. Subscription cancellations may also be made through the My Subscriptions section.
Managing Your Jooble Account
To use the platform and search for vacancies, you don't need to create an account with Jooble. You can go to the website and start your job hunt using the search bar. However, having an account with Jooble will give you access to job alerts and analytics, as well as recommendations for similar jobs.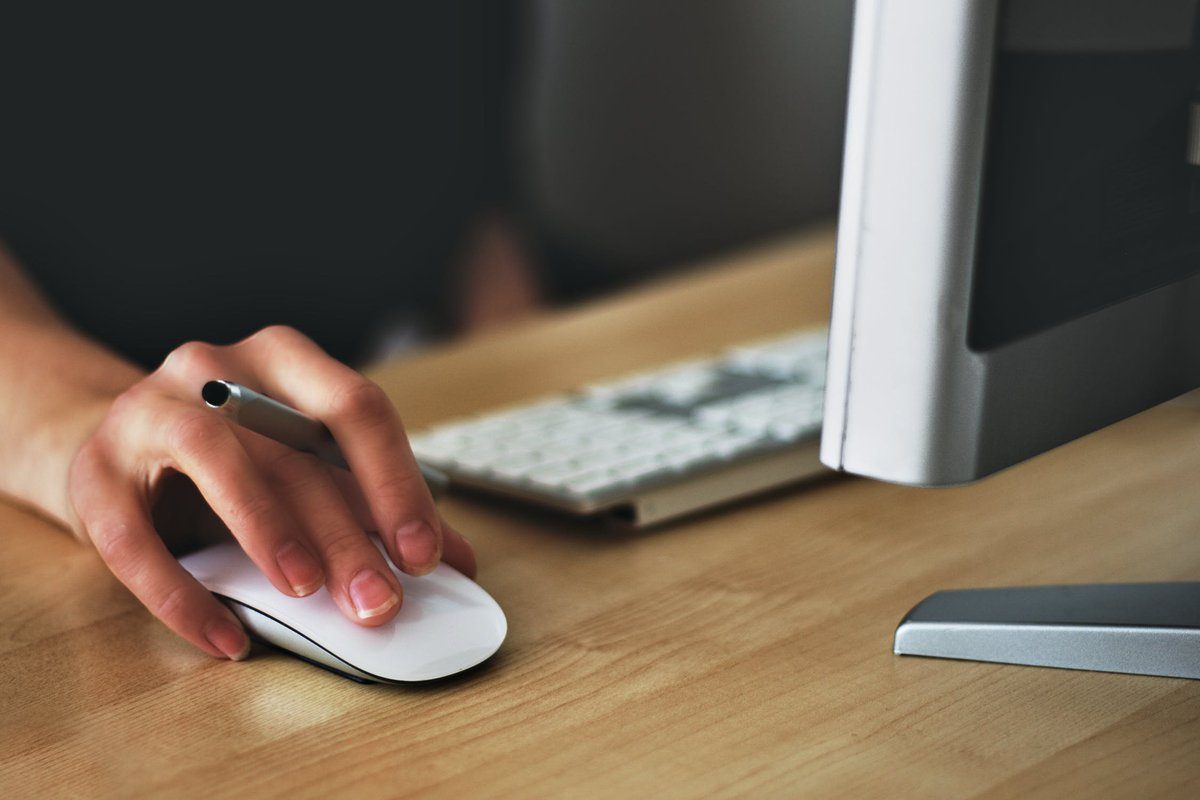 Account creation will require you to provide an email address or sign in directly using your Google account. If you need to change anything on your account, such as your name, email address, or password, go to Account Settings to edit them.
If you ever decide to remove your Jooble account, open the Account Settings section and choose the Remove my Account button. If your reason is because of too many job alerts, you can use the option to turn them off.
Your Resume And Application Submissions
Like I mentioned earlier, creating a resume on Jooble can only be done via the site's mobile version. To do this, open the website on your mobile devices' web browser and log in to your account. Look for the Create a Resume option to start filling out the details.
Since the platform is simply an aggregator, not all job postings are done on the site. Some vacancies are linked to the original websites where they are posted, and you can only apply there. However, you can directly apply to the site with some job ads as long as you're logged in.
For applications you submitted through the platform, you may find them in the My Applications tab in your Jooble account. The platform only gives its guarantee that applications are delivered to the companies if done through its website.
Searching For A Job On Jooble
When you arrive at Jooble's homepage, the default setting would be for the US. You can change this by scrolling further downward and selecting the country of your choice among the 71 countries listed.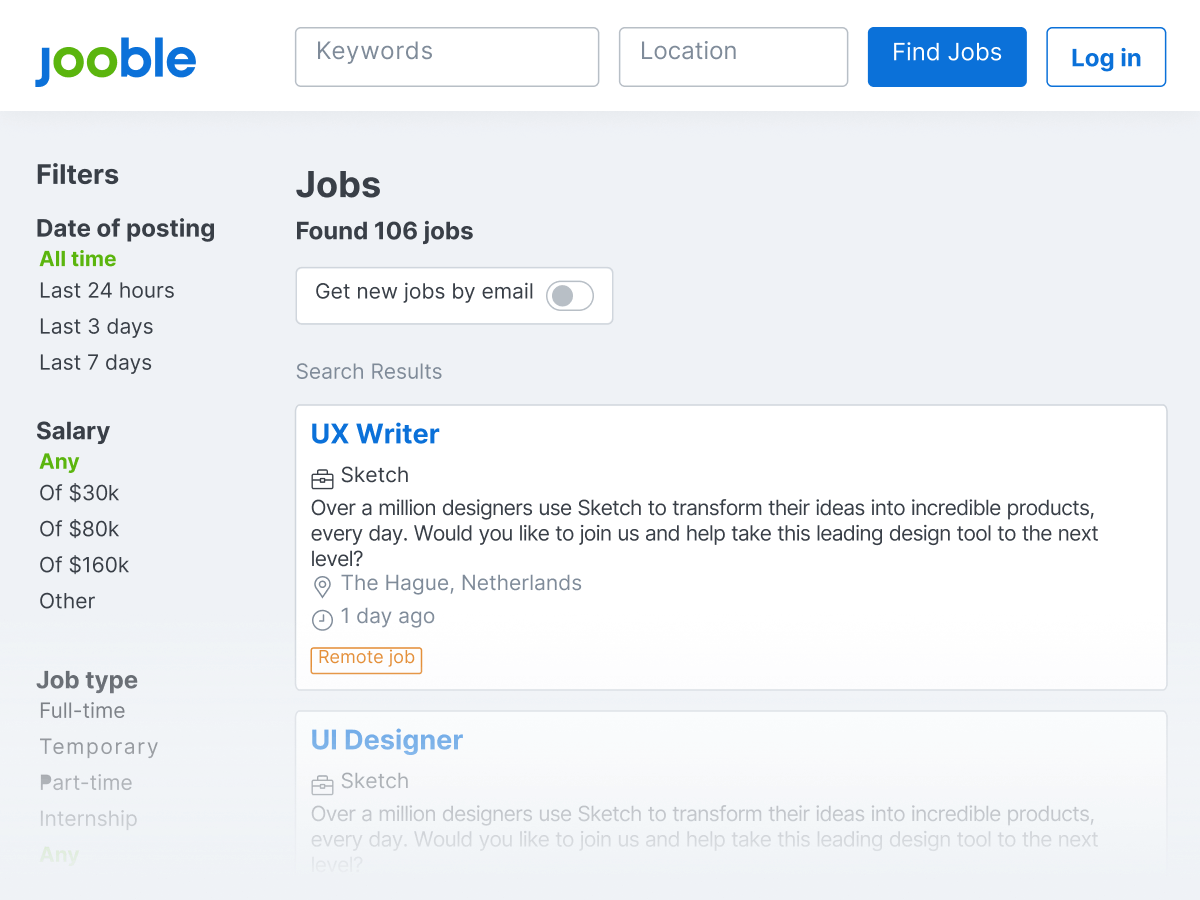 Once you find your chosen country, click on it, and you will be automatically taken to a localized version of the platform, and the cities featured will be the ones in that country. Once that is set, you can now start your job search.
To start searching, type in the position or career field on the search bar, specify the city on the other field and hit the Find Jobs button. A search results page will open, and here, you will find all the job listings that fall under your search criteria.
Filtering Your Job Search Results
On the results page, you will see several filters on the left side of the screen. To narrow down the several thousands of results, use these filters by clicking on the specific filter criteria that you want to use.
The date of posting refers to how long the ad has been posted, and it can be narrowed down from All Time to the last 24 hours. You can also filter the results based on the salary range and if it requires work experience or not.
Job location can also be selected, whether the job is 25 miles or 10 miles from your selected location, in the exact location, or is a remote job. Postings can also be filtered by whether they are full-time, temporary, or part-time positions.
Conclusion
Overall, my experience using the Jooble site was a pleasant one, and I felt like it would be easy to use even for the not-so-technical person. I found the filters very helpful in narrowing down the jobs that I'm interested in.
I could even say that there's no need to hop from one job board to another because using the Jooble platform is like using all of those sites in just one go. If you are a job seeker, I recommend using Jooble to make your job hunt a lot easier.