It could be said that job seekers have it easier nowadays compared to in the past thanks to the internet and mobile devices making it easier to find a range of jobs online.
However, this accessibility can also make the job search process overwhelming with the amount of information available online. I have experienced opening hundreds of job posts just to encounter duplicates, already filled positions, and sketchy employers.
This is why I want to talk about Getwork, a job search platform that prides itself on its accurate and up-to-date job listings and simplified application process. In this article, I will discuss its features and how to use Getwork to find and apply for jobs.
How to Use Getwork
Browsing Jobs Without Worry
Searching for Jobs on the Getwork Platform
Using Filters to Narrow Down Your Search Results
Job Seeker Blog – A Trove of Resources
How Employers Can Benefit from Getwork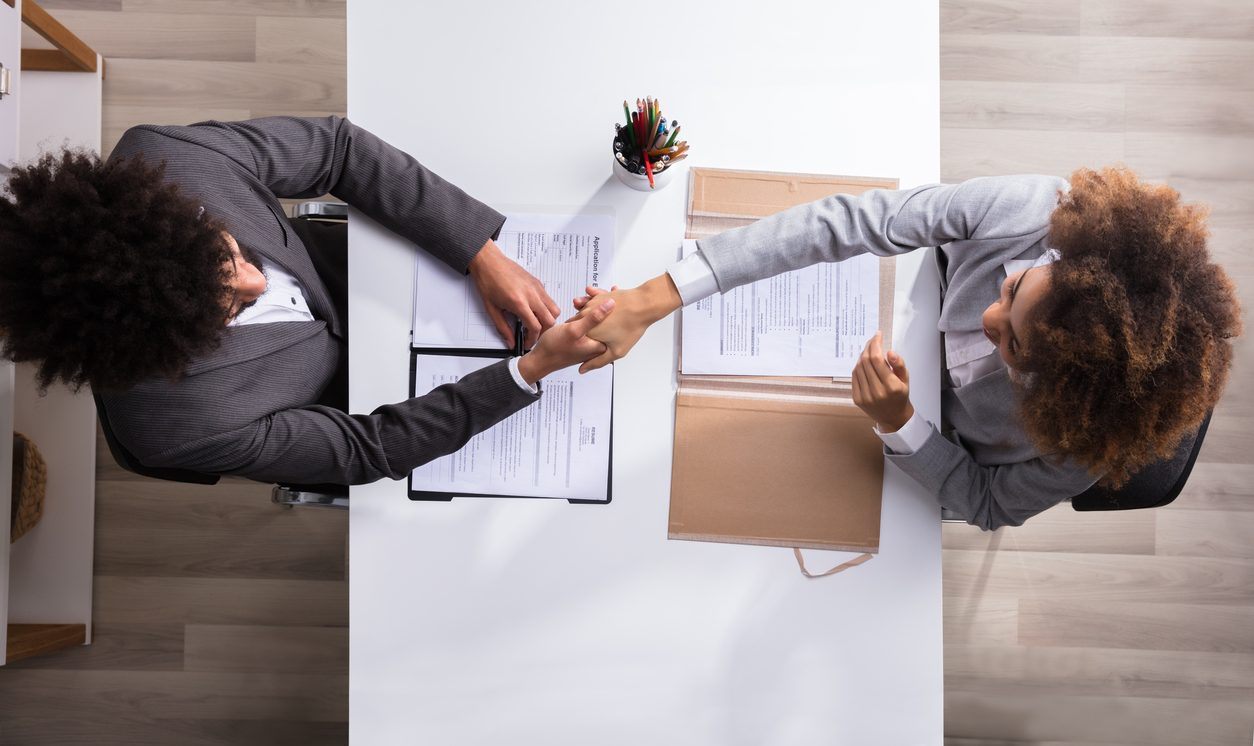 How to Use Getwork
What I like the most about Getwork is its commitment to providing a streamlined approach to job searching while making sure that listings are the most accurate and updated.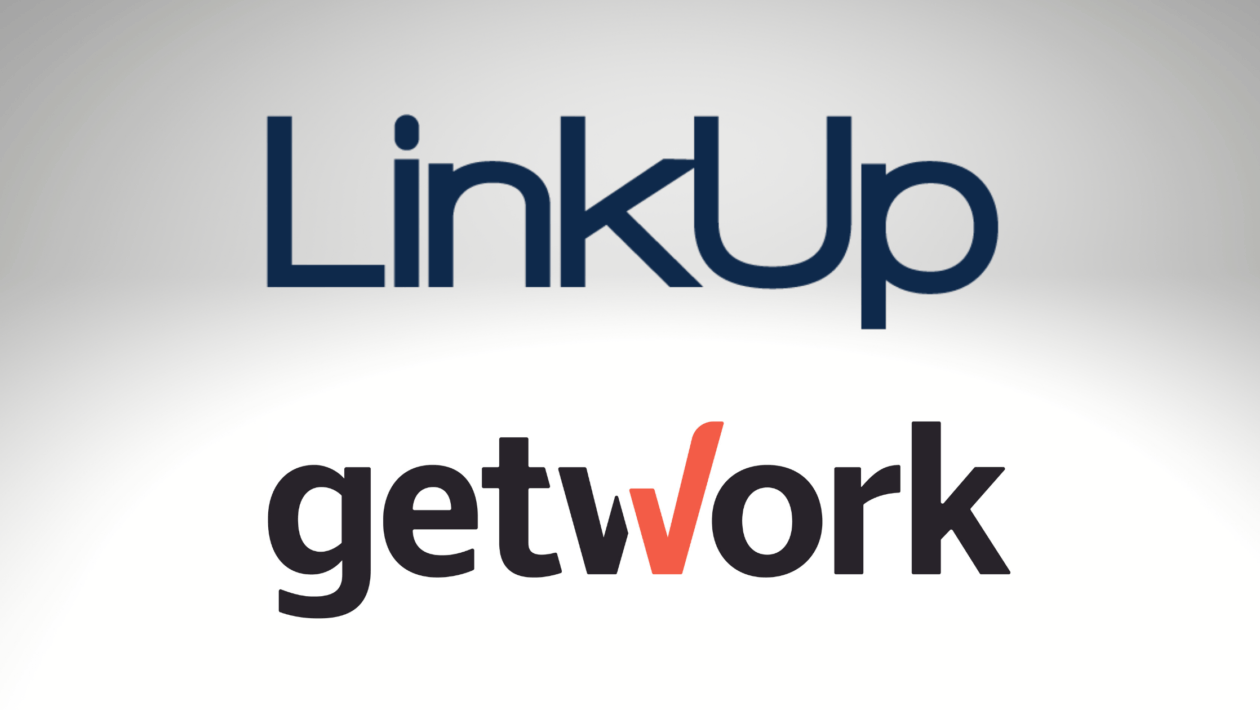 Jobs are sourced directly from employer websites, ensuring high-quality posts. This also ensures that there will be no duplicate posts, which is one of the things that frustrates me as a job seeker.
Getwork promises to ensure that vacancies are updated on a daily basis and that the latest listings are uploaded to the site. And since its listings are taken from company websites, applications are sent directly to them.
Getting to Know Getwork
The company started out more than 20 years ago as JobDig, a media company focusing on employment. With the job search transitioning online, the company decided to make the move.
The company formed the job site LinkUp after seeing the great potential in focusing on company websites as the best and cleanest job source for job seekers online. The site directly sourced listings from corporate career sites.
LinkUp, now a global job market data provider, announced earlier this year the rebranding of its recruitment advertising and job search business to Getwork. It still utilizes LinkUp's proprietary technology but now operates as a separate brand.
Browsing Jobs without Worry
I find it impressive that the Getwork platform uses a proprietary technology that allows job seekers to only see openings in companies that underwent its verification process.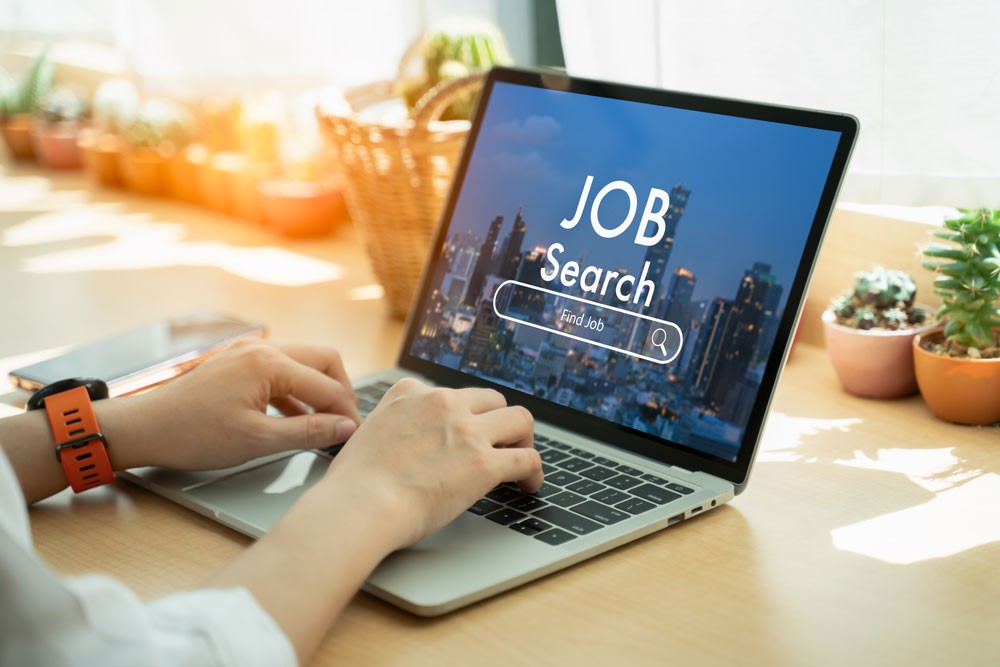 Unlike other job boards and employment websites that collate everything without much verification, Getwork's system keeps its users far away from spam and scams.
Its system also involves constantly monitoring the company's career websites on a daily basis so that its users get the first crack at new vacancies that are added. Its database holds thousands of up-to-date job listings.
Straightforward Application Process
Over the years, I have used a ton of job boards and sites as a job seeker. One thing that breaks my momentum when job searching is the need to register an account on those sites and create a full profile.
This is why I like Getwork and its philosophy of streamlining the job search experience of its users. You don't need an account to search for vacancies on the website and directly apply to the hiring companies.
However, the platform does offer the option to create an account in order to get a more customized service from Getwork.
Searching for Jobs on the Getwork Platform
The website lives up to the company's principle of making the job search experience accurate and streamlined. Its home page is clean and clear, which makes for easy navigating. On the home page, I am greeted by the search bar at the center.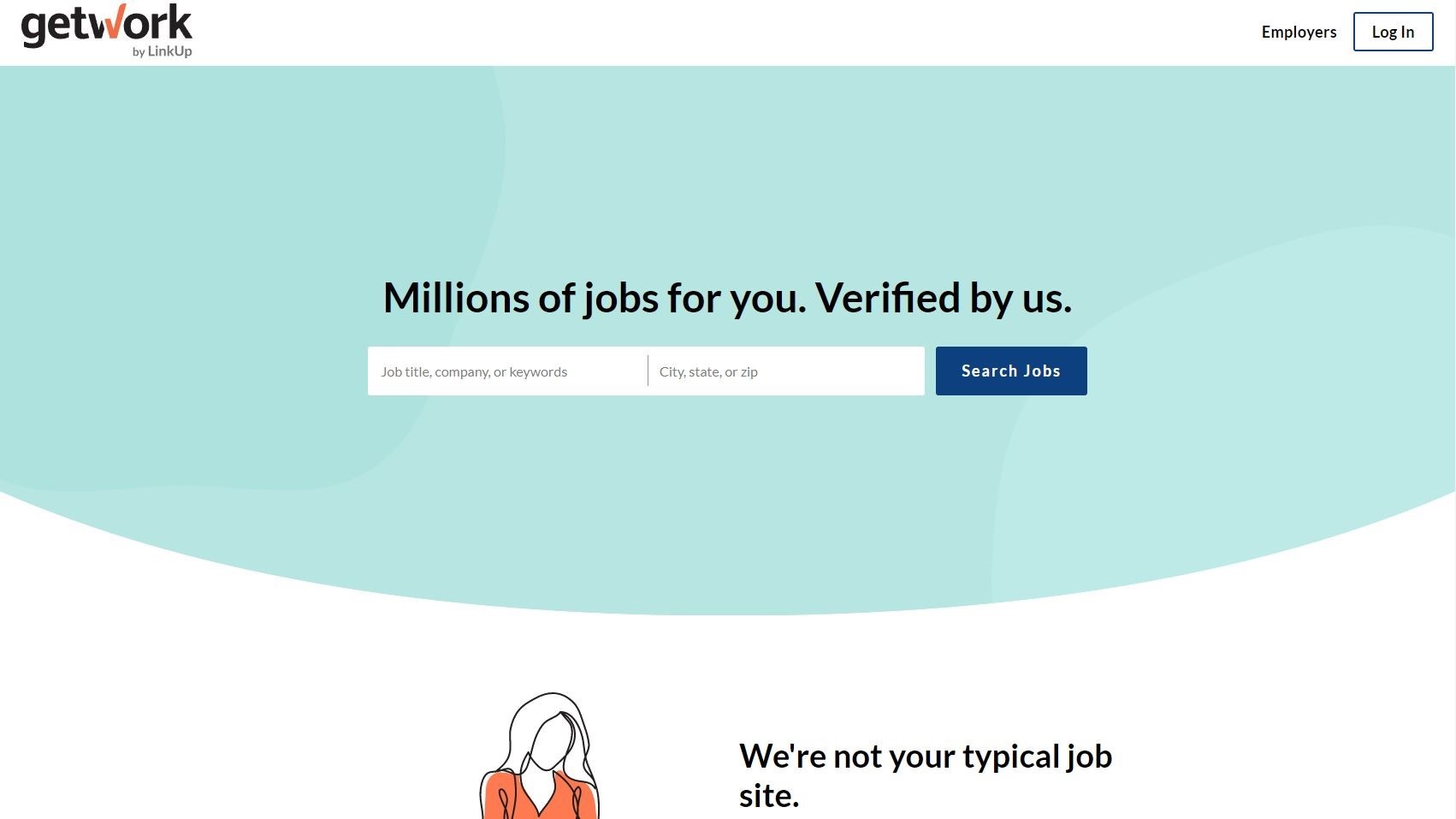 Users could immediately conduct a job search by typing in a job title, company, or keywords into one field and a location in the other field. Clicking the Search Jobs button redirected me to the results page.
Depending on how broad your keywords are, the results could list thousands to even millions of job listings.
I was able to sort the results based on the Best Match or the Most Recent listing.
Applying for a Job
Since the Getwork platform emphasizes streamlining the application process for job seekers, clicking on a job listing will automatically redirect you to the hiring company's career site.
There you must follow the instructions on how to submit your application for the position and directly coordinate with their hiring team for your queries.
Keep in mind that while Getwork does not force you to create an account on its platform, some employers may require you to register to their career website and create a profile so that they can track your progress in the hiring process.
Using Filters to Narrow Down Your Search Results
As a job seeker, I don't want to browse through thousands of vacancies. So, being able to apply filters gives me the ability to narrow down the kinds of jobs I'm looking for.
By selecting the "Date Posted" filter, I can filter results based on how long the vacancy has been posted, from Past Day to Past 30 Days. However, some job posts are not for urgent hiring, so you may consider using the Anytime filter.
Meanwhile, the Radius filter can be used to narrow down results based on the work location's distance to you, from within 10 miles to 100 miles. Some work may be remote, so you may also use Any Distance.
Other Tools for Filtering Results
To further filter the results, you can use the Exclude Keywords option, where you can type in keywords that you don't want to see from the results.
You may also include a specific Company or Title keywords in your filtering process by simply entering those specific terms.
You may also notice the bell symbol at the bottom of the results page labeled "Notify me of new jobs". Clicking this will prompt the system to send you notifications via email on new jobs related to your search.
Job Seeker Blog – A Trove of Resources
Aside from job searching, job seekers may also take advantage of the website's Job Seeker Blog section. It offers various articles on a variety of topics related to employment.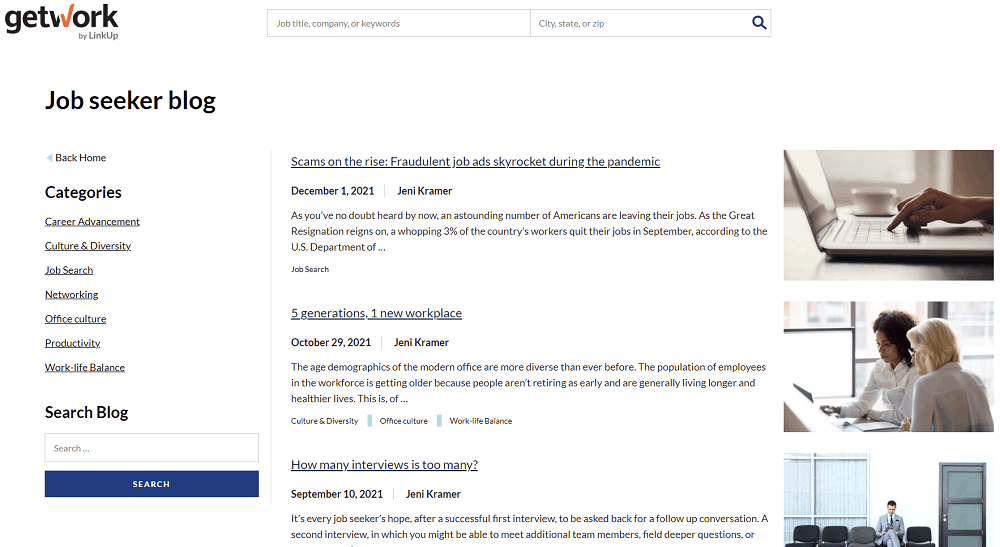 The articles fall under several categories, including Career Advancement, Culture & Diversity, and Job Search. Other topics include Networking, Office Culture, Productivity, and Work-Life Balance.
Among the topics that caught my eye were the increase in fraudulent job ads during the pandemic, how remote work increases inequality, and the pros and cons of working part-time.
Creating an Account with Getwork
I found the Getwork platform very useful, so I signed up even though it is not required to search and apply for jobs.
You will only need an email address to create an account and then input a password of your choice. Once that's done, click on the Create Account button.
The perks I was able to enjoy for having an account are the ability to save jobs for later, to receive job alerts on related vacancies based on my previous searches, and to view my search history.
How Employers Can Benefit from Getwork
Employers are also able to take advantage of Getwork's platform for their hiring needs. It offers two methods that companies may use to advertise their vacancies to job seekers on the website.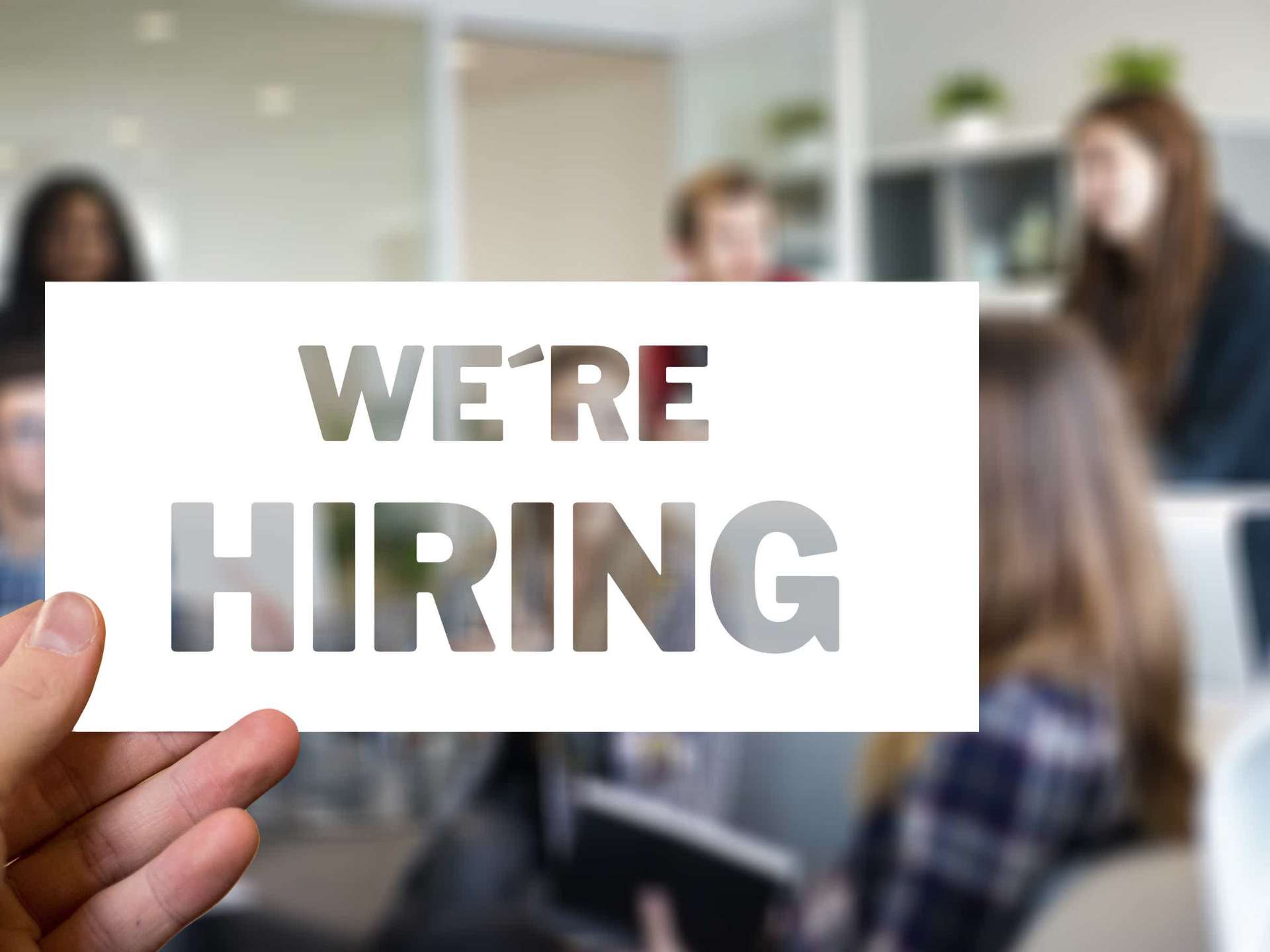 The first one is Pay-Per-Click, where they can post the vacancies they need to fill in on the site and create campaigns so that potential candidates will see their job ads. Campaigns and budgets are prioritized based on needs.
Another method is Targeted Recruitment Marketing, wherein the employer will gain access to the millions of candidate profiles on the platform. They can directly send messages to their email inbox.
What Getwork Offers Employers
The Getwork platform promises hiring companies that they will be able to reach more than 100 million job seekers both for active (Pay-Per-Click) and passive (Targeted Recruitment Marketing) candidates.
Companies do not need to worry about long-term commitments since they only have to pay for results, making them more in control of the campaigns that they are running. I actually advocate for this type of billing because they require no upfront costs.
According to Getwork, they will do all the work for them, from setting up the job ads to maximizing the campaign results. A dedicated team will also be assigned to them, so they only need to call or send an email for any query or concern.
The Bottom Line
The Getwork job search platform is a great resource for any job seeker out there. If you are tired of the overwhelming number of job ads that you have to browse through on your daily job search, this could really streamline your process.
I really like how Getwork does not force anything on job seekers, yet they use their technology and resources to provide the best job search experience for them. I would also recommend this platform to employers trying to maximize their hiring budget.